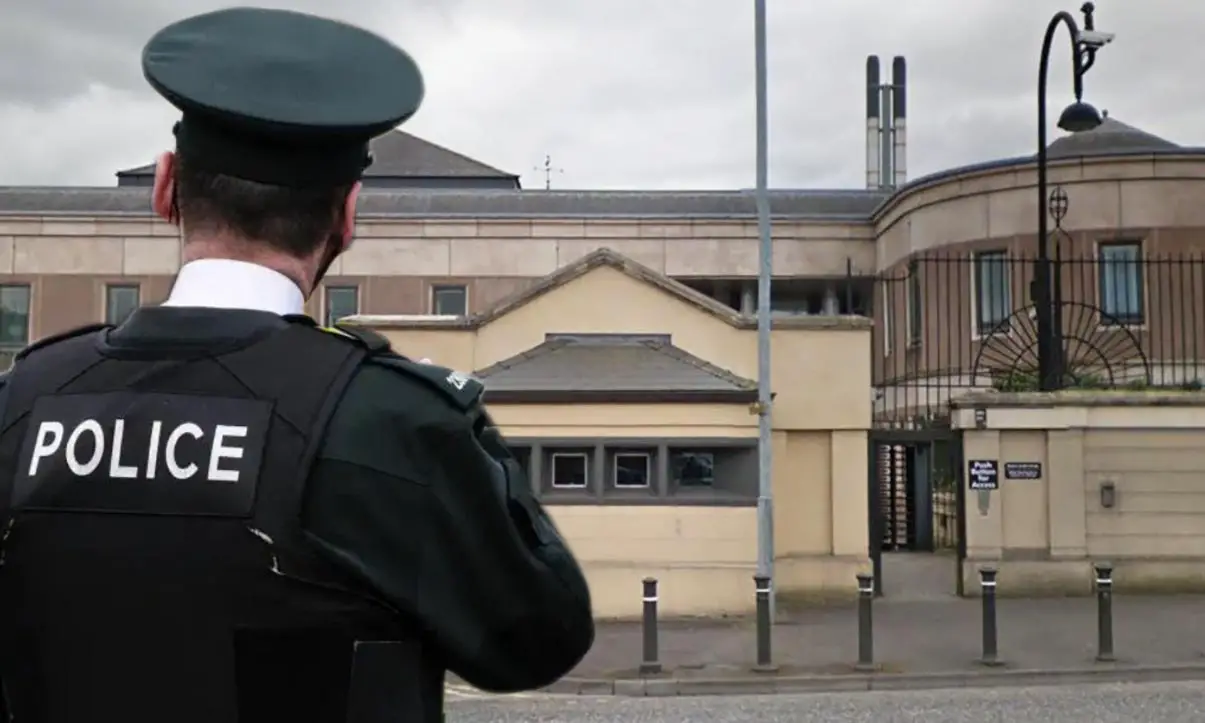 A Banbridge farmer who was a teenage R driver when he killed one friend and seriously injured another because he was speeding narrowly escaped going to jail today (Thursday).
At Newry Crown Court, Judge Gordon Kerr QC told Harry McDowell that while he wanted to impose a 12 month custodial sentence, the length of the sentence meant that under legislation within the Covid Act, "I'm obliged to offer you the opportunity of an enhanced combination order" as a "direct alternative" to a custodial sentence.
He told the 20-year-old, who attended court in person, such an order would entail both probation and community service but that before it was imposed, he had to consent to it.
Ordering McDowell – who gave his consent – to complete 100 hours community service and two years on probation, Judge Kerr told the killer driver he wanted to make it "100% clear to you that if you breach this order, I will impose the full 12 months immediately".
With the family of Christopher Hillis watching proceedings by videolink, the judge concluded his remarks by explaining that he "has to follow guidelines of sentencing…there's nothing I can do to to assist those who have lost so much".
At an earlier hearing McDowell from Ravenswood in Banbridge, entered guilty pleas to causing the death of Christopher Hillis and causing grievous bodily injury to Conal Heenan by driving carelessly on the Banbridge Road, Dromara on October 28, 2017.
Rathfriland teenager Mr Hillis was 18 at the time and was a back seat passenger in a Vauxhall Corsa being driven by McDowell when it was involved in a single vehicle crash just after midnight.
Excess speed was the primary cause of the crash where McDowell lost control of the Corsa, ploughing through a hedge and across two fields with the car rolling several times until it came to rest 200 metres from the road.
Prosecuting QC Charles MacCreanor outlined how the friends had been out for Mr Heenan's 18th birthday and they were on their way to a bar in Banbridge when McDowell lost control on a sharp right hand bend over a blind summit.
According to those who attended the scene and a forensic expert who examined it, the road condition was good "with no irregularities or contaminants evident" and the court heard there is a "drop of approximately 30 foot into a field" where the car left the road.
Turning to witness statements from passengers in the car, Mr MacCreanor outlined how one described how McDowell "gave me the impression of he braked late for corners" while another told police: "Harry was driving a bit hard. I wouldn't say it was mad. I didn't know what speed we were doing but it felt fast… We were talking to each other and I was just about to say 'Wise up Harry'. I knew he was going too fast. I felt it was getting unsafe."
The lawyer said Mr Heenan, who had been thrown out of the car as it rolled and was found lying in the field, could remember getting into the car but then "nothing until he woke up in the RVH when someone was cutting his clothes from him".
He was found to have sustained multiple injuries including fractures to his ribs, collar bond, right knee, numerous cuts and bruises and a torn spleen.
At the scene McDowell "broke down in tears", telling a local resident who came to help having heard the crash "I just wanna die – it's all my fault".
McDowell claimed during later police interviews he was within the speed limit and had lifted off the accelerator before he "hit muck" on the road which had pulled him to the left and caused the loss of control but Mr MacCreanor said given police observations and body cam footage from the scene, "that is not accepted by the prosecution".
Instead, a forensic expert engineer opined that McDowell was travelling at around 60 mph in the 40 zone which was "a fast speed for the nature if the bend, close to or possibly exceeding the maximum possible speed for the bend".
The expert further opined, said the the lawyer, that "if the car had been travelling at or close to the speed limit, it is highly probable that the collision would not have occurred".
"Everybody in that car could have been killed," said the judge and Mr MacCreanor agreed, with defence QC Kieron Mallon conceding it was fortunate the court was not dealing with "multiple fatalities".
Mr Mallon said it was clear that McDowell, both at the scene and since, had shown "genuine remorse" for what had happened and which caused the "heartbreaking sense of grief" contained within the victim impact reports.
He told the judge that immaterial of the sentence imposed, McDowell will carry the guilt of the tragedy he caused "for the rest of his life," adding that "there are absolutely no winners" in a tragic case such as this.
Sentencing McDowell, Judge Kerr highlighted that sense of loss felt so keenly by the Hillis family, revealing that Chris' mum had written in her victim impact statement that "seeing my precious son, so full of life, lying in a coffin, is a sight no mother should have to see and something I will carry with me every single day".
He told McDowell that apart from the fact that he was an R driver, he had been driving too fast "for the conditions of the road" and that the case "clearly illustrates" the dangers of speed.
In addition to the enhanced combination order, McDowell was handed a 13-month driving ban.
Sign Up To Our Newsletter