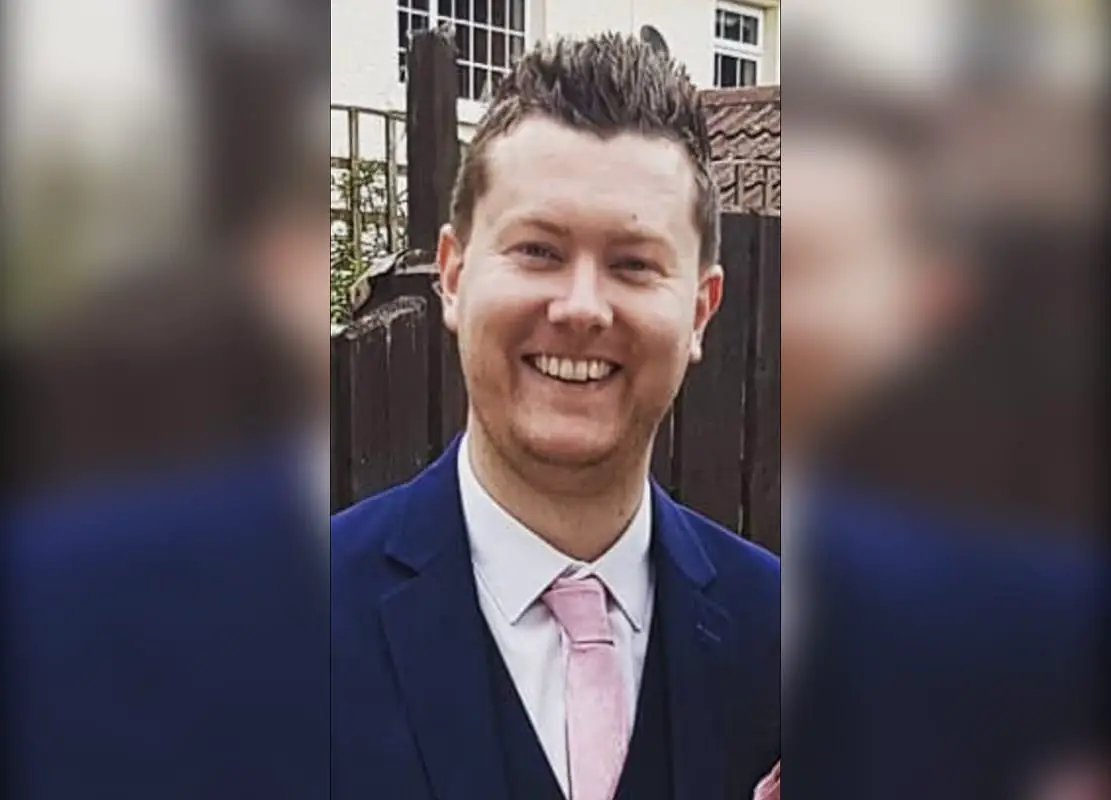 A man and woman who caused the death of Karl Heaney on the A1 back in 2018 have been sentenced to 80 hours community service.
Soldier Donald Hughes (35) and Dublin woman, 33-year-old Shelagh McMahon, pleaded guilty back in March.
The judge commented that the pair would live with the "knowledge and shame" that they were responsible for a young man's death.
With the parents and family of Karl Heaney sitting in the public gallery, Hughes, with an address at Thiepval Barracks in Lisburn, and McMahon, from Ardcollum Avenue, appeared for sentencing for causing the death of the 27-year-old by driving carelessly on the A1 dual carriageway Drumneth on May 23, 2018.
Outlining the background, Judge Paul Ramsey QC stated that on the evening of May 23, Karl Heaney had been driving from Carryduff to Newry in order to attend Gaelic training.
Following this, the 28-year-old visited his parent's home to see his sister, who was returning to Australia the following morning.
He then called in at the home of his girlfriend, before beginning the journey northbound on the A1 dual carriageway back to Carryduff.
Judge Ramsey stated that at 11.35pm, Mr Heaney had been travelling on the A1 in his Ford Fusion and, although dark, general visibility and conditions of the road were good.
At around the same time, the two defendants, who had been dining at The Halfway House in Banbridge, entered their vehicles with a view to travelling in convoy to Carlingford, where McMahon lived.
Hughes has been driving a black Kia Ceed, whilst McMahon was behind the wheel of a Kia Rio.
The two defendants had not met in person prior to this and it was decided that McMahon would take the lead.
Judge Ramsey stated: "Now the post collision scene examination taken together with the explanation in the accuseds during interview, and the prosecution accept their explanation….as truthful.
"(it) indicates that Ms McMahon followed by Mr Hughes made her way to the junction of the A1, neither driver was familiar with the locality or road layout."
According to the judge, with the combination of poor signage, poor illumination and an overgrown grass verge, McMahon did not appreciate that she was entering a dual carriageway.
"Failing to observe or realise the route was a dual carriageway, the accused Ms McMahon turned her vehicle right and began traveling south on the fast lane of the northbound carriageway," he said.
"Whilst believing that she was driving on the nearside lane of a single carriageway, Mr Hughes followed behind her and made the same gravely careless error."
It was on a bend, that Mr Heaney's car first met McMahon's vehicle which caused him to steer left in order to avoid a collision with her.
The deceased's car passed McMahon's, then he steered right which put his vehicle into a clockwise rotation.
The front of Mr Heaney's car then impacted with the front passenger side of Hughes' vehicle, which caused the rotation to increase.
Judge Ramsey stated: "The exact speeds of the vehicles cannot be fully determined but analysis suggests, from the expert reports, that the closing speed was in excess of 60 miles per hour.
"Both cars are travelling similar speeds, prior to the point of impact, but there's nothing whatsoever to suggest any of the vehicles were travelling in excess of speed."
He commented that drivers who stopped on the northbound carriageway described a "dramatic scene of chaos" and in the darkness it was a scene of "confusion and horror".
It was outlined that two individuals who came to Mr Heaney's aid were an off-duty intensive care nurse and a consultant anaesthiologist.
"Emergency services arrived very quickly at the scene. They give a graphic description on the papers of what they encountered.
"I hope the relatives understand I don't think it's appropriate to go into what was observed at the scene less to distress, but suffice to say that as a result of his injuries that he sustained Karl passed away at 4.35am."
Turning to the defendants, Judge Ramsey outlined that Hughes was currently a soldier based in Cornwall, who had previously spent tours in "foreign parts".
Hughes, originally from Wales, had previously spent four years as a police officer in Glasgow before enrolling in the armed forces back in 2012.
In more recent times, the defendant had completed a Masters degree at Southampton University with a view to becoming a teacher.
Judge Ramsey stated: "He told the probation officer this had a significant impact both on his emotional and mental health, and it's clearly had a major impact upon him.
"He indicated…..that he wasn't familiar with the road so agreed he would follow the co-accused's car, and he advised the collision happened so quickly, he was unable to react anyway."
He added: "He told the probation officer he was absolutely devastated by the matter, and can only imagine what the victim's family is going through, that he was very upset during interview, and he thinks about the family of the deceased constantly."
Many testimonials had been provided to the court in reference to Hughes, with Judge Ramsey commenting these testified to his good character and pointed to remorse.
It was outlined that McMahon, originally from Dublin, was a mechanical engineer who had been in continuous employment since achieving her degree in 2010.
Judge Ramsey stated: "In the view of the probation officer, she demonstrated a high level of congruent victim empathy and remorse
"She is assessed by the probation officer as a low risk of reoffending issues."
Testimonials on her behalf from work colleagues, testified to her good character, to her diligence and to her hard work.
The judge commented: "I also should note that one of her good friends indicates the profound impact this has had and how she has been devastated by the struggle to deal with the weight of the guilt…every day since it happened."
Judge Ramsey noted that it was important not only to speak of the defendants in this case but also the victim.
He stated: "Karl was was born on the 22nd of August 22, 1992. At  the time of his untimely death he was a young man, of just 27 years of age.
"Born in Surrey…he was the first born and only boy of his parents. His mother points out that he was also the only grandson which means the family name dies with him."
Mr Heaney was sent to live with his grandmother in Newry in order to attend primary school, before the return of his parents.
He went through school obtaining 10 GCSEs and completing his A-levels, enrolling in Sports Studies at Ulster University.
Judge Ramsey stated: "During this time, significantly at university,  he met Ciara Sands, who was to become the love of his life. He was unsure what he wanted to do but he worked with special needs children.
"He hoped to become a PE teacher, he obtained a place in London to complete his PGCE exams. His heart was set on a teaching career which of course he was cruelly denied."
An enthusiastic member of Newry Mitchels GAA club, Mr Heanry captained underage teams to  medals and trophies.
He also devoted much of his spare time to coaching and training youngsters.
Statements were also read out by the judge from Mr Heaney's family; his sister Tara wrote that her life was "dark" and she was "filled with sadness" knowing her son would never meet his uncle.
Another sister, Corrina, wrote: "We won't get to see him live his life, get married, start his own family..the family will never get over it".
Meanwhile, his sister Aoife stated: "Nothing can prepare you for the pain and trauma of losing a loved one at the expense of someone else's carelessness."
Ciara Sands, the girlfriend of the deceased, was described as being greatly affected by the thought of being the last person to see Mr Heaney alive.
It was noted the impact the experience had also had on Mr Heaney's parents.
His mother and Ms Sands, have gone on to work tirelessly to improve the road layout and conditions on the A1, with Monica Heaney stating: "If I can save some other family from this experience then it would be worthwhile."
In sentencing, Judge Ramsey stated: " I appreciate this will be of little comfort to the family, relatives and friends of Karl because they will point that he is gone but at least the respective families of the accused have their son and daughter.
"There's no doubt that Donald Hughes and Shelagh McMahon will have to live with and carry for the rest of their days the knowledge and shame that they are responsible for the death of this young man."
He added: "You caused the death of a young man when your collective carelessness in driving, your unfamiliarity with the roads in this area, the failings in the road signage at the junction, and also the misleading nature of your phone sat nav all combined together to create a perfect storm of circumstances with fatal and devastating consequences.
"I take into account your pleas of guilty, the evidence of your good character and remorse….your driving on the night in question did not have aggravating features …I regard this at the lower end of a case of this type."
Both defendants were sentenced to compete 80 hours of community service and were disqualified from driving for a period of two years.
Speaking outside the court, Mrs Monica Heaney said the family were "completely devastated…and angry" at the way her "innocent" son had been so tragically killed.
"He was killed by two things – firstly because two people simply didn't pay attention on the road and we believe that has been dealt with here in court today.
"But secondly the road that the car was driving and the adjacent road had such inadequate signage it failed to protect him.
"We all have a responsibility for road safety and this should include government departments who in effect are ultimately responsible for road safety.
"We are completely devastated as a family, and angry.
"Putting aside the proposed A1 upgrade, had signage and maintenance in these existing roads been properly addressed, the chances of Karl being alive today would be greatly increased."
Sign Up To Our Newsletter