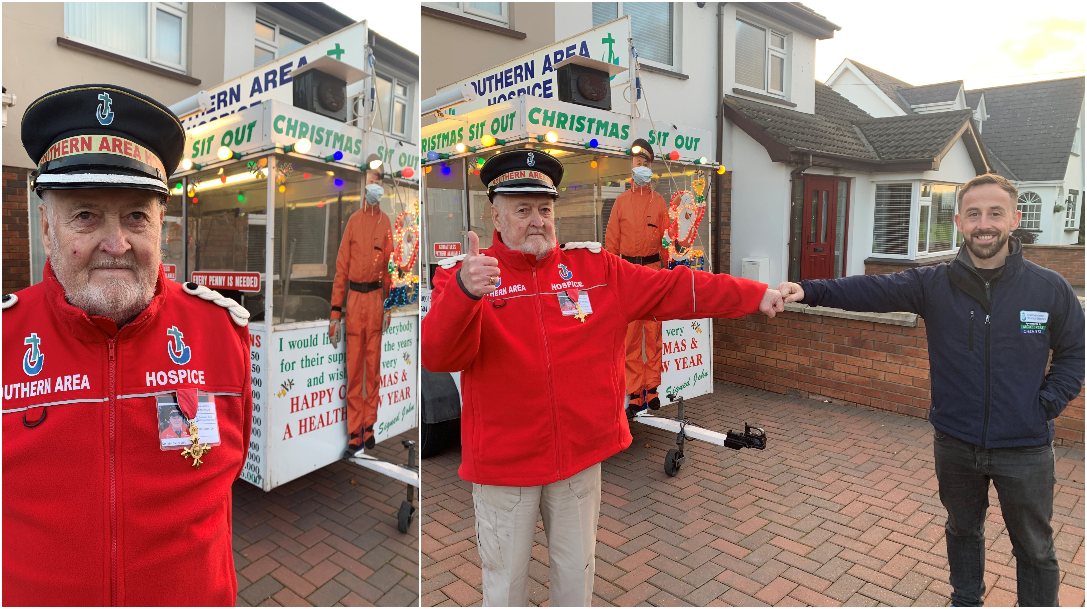 On December 21, John Dalzell turns 80 years old, and he will celebrate the same way he has done for the last 30 years by sitting in his trailer on Hill Street, Newry marking his 30th year fundraising for Southern Area Hospice.
For over 29 years John Dalzell OBE has dedicated one whole week to sitting out and collecting money for Southern Area Hospice in the run up to Christmas – usually in the coldest weather when almost everyone else is buying and wrapping Christmas presents. 
He has now gathered a whole team to assist him, known as the "Sit-Out Team" and together they collect every Christmas across Newry – while John retains his usual spot in his famous trailer on Hill Street, Newry.
Back in 2016, John who was almost 75 years old at the time, stated that it would be his last year completing the Sit-Out as he was not as "able" as he used to be. 
But John had planned for this, and his team would continue with their fundraising on his behalf. John has been a part of Christmas in Hospice for so long it was almost impossible to think of it without him in his red suit on Hill Street.
John has since decided that he would like to continue his work stating: "I know I'm not as young as I used to be, but who is!  So, I have decided that while I am fit enough to continue with my work for the hospice that's exactly what I'm going to do! 
"Last year we raised an incredible £141,000 which I knew the Hospice really needed to look after the patients and that's all I need to motivate me to keep going until I really can't, and thankfully that's not this year. 
"We have been raising money together for the Hospice for so long and I really want to thank you all – over £1.85million…  that is a lot of money to have donated. I am so proud, and I hope you all are too.
"Thank you all for making my Sit-Out the success it is today. I turn 80 this year on my 30th year sitting out and would kindly ask all businesses where possible to keep those figures in mind- whether they donate £30 or £80, it would mean a lot. However, every donation no matter how small, goes a long way."
John's 30th consecutive Sit-Out will take place at its usual spot in Marcus Square on Hill Street, Newry where his familiar trailer will be stationed from 11th – 24th December from 8am until 5pm each day.
He continues to put extra pre-cautions in place this year, such as putting extra Perspex on the trailer and obtaining a contactless card machine. Fundraising Officer for the Hospice James McCaffrey who works with John and his team said: "I have known John for a few years now and it is no surprise to me that he has decided to continue with his wonderful Sit-Out for yet another year. John and his dedicated Sit-Out team are an incredible example of the spirit of giving at Christmas.
"The amount of time and effort that they put into this collection for the Hospice each year is truly amazing, and it is an honour to work alongside them. To date John has raised a staggering £1.85million for our cause.
"On behalf of all the patients and their families and friends who have been touched by our services in the past 30 years of Hospice Care I would like to sincerely thank John and his team, and everyone who continues to support them. Although the Sit-Out takes place from the 11th-24th December, John works all year round to ensure it happens and this year more than ever, he has overcome extra obstacles so that we don't lose out on the substantial amount he raises."
As well as John's Sit Out on Hill Street, collections will take place around the town at Fiveways Shopping Complex, The Quays Shopping Centre and B&Q. So please keep an eye out for them when you are in town. John also loves a bit of "craic" and company to keep him warm on Hill Street so do not be a stranger if you are passing by!
He often reminisces on the hundreds of children that he took to school on his bus and delights when they approach him at the trailer now as adults with fond memories of his kindness.
John will celebrate his birthday on Tuesday, December 21 and has invited people from far and wide that know John, to come along and wish him a 'Happy Birthday'.
If you would like to donate to this Appeal in aid of Southern Area Hospice Services please visit John's Sit Out on Hill Street or to one of his collectors around the town, donate online: www.justgiving.com/campaign/johndalzell or send your donation to: SOUTHERN AREA HOSPICE SERVICES, ST JOHN'S HOUSE, COURTNEY HILL, NEWRY, BT34 2EB.
Donations can also be made over the phone by calling James on 028 302 67711 or returning your mailing letter.
Sign Up To Our Newsletter