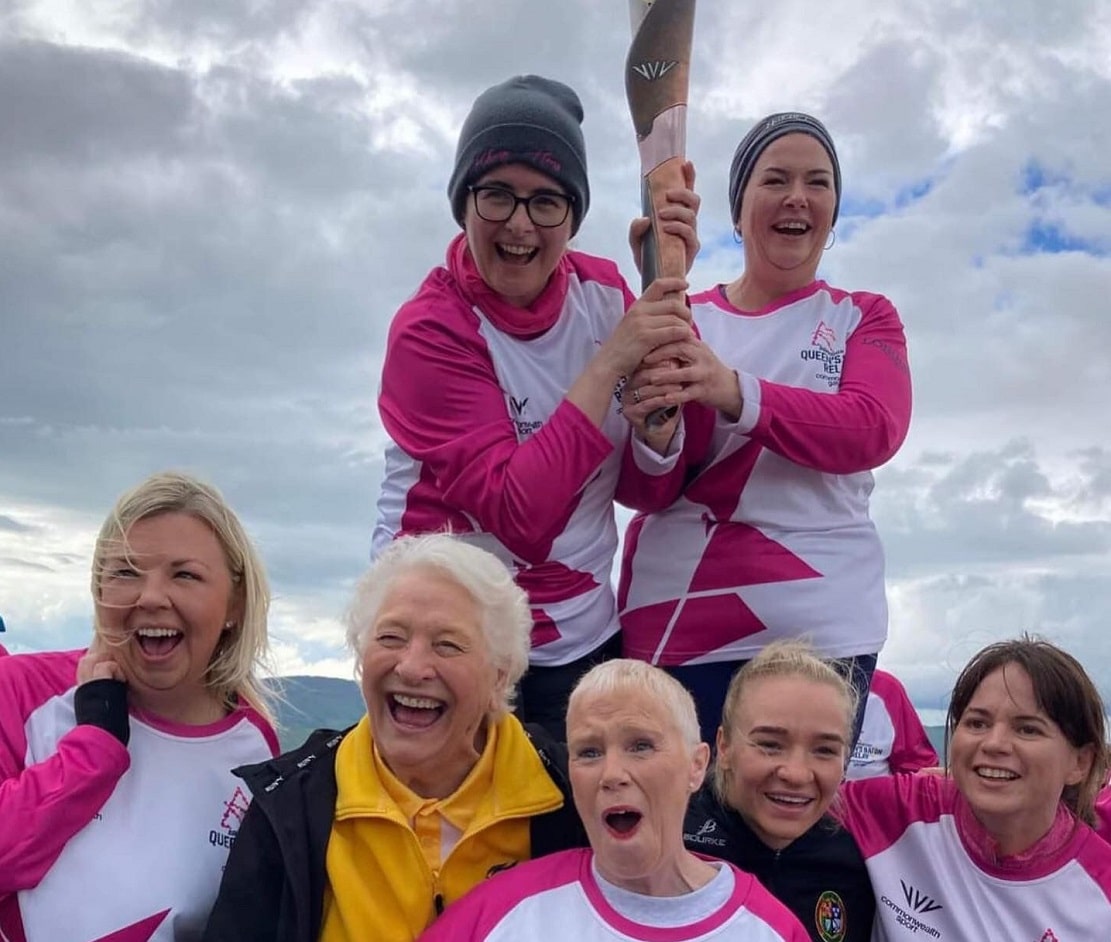 Newry walking group the Hiking Hens took part in a trek with a difference on Sunday when they were chosen to carry the Queen's Baton.
The baton is visiting all 72 nations and territories of the Commonwealth for 294 days, covering 140,000 kilometres, as part of the run-up to the Commonwealth Games, which open in Birmingham on July 28.
Around 70 women turned up for the walk to Cloughmore Stone in Rostrevor, never realising what had been planned.
However, they were amazed to be greeted by Lady Mary Peters and world champion boxer Amy Broadhurst, who accompanied the group as they carried the baton to the landmark.
The group's founders Fidelma Fearon and Maria O'Grady were the only 'hens' to know about the special guests having been contacted by Commonwealth Games NI and invited to participate in the Queen's Baton Relay.
Said Maria: "We were asked a month ago but it was secret so we weren't allowed to tell anyone.
"The girls turned up and they didn't know who was coming so it was very exciting.
"It was amazing to see the girls' faces when Lady Mary Peters arrived. One of the girls, Mary Peters is her hero, so she was ecstatic, she couldn't believe it."
The Hiking Hens was one of a number of groups and sites chosen to highlight the positive sides of Northern Ireland.
Local legend has it that Cloughmore Stone was thrown from the Cooley Mountains, on the other side of Carlingford Lough, by the giant Finn McCool.
Said Fidelma: "The Cloughmore Stone is an iconic part on Rostrevor, full of myths and legends, so it was quite fitting we took the baton up there.
"Lady Mary is just so much fun, youthful and exuberant, and Amy is very graceful and humble and really, really nice.
"It was lovely to have all the women together, inspiring each other.
"During the year, the girls have been able to raise a lot of money for charity and it's just good that they have been getting recognition for their efforts."
The baton relay is nearing the end of its journey, travelling through Wales before  returning to England on July 4.
Sign Up To Our Newsletter