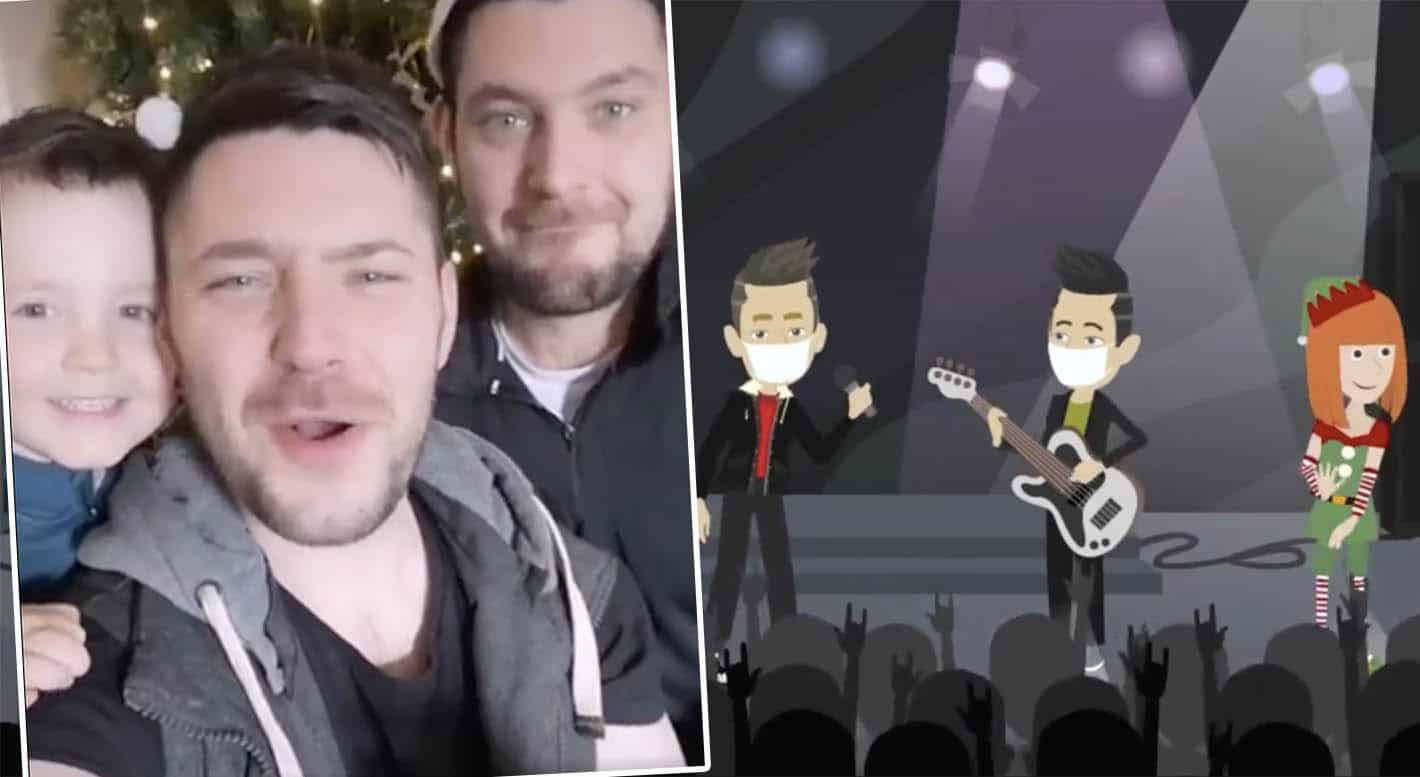 A Newry band, known more for their rock tunes than those of the Christmas variety, has released what could very well be a huge festive hit.
"I don't want to hear about Covid at Christmas time' has been penned by Replica's Stephen and Daniel McCoy – twin brothers – as a lift-me-up tune to end a dismal year – and they even released an animated video.
Armagh I caught up with Stephen to find out more about the song and what inspired the band's deviation from a genre they do well.
"Throughout lockdown, I found it difficult to concentrate on writing anything because emotions were changing by the minute," explained Stephen.
"It was in October, I decided, I was going to do sober October and clear my mind and try to refocus on everything.  I was surprised just how quickly my creative side reappeared.
"I remember saying to my family in a group chat, 'I'm going to write a Christmas song', I was kind of joking, but before you know it, I was singing 'I don't want to hear about Covid at Christmas time'.
"Once I had the concept, the rest just fell into place. I played around with the lyrics until I settled with what you hear on the song.
"I wanted the song to be funny, reflective but also have some heart and emotion. The song has a very catchy hook that resonates with many people especially kids – my nephew Danny is singing it on loop and his teacher has told us the whole class is now singing it.
"It's been a tough year, and there is still a lot of hurdles to overcome,  I didn't want to write a depressing song which would be the easy thing to do, I wanted my song to make people happy especially at Christmas."
And the reaction to the song has been amazing so far.
Stephen says he has been "blown away" by it all.
"My phone doesn't know what hit it with all the comments, shares and likes. Everyone has been so kind and onboard with the song.
"I have had articles written about it, and even local businesses have shared the song and wished me luck,  not forgetting everyone on my social media pages who are the ones responsible for spreading the word. I'm very grateful."
Is the song catchy enough for a Christmas number one? While that may be lofty ambitions for the band, Stephen says "why not dream big".
"I would like to get the song played on radio stations across the country throughout the festive period as it has a fast-approaching sell-by date, so I want to reach as many people as I can over the next few weeks and hopefully put a smile on their face with my wee song!
"If it did take off and land in the charts,  I would die a happy man. This all comes down to numbers though, so without the right exposure, streams, and downloads, I can't compete with mainstream artists and at the end of the day, I'm fine with that. If this is as far as the song goes,  I'm more than happy and it's surely given me a great story to tell in years to come."
While the song is a little different to their 'normal' stuff, Stephen says it has probably come about by not "being able to work on the music with the rest of the band who in normal circumstances contribute to the typical Replica flavour".
"Myself and Daniel worked on the music together where he added all the guitar parts and bass; I programmed the drums which was a first for me and fun to learn, and then sang the lead and backing vocals the only other instruments used was the bells that you hear throughout to give it a Christmas feel and some nice strings over the bridge.
"It's not as heavy as one of our usual songs, but  I think it still has the essence of our sound. As a singer/songwriter, I like to try new things with music, I don't want to hear about Covid, and Christmas time has a pop-rock vibe, but with extra cheese thrown in there."
As a musician, Covid has really affected Stephen. Going from a sell-out gig in February to nothing for ten months…and counting.
Said Stephen: "It's strange, Replica played our last gig in February to a full house in the Skylite rooms,  just weeks before Covid hit.
"We were excited then to be back on stage and thinking of what we should do next.  I suppose Covid created new opportunities for musicians to put themselves out there and utilise online streaming.  I took part in my first live stream on the Northern Ireland Craic Facebook page back in April.  This was such a fun experience and one I will try again."
But what next for the band?
"I want to keep pushing the song out to as many people as I can,  and it would be amazing if everyone who comes across it would share with everyone they know and also send to as many radio station possible requesting 'I don't want to hear about Covid at Christmas time'.
Please make sure to download the song through iTunes or Amazon, or follow Replica on Spotify to give it every fighting chance of success.
All links available here: 
Sign Up To Our Newsletter