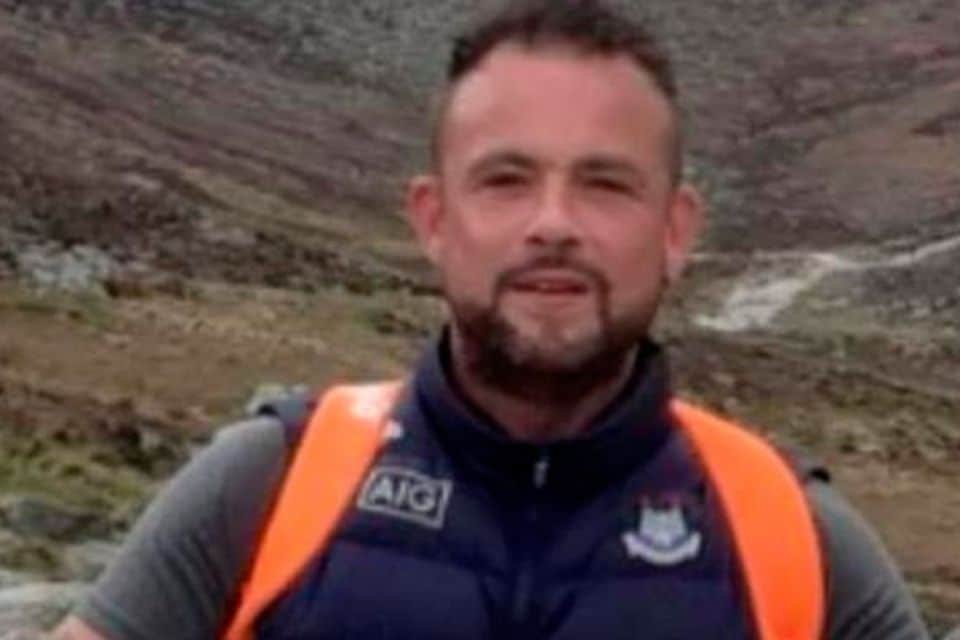 A 12-year-old girl fought desperately to save her mother from her knife-wielding father as he stabbed her 19 times, a court has heard.
Details of the horrific case emerged as Newry man Peter McCartney (40), was jailed for 16 years and eights months today for attempting to murder his estranged wife, Bronagh, at her home in November 2020.
The girl repeatedly kicked McCartney as he plunged the knife into her mum's abdomen — miraculously she survived thanks to a first aid trained neighbour.
"She kicked him in the face three times to protect her mother but he continued to stab her and didn't flinch," said Judge Gordon Kerr KC at Newry Crown Court.
He said the girl described how her father's eyes "were dead, like a shark" as she tried to fight him off.
"I consider this to be an appalling case," declared the judge.
"It's hard to imagine a worse case of its type."
The defence had contended that McCartney had been suffering from psychosis at the time which impaired his judgement.
But the judge said given his record for violence and particularly domestic violence, coupled with the facts of the case, "to suggest that this man does not present a significant risk of serious harm to the public offends common sense."
On the day his trial was due to start last November, McCartney, originally from Newry but with an address given as c/o Maghaberry prison, admitted attempting to murder his estranged wife on November 7, 2020.
Judge Kerr said that in the two days before the attack there had been an "acrimonious exchange" of messages where McCartney "conveyed veiled threats" about putting things on Facebook.
On the day of the stabbing, the victim told her ex to "stay away and never to ring her again" and she warned that their four children "were not going to be a part of your muppet show."
"He responded by saying 'really, you will see what muppets are made of soon'," said Judge Kerr.
He add that there had been a "history of domestic violence" by the defendant and at the time, he was on bail for assaulting her.
All four children were in the house, food had just been delivered and the victim happened to be on the phone with her sister when McCartney appeared in the living room and she shouted at him to get out.
Their 12-year-old daughter heard them arguing so she came out of her room to be confronted by McCartney standing over her mummy who was at the bottom the stairs.
She fought to protect her mother and while the other children did not see the attack, they witnessed the aftermath and their mummy lying bleeding.
The 12-year-old ran to a neighbour's house and fortunately he was trained in first aid.
The victim had lost a lot of blood and was in shock. There was so much blood the neighbour "was slipping as he knelt beside her" but effectively, "his interventions saved her life and he is deserving of public recognition" for his heroic acts, said the judge.
Taken initially to Newry's Daisy Hill Hospital before being transferred to the intensive care unit at Belfast's RVH where she spent a month under sedation and on a mechanical ventilator, the victim was found to have sustained 19 stab wounds including a number which were so deep they had fractured ribs and perforated her stomach, colon, diaphragm and spleen.
The victim suffered significant mental harm in addition to her physical injuries and has been diagnosed as suffering from PTSD. Judge Kerr revealed how she experiences "terrible nightmares" about the attack which came close to ending her life.
Shortly after the attack, McCartney was found hiding in a neighbours garden having squeezed himself into a hiding space.
Police enquiries established he was "scouting out" his hiding place a week earlier.
The court heard also that McCartney had taken a knife from the flat where he lived at the time and having armed himself, he walked the two miles to the victim's home.
Judge Kerr said the clear pre-planning and premeditation were aggravating features, as was McCartney's previous record for violence including attacks on the victim.
The judge said while he would get credit for his plea that had to be decreased as McCartney had refused to answer police questions, had gone through three legal teams ahead of the trial and only admitted his guilt at the 11th hour.
Judge Kerr said he would have imposed a 20-year sentence without the guilty plea.
Judge Kerr said although he could have imposed a discretionary life sentence, it was his view that an extended custodial sentence was adequate to protect the public.
He imposed a sentence of 16 years and eight months with an extended licence period of four years, meaning that rather than being automatically freed at the halfway point, parole commissioners will have to consider whether it's safe to free him.
Potentially, the would-be killer could be in jail or under supervision until 2041. The judge also imposed a lifelong restraining order.
---
"She kicked him in the face three times to protect her mother but he continued to stab her and didn't flinch." https://t.co/Jm8Y59DLnU

— Armagh I (@ArmaghI) February 18, 2023
---
Sign Up To Our Newsletter