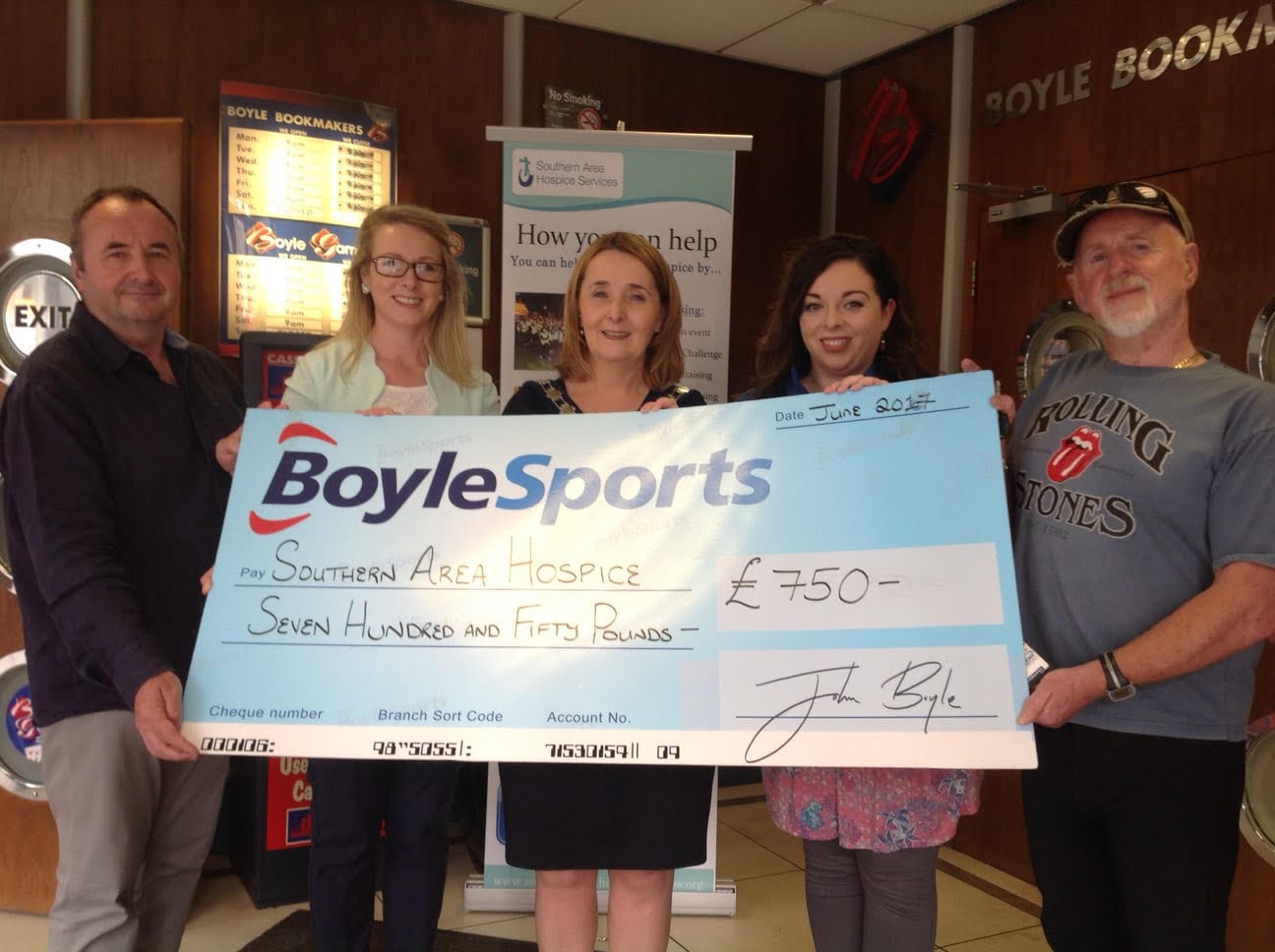 Two friends are once again planning to compete in the Great North Run to raise money for Southern Area Hospice Services.
Not content with having conquered a variety of challenges, such as the London Marathon, Dublin Marathon, Great North Half Marathon in Newcastle and Iron Man in Barcelona throughout this past year, Larry Mc Cabe and his side-kick Pat McGinn are back in the lineout for this year's internationally renowned race.
The Great North Run is the largest half marathon in the world. Taking place in the North East of England in September, the route sees runners starting at Newcastle-upon-Tyne and finishing in South Shields.
The 'boyz' will once again be hoping to raise much-needed monies for the Southern Area Hospice.
This weekend local business BoyleSports, represented by Danielle Grimes, along with Chairperson of Newry, Mourne & Down Council Roisin Mulgrew and Grainne Mulgrew, from the Southern Area Hospice, joined with the two well-known 'athletes' to launch their fundraising campaign.
Larry explained: "Myself and Pat decided to mark the entrance into our 60th years by doing something different and also at the same time raising money for the Hospice in memory of all those who have availed of the services it has at its facility in Newry.
"These services have touched many amongst both our families and friends and we are blessed for the facility and all associated with it.
"We would like to thank our friend John Boyle and all at BoyleSports and Newry, Mourne & Down Council Chairperson Roisin for all their support which has helped kickstart our fundraising and will give us the motivation to ensure we have successful fundraising and complete our run."
Danielle Grimes, spokeswoman for BoyleSports, added: "We are once again delighted to be supporting two remarkable men, Larry and Pat, in yet another amazing undertaking. They truly are putting most of us to shame, marking their 60th years by taking on the Great North Run.
"Of course it is all for a wonderful cause, the Southern Area Hospice, who do incredible work, which we are only too pleased to be part of supporting."
Chairperson of NMDC Council Cllr Roisn Mulgrew, wishing the two well, said: "Best wishes to Pat and Larry in their Great North Challenge. The lads are great examples of that community and caring spirit that exists throughout our Council area."
Thanking all for their support Grainne Mulgrew from the Southern Area Hospice said they were indebted to Pat, Larry, Grainne and all at Boylesports, and NMD Council Chairperson Roisin for their support.
"Southern Area Hospice Services (SAHS) provides invaluable support and care to people living within the Southern  Area, who are suffering from cancer, multiple sclerosis, motor neurone disease and AIDS," she explained. "Our aim is to provide the best quality of life for our patients and their families.
"Southern Area Hospice Services relies on 73p in every pound coming from fundraising to enable us to care and support patients and their families. The Fundraising Department has to raise £2.5 million in 2017 to maintain the level of care currently available. This equates to £208,333 per month, £48,077 per week or £6,849 per day.
"All our services are provided free of charge and we rely heavily on voluntary donations to continue providing our special care. Together we can help others."
The Great North Run takes place on September 10 and any support for Larry and Pat's fundraising and the Hospice would be greatly appreciated.
Sign Up To Our Newsletter