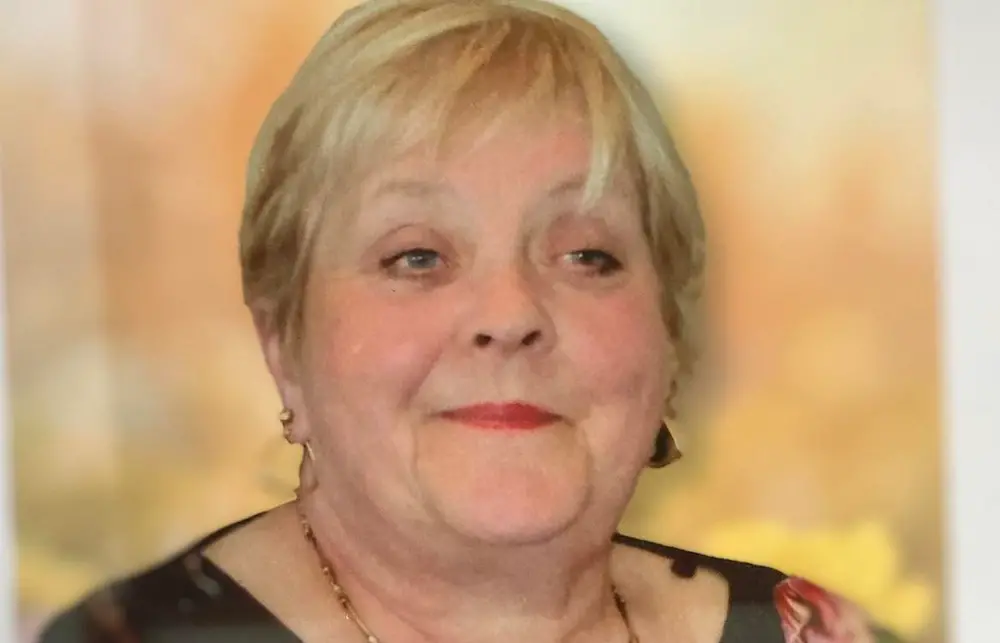 Mourners at the funeral of one of Forkhill's most prominent residents heard how she dedicated so much of her time improving life in the rural Co Armagh village.
Marie Grant, was well-known as the shopkeeper and postmistress at McCreesh's shop, was laid to rest following her funeral mass at St Oliver Plunkett's Church, Forkhill earlier today (Sunday).
Marie's wit and "one of a kind" personality went hand in hand, but her devotion to her extended family and community was woven into her very fabric.
The parish priest, addressing the congregation, described Marie as "a colourful character, unorthodox in many ways but also someone who was caring, good natured and with a determination to get things done".
Cliodhna Maxwell, a close friend, also paid a touching tribute during the service.
Delivering her own eulogy succinctly put it: "Marie was Marie."
"She had her own way of going on; she could be a bit sharp and blunt at times, and she was partial to colourful language but she said it how it was.
"Marie's greatest love in life was her extended family and community. While she did not have children of her own, she was a mother, a mentor, a defender, a counsellor and confidante to many people.
"She visited the sick, consoled the bereaved, helped those in need, encouraged the young to get an education, and offered help and advice to all who asked for it. She was a very, very kind person."
Marie had worked in the civil service in England before returning to south Armagh in the late 70's.
She managed the shop and post office and was awarded by the Post Office for her long years of service but most of "Marie's successes did not directly benefit Marie, they benefitted her community," Cliodhna continued. "Marie loved Forkhill and she dedicated so much of her life improving life in this rural village.
She was involved with Forkhill playgroup for 39 years, most of which she was the chairperson.
Marie was also instrumental in securing funding for the purpose-built playgroup and also took responsibility for the day-to-day running of Forkhill community centre, keeping a careful eye on its finances, ensuring the facility remained open for local groups to use.
Marie's contribution was recognised by Newry and Mourne Council in 2009, when she was awarded Person of the Year.
Cliodhna concluded: "Marie will be remembered for her dedication to her community for the way she championed the young and old but most of all we will remember Marie for her love of her extended family, her wit, kindness, mentoring, mothering, her role as a counsellor, her craic, and not least for her tongue. She was unique; Forkhill has lost a gem."
The priest, on Marie's passing, said: "After being diagnosed with cancer, she retired from McCreesh's shop in October 2020, leaving many of you with lasting memories.
"After so many years of service, it was a watershed moment. And unfortunately, marked the beginning of ill health. Marie was described to me as small in stature with a massive heart – feisty, yes – but with a heart of gold.
"On Wednesday, January 19, I gave her the last rites. A few days later, I was more than surprised to see her sitting up in the bed. I think to be fair, she was surprised to see me too.
"I'm told her language could be colourful but thankfully, I got nothing but politeness…suffice to say Marie Grant was one of a kind. She will remain a special member of Forkhill community, for her contribution to this community will, unlikely to be matched."
Marie was the daughter of the late Dermot and Maureen RIP. Dear sister of Ann, Peter, Paul, Joe and the late Michael RIP. Also sadly missed by her nephews Damien, Michael and niece Louise May.
Sign Up To Our Newsletter