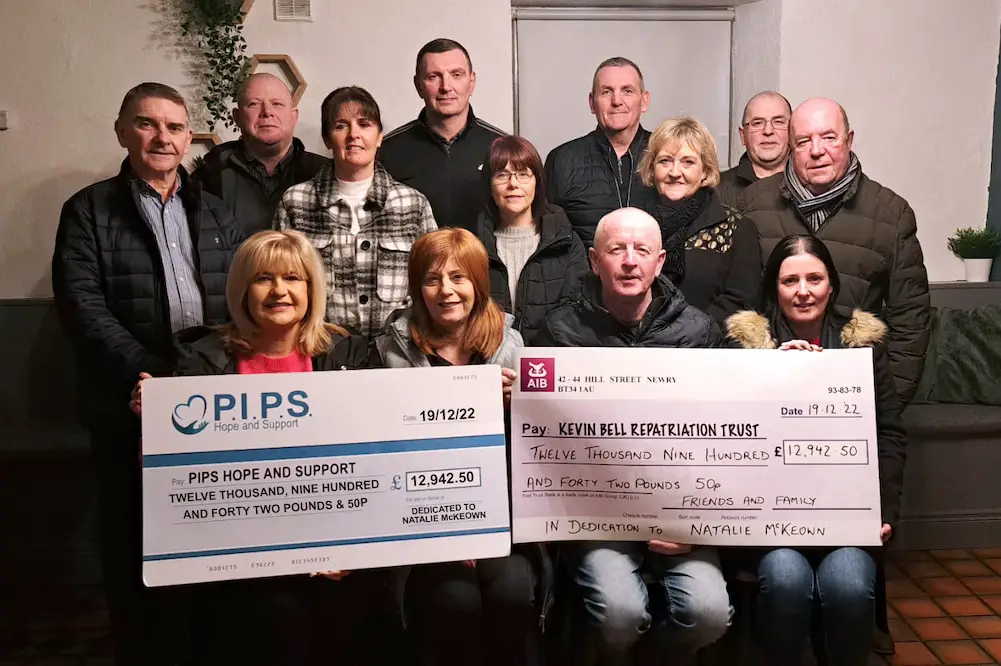 Family and friends of a young Newry woman who died in Qatar in February last year have raised more than £25,000 in her memory.
Natalie McKeown was just 29-years-old when she passed away. Her death left a community stunned.
Her sister Leanne, paying tribute to her during her funeral mass at the time, said Natalie "touched so many lives of people all over the world. She travelled so far and wide. She did what she loved. She travelled to over 45 countries and made so many friends and had such an impact across the world".
Since her passing, family and friends of Natalie organised a charity raffle and sponsored walk dedicated in her memory and in aid of PIPS Hope and Support, as well as the Kevin Bell Repatriation Trust, raising an incredible £25,885.
As both charities are beneficiaries, both received £12,942.50 which will considerably aid the services both charities deliver.
The generosity and kindness from the community was outstanding, with fantastic support from local businesses, neighbours, friends and families and the generosity and kindness from the community was outstanding and is appreciated by all involved.
And on Wednesday, December 19, the McKeown Family with their friends and neighbours presented PIPS Hope and Support's CEO Seamus McCabe and KBRT's founders Collie and Eithne Bell with the donation.
Speaking at the presentation, organiser, John Larkin thanked the many businesses locally and nationally, as well as the local community for their support.
"On behalf of the committee, we would like to express our heartfelt thanks to each and every person and local business who helped us achieve this incredible amount for PIPS Hope & Support and the Kevin Bell Repatriation Trust, the support from
everyone is greatly appreciated," he said.
PIPS Hope and Support's, Chief Executive, Seamus McCabe thanked the McKeown family, their friends, many businesses, individuals, and the local community for the support.
Said Mr McCabe: "It is very heartwarming to receive this donation for PIPS Hope and Support from the Natalie's family and
friends. On behalf of the board members, staff and volunteers of PIPS Hope and Support, an enormous thank you to Paula, Dereck, Ciara, Leanne, their family and friends and everyone involved for this kindness and generosity."
Mr McCabe added: "I also express our sincere thanks and appreciation to the many sponsors, and businesses who supported the walk and raffle in anyway which is testament to Natalie and the McKeown family. A special mention to all the individuals who organised. This donation will make huge difference to the lives of families and individuals who are emotionally distressed and in need of meaningful support, helping to save lives. Best wishes to everyone. We continue to keep Paula, Dereck, Ciara, Leanne and the wider family and friends in our thoughts."
KBRT's Collie Bell echoed his thanks and said: "On behalf of KBRT, we are very appreciative of the amazing fundraising dedicated to a beautiful, much loved and missed young lady. This fantastic community support is indicative of the esteem in which Natalie and her family are held. We pass on our thanks to all."
Sign Up To Our Newsletter