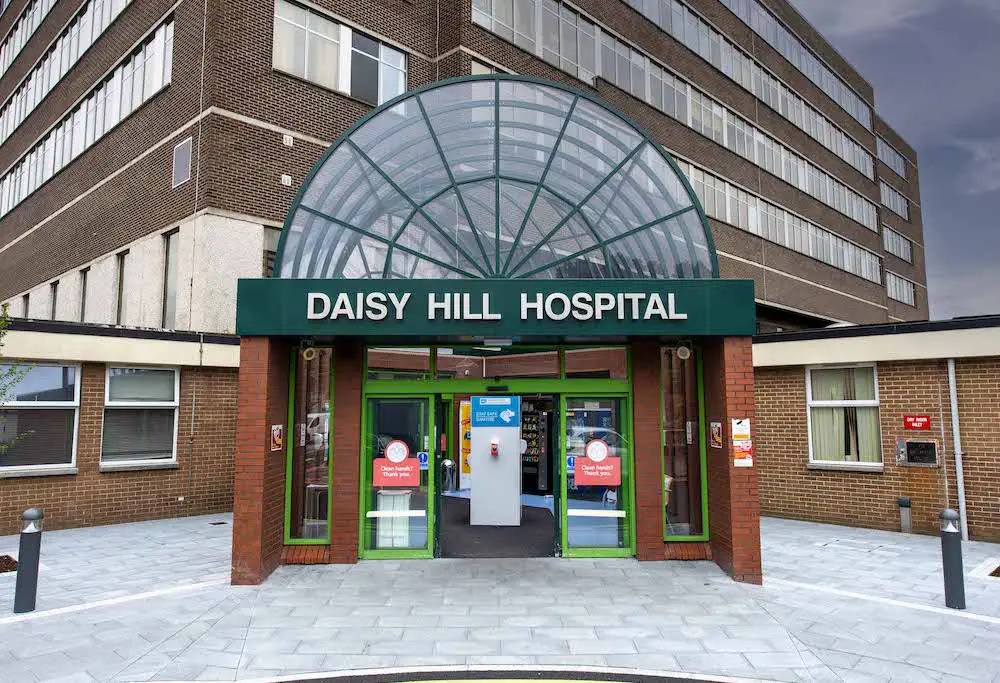 Patients requiring acute stroke care and treatment at Daisy Hill Hospital in Newry will be transferred to Craigavon Area Hospital for the next two weeks due to "temporary staffing issues".
"Due to temporary staffing issues, we have put in place a short term arrangement which means that patients requiring acute stroke care and treatment will be taken to Craigavon Area Hospital by ambulance for initial treatment," a spokesperson for the Southern Trust said.
"We have contingency arrangements in place should a patient arrive at Daisy Hill ED and is thought to have stroke symptoms.
"The stroke unit at Daisy Hill hospital remains open for admission of other suitable stroke patients.
"Those who need specialist acute treatment will be transferred to Craigavon or the Royal Victoria hospitals and once stable will be transferred back to the stroke unit at Daisy Hill for their ongoing care.
"Our priority is to ensure that patients continue to access safe, high quality care and treatment from our specialist stroke staff at all times.
"It is expected that this divert will be in place for two weeks.
"Always phone 999 with suspected stroke symptoms."
Meanwhile, SDLP Newry & Armagh MLA Justin McNulty has requested an urgent meeting with the most senior civil servant in the Department of Health on the future of the hospital.
He said the Department of Health and the Southern Trust must produce a clear plan on the way forward.
"I really wish we had an Executive up and running to deal with the crisis in our health service, but in the absence of a Health Minister, I have written to the most senior civil servant at the Department of Health to request an urgent meeting on Daisy Hill," he said.
"No one can deny that the withdrawal of emergency general surgery has had a destabilising impact on Daisy Hill Hospital, and just this weekend, staff at the hospital have reported that Daisy Hill's Stroke Unit is temporarily out of action due to insufficient staff coverage.
"The Trust must take immediate action to secure services and build confidence at Daisy Hill. The trust need to commit to a clear and ambitious vision for the future of our city's hospital."
He added: "The genuine concern of the people I am talking to is that Daisy Hill doesn't get a fair share of the cake, so I think it's important that the trust and the department take meaningful action to demonstrate that there is a clear vision for how the health needs of this growing region are going to be met.
"The withdrawal of emergency surgery from Daisy Hill last year was not part of 'health service transformation'. It was a service collapse brought about by the inability of the trust to recruit.
"A public consultation has been announced on the issue, and whilst there has been confirmation that the trust will be hosting Zoom meetings, it is crucial that we see in-person engagement with communities through public meetings and face-to-face conversations.
"We have seen how successful the work of the Daisy Hill Pathfinder Group has been in helping to consolidate our Emergency Department, so we know that these challenges can be overcome.
"Daisy Hill Hospital serves one of the fastest growing population areas in the north. Every measure needs to be taken to reinforce services in the immediate term and safeguard our hospital for the future."
Meanwhile, the trust has urged people to be aware of the 'Fast' campaign which highlights symptoms of  stroke and when to act.
Face – Has their face fallen on one side? Can they smile?
Arms – Can they raise both arms and keep them there?
Speech – Is their speech slurred?
Time – Time to call 999 if you see any one of these signs.
Sign Up To Our Newsletter