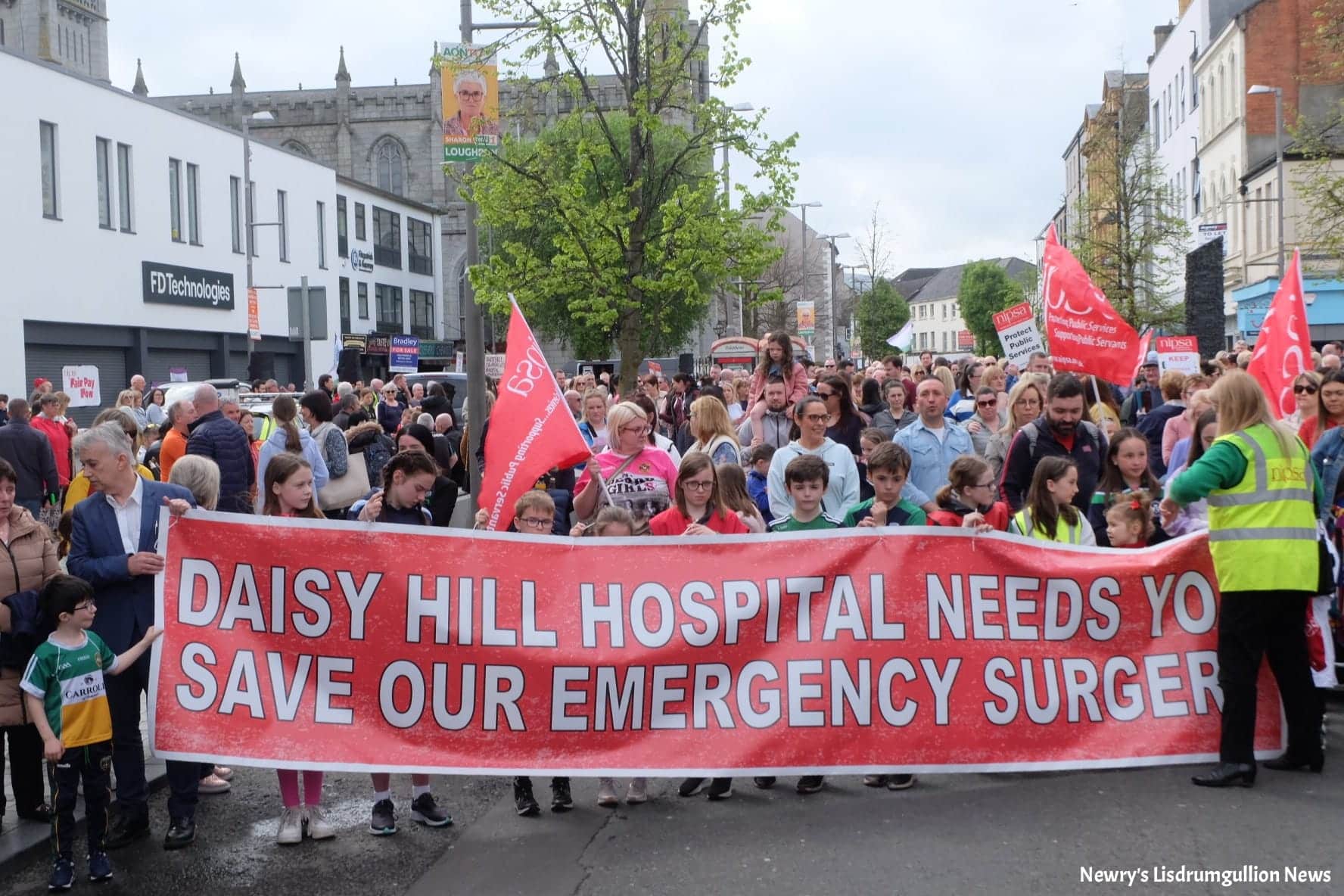 The Southern Health Trust has been urged to "come clean and tell us what you're doing" during a public rally in Newry on Saturday.
More than 1,000 people turned out in a huge public protest rejecting the removal of emergency surgery at Daisy Hill Hospital.
The heat is being turned up on the Trust following its plans to permanently relocate the life-saving service to Craigavon Area Hospital.
It was relocated from Daisy Hill in February 2022. At the time, the Trust described that as a temporary measure but have since reneged on that stance, citing ongoing recruitment challenges.
The crowd gathered in Marcus Square and heard from a number of speakers before marching up to the grounds of the hospital.
Council chairperson, Michael Savage, delivered a strongly-worded speech whereby he demanded an answer to a question he asked almost two months ago – "reassure us that this step that you're taking is not a threat to our Type One ED? We're still waiting seven weeks on".
"That tells me one of two things; the Trust have a huge communication problem or they're not telling us the full truth.
"We as a people in this city and district demand honesty. We demand honesty, and we're here today to ask the Trust to be open with us about their plans, but most importantly, tell us what their plans are for Daisy Hill.
"We should not continually have to find organisations like Pathfinder and the Daisy Hill Future Group in this city and district to fight for the future of our hospital. That's the trust's job. They should be fighting for the future of our services. They should be coming up with ideas for our services, for the health and well being of our people. Our people continually have to step forward and bring forward the ideas for our own hospital."
Councillor Savage also highlighted two cases in the last year "where surgeons have had to come from Craigavon during the so called temporary removal of emergency surgery from our hospital".
He also lambasted the provision "of a first class 21st century ambulance service", namely the resources provided.
"The question I asked then was, can you clarify for us what mitigation steps you're taking to ensure that the three main concerns of time delay addressed are addressed? Seven weeks on, still no confirmation or outline of what that mitigation is…again is there a communication problem or is it just an unwillingness to tell us what they are really at?"
"We need honestly from the Trust, we need transparency from the Trust, and we need a plan for the future of Daisy Hill."
Rachel Killen from the trade union, Unison, told the crowd that removing the surgery from Daisy Hill will cost people their lives.
"I work in Daisy Hill Hospital and I live in Annalong. My travel time is between 50 minutes to one hour. Can you imagine the time it will take a person in need of emergency general surgery traveling from Ballymartin, Annalong, Attical, Kilkeel, Crossmaglen and Newtownhamilton.
"The medics talk about the golden hour. Let's not beat about the bush here. People will die as a result of their travelling time. This could be your mum, your dad, your brother, your sister, your husband, your wife, your aunt, your uncle, your child."
In a statement, the Southern Health and Social Care Trust said: "We understand that local people want to show their support for Daisy Hill Hospital and we welcome their support for Daisy Hill Hospital."
Sign Up To Our Newsletter