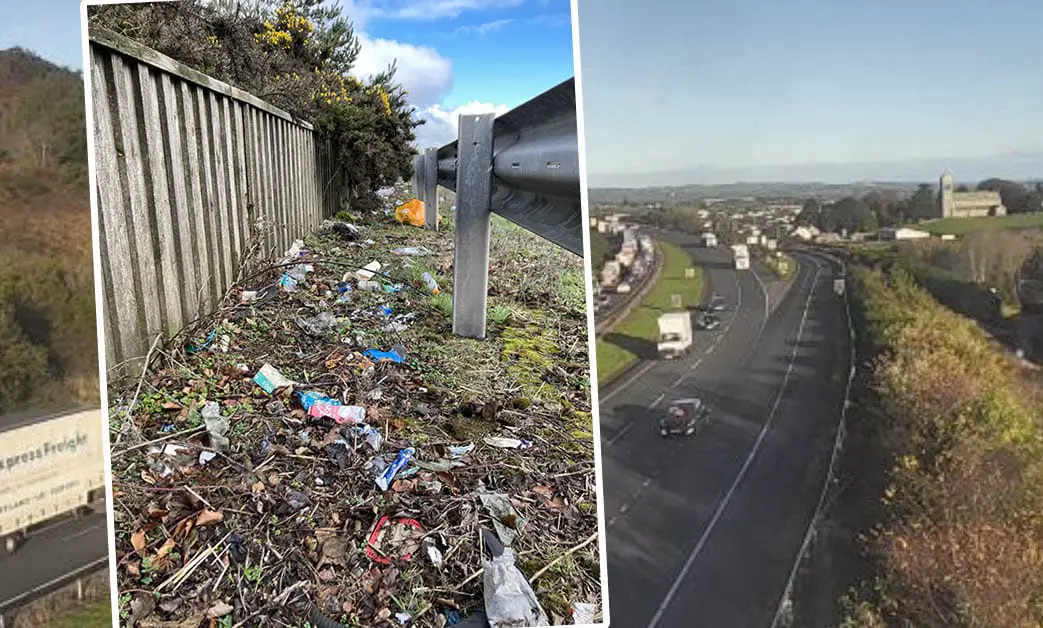 Newry council has failed to take action to clean up a major roadside litter problem despite a pledge to liaise with a Stormont department.
The Council (NMDDC) finally admitted responsibility in March, for clearing rubbish from a large section of the Newry A1 Bypass around 13 years after it was opened.
The council had told the Local Democracy Service (LDS), that it would liaise with the Department for Infrastructure (DfI) to clean up the areas, however, six months later no progress can be seen.
Following a request for an update by the LDS, a spokesperson for NMDDC responded: "Newry, Mourne and Down District Council has no further update at present in relation to this matter."
The Beech Hill to Cloughogue dual carriageway phase of the road was completed in 2010 at a cost of over £150m, with tens of thousands of motorists using it every day since.
The roadside verges of the carriageway have never been cleared of litter by the local authority in a designated area of outstanding natural beauty (AONB).
The council had previously stated that it was only responsible for cleansing the slip roads of the A1 with DfI responsible for the carriageway.
After an investigation by the LDS using photographic images, the local authority came to the conclusion that it had sole responsibility for clearing the litter from the carriageway verges.
DfI further outlined that the council was responsible for providing all safety measures and traffic management for the clean up.
The department has also stated it was willing to consider any co-ordination to assist the council.
However, it has now been confirmed by DfI that NMDDC has not made any contact with the department concerning the A1 bypass rubbish.
A DfI spokesperson said: "The department has not been contacted by Newry, Mourne and Down District Council regarding litter on the A1 bypass at this time.
"DfI does not have enforcement powers in relation to the collection of litter by local authorities on the road network.
"However, the department remains willing to coordinate with the council to help facilitate their collection of litter along the bypass."
Sign Up To Our Newsletter