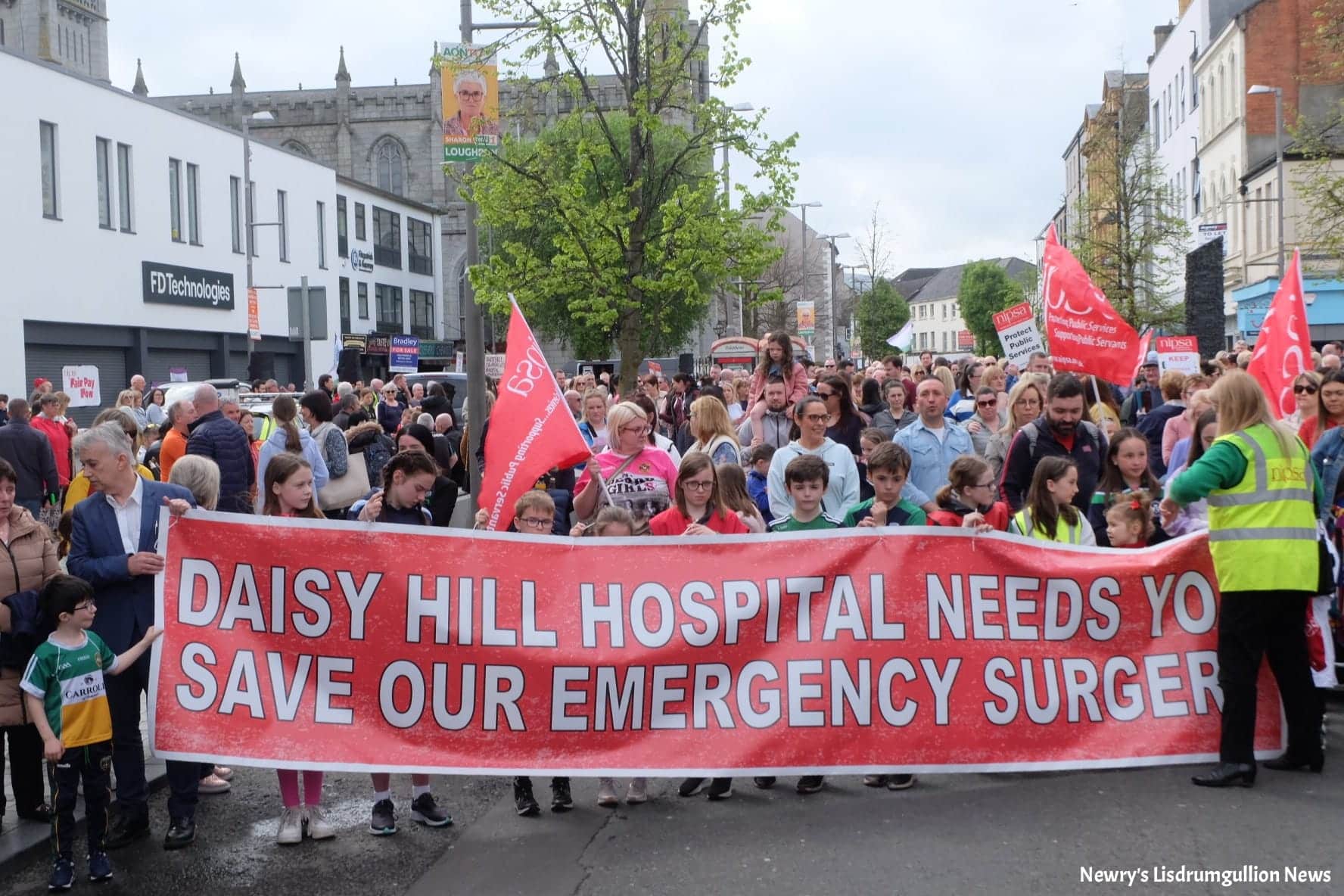 Chairperson of Newry Mourne and Down District Council Valerie Harte has said she will be "standing side by side" with residents at a public rally in support of Daisy Hill Hospital this Sunday.
The rally, which will start at 2pm in Marcus Square, is calling for services to be retained and improved at the Newry site.
Earlier this month, it was revealed that the Southern Health and Social Care Trust is considering cutting the number of medical inpatient beds from 107 to 40 due to staffing issues.
It is the latest in a number of services to be affected at the hospital, with others impacted including emergency surgery and stroke.
Councillor Harte said: "As someone who has lived their whole life in Newry, I'm very concerned at proposals to reduce services at Daisy Hill Hospital.
"When I was elected as chairperson of council, I said that one of my priorities would be working to protect and promote services at Daisy Hill.
"The council recently agreed to write to directors and management of the Southern Health Trust to request an urgent meeting to discuss their plans to stabilise services at the hospital and to secure services for the future.
"That meeting is now due to take place on Monday, July 3.
"Daisy Hill Hospital is vital to us as a community and we must protect its services for all in this district."
Kevin McAllister of campaign group SOS Daisy Hill Appeal has also appealed for a good turnout as has SDLP Newry & Armagh MLA Justin McNulty.
Mr McNulty said: "It is vital that we all take a united stand in opposing the Southern Trust's proposals to take a wrecking ball to Daisy Hill Hospital.
"I've been deeply inspired by the passion of local people in stepping up to the plate by protesting, picketing, organising, and advocating for our right to equal access to health services."
Meanwhile, the Southern Trust has said plans to cut the number of medical beds is only one of a number of proposals on the table.
It said they are working with staff on a number of proposals to stabilise staffing over the summer months, one of which includes the reduction of beds, but that it is an evolving situation.
A spokesperson for the Southern Trust said: "From late July we will have only one substantive medical consultant working at Daisy Hill Hospital and this could potentially impact on the number of student doctors we are allocated in August.
"Our initial focus aims to immediately stabilise staffing for the summer months in anticipation of a more permanent solution."We have worked with medical staff to develop a number of possible proposals to prevent and reduce inpatient medical admissions by developing more same day emergency care and enhancing community services."
Daisy Hill crisis: Rival MLA calls on Sinn Féin to help save Newry hospital
Trust divert acute stroke patients away from Daisy Hill Hospital for second time this year
Sign Up To Our Newsletter