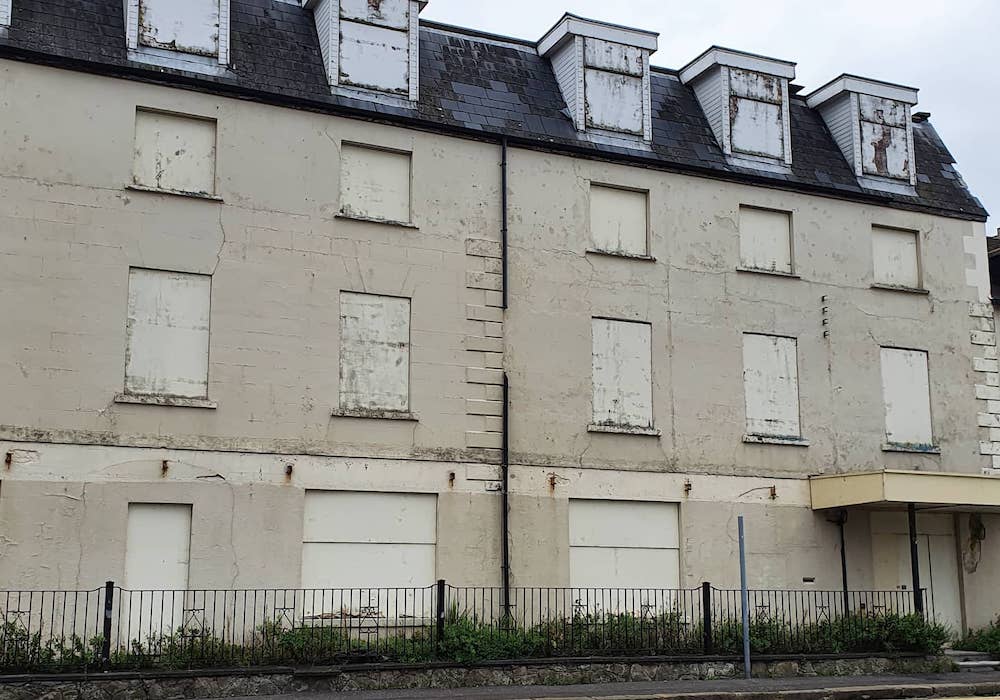 A derelict former hotel in Warrenpoint is at "tipping point" with council being urged to act now.
Safety concerns have been raised in relation to the Old Osborne / Carlingford Bay Hotel in the seaside town.
Independent Councillor Mark Gibbons has requested Council "take immediate action" regarding the unsafe condition of the building – with an enforcement notice being one of the potential possibilities.
"Very little of the actual hotel still stands today, with only front structure and adjoining buildings on each side holding what is left up," explained Councillor Gibbons.
"The decaying front facade hides a tangled mess of collapsed floors and fractured walls, with rats and pigeons being the only guests availing of its sorrowful state.
"It is absolutely criminal that this once grand building has been left to rot for over two decades.
"It still stands today, although very precariously, on a hugely prominent and beautiful part of Warrenpoint, and that makes this case all the more depressing.
"The residents of Warrenpoint have had to endure this cruel form of deterioration for 25 years now, with nothing ever being done about it.
"I have worked within the building industry for just over 20 years and although, admittedly not at a high level, I know a structurally unsafe building when I see one.
"The large structural fractures at the rear of the building especially, indicate that it is only a matter of time before it completely collapses thus causing a major risk to public safety.
"This building was once one of the many gems that Warrenpoint had to offer. Sadly, now after 25 years of sorry neglect, it has deteriorated, I believe, to the point of no return and preventive action needs to be taken immediately."
Sign Up To Our Newsletter