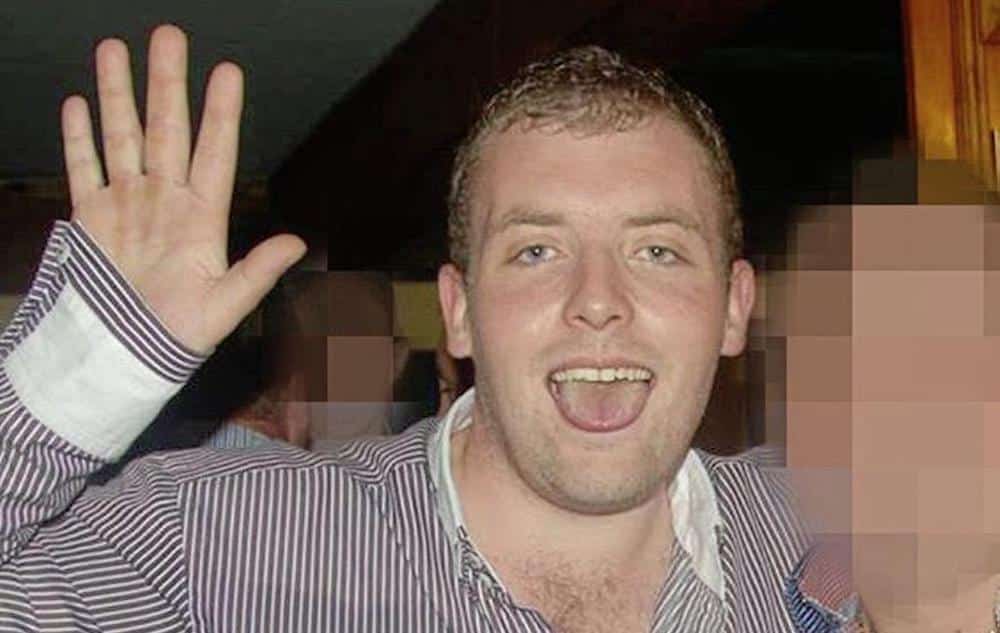 A man who twice stabbed a taxi driver and left him to bleed to death alone on a rural road is due back in court today (Wednesday) accused of assaulting his own mother.
Lisburn Magistrates' Court heard that 28-year-old Joseph Hillen was only freed from Mountjoy prison last week having served a "significant jail sentence" for manslaughter and was due to start with probation on Monday this week.
Appearing at court by videolink from police custody in a black tracksuit top and orange T-Shirt Hillen, from the Foughilletra Road in Jonesborough, was charged with nine offences alleged to have been committed in the early hours of April 14, this year.
In offences said to be aggravated by domestic abuse, Hillen was charged with dangerous driving, causing criminal damage to a wall belonging to his mother and assaulting the lady.
The 28-year-old was also accused of driving while unfit through drunk or drugs, possessing class A cocaine, assaulting a police officer, aggravated theft of a Ford Focus car which was damaged and driving without a licence or insurance.
Having connected Hillen to the charges, Const. Russell said police were objecting to bail due to the risks of further offences based on the fact that "he was released from Mountjoy prison last week having served a number of years for manslaughter."
While the facts of that case were not opened in court, the manslaughter conviction relates to the death of 53-year-old taxi driver Martin Mulligan who was stabbed to death in the early hours of September 28th, 2015.
During his trial Dublin Central Criminal Court heard that initially, Hillen denied any involvement or knowledge of Mr Mulligan's death but a few weeks before the trial began, he asked Gardai officers to visit him and he then admitted stabbing the taxi driver following an altercation on the side of the road.
Tried for murder, Hillen was found guilty of manslaughter and was originally sentenced to seven years imprisonment with the final year suspended by Ms Justice Eileen Creedon but the prosecuting authorised appealed that as unduly lenient and Hillen's sentence was extended by a further two years with the final year suspended.
Hillen told Gardai officers he chased Mr Mulligan after allegedly spotting him dumping rubbish on land his friend owned but that the taxi driver dropped suddenly and the pair fought.
He further claimed it was during this fight that the victim had a long, stainless steel kitchen knife and he described "flipping" the knife from the deceased's hand, receiving punches to his head and then, as he described it, "jabbing out" twice with the knife while he was underneath.
Tragically, Mr Mulligan died as a result of two "incredibly serious" stab wounds, one to to the abdomen which was 22.5cm deep and the second wound, described as a "through and through" wound, pierced right through his entire thigh.
His car moved away and the keys thrown into an adjacent field, the mortally wounded Mr Mulligan was left to die alone on a remote country road, without any prospect of being able to get away or summon help.
In court on Saturday, Constable Russell outlined how the PSNI were alerted to a domestic incident at Hillen's mother's home when she reported her son had "driven a car at her while she was standing at the front of her house."
She was two metres away when the Ford Focus crashed into wall, damaging a concrete barrier, ramp and railings.
According to the complainant, Hillen got out of the car and "ran at her" but she managed to get inside and lock the door but Hillen "has proceeded to shout and kick at the door," only leaving after his mother said she had phoned the police.
When officers arrived Hillen was "stumbling and falling over into a hedge at the roadside" and when they searched him, cops found a "bag of white powder" which he admitted was cocaine.
They also saw damage to the wall and the car and when Hillen was interviewed, he admitted driving it, conceding he had "just lost the plot and that his mother was annoying because she had asked him to leave".
Hillen's defence counsel submitted that with a bail address 12 miles away, the defendant could be freed on bail and District Judge Eamon King agreed but imposed a package of conditions including a prohibition on alcohol, staying away from his mother and observing a curfew.
The case was adjourned until today.
Sign Up To Our Newsletter