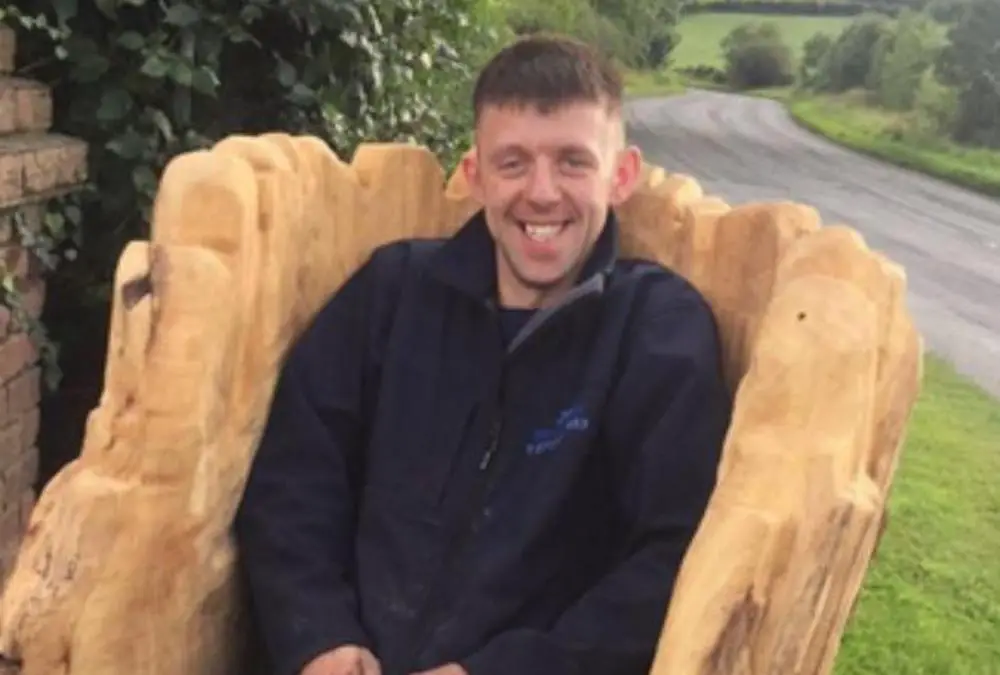 "I hope this bold man can never hurt any child's father again," was the concluding line of a powerful and emotional impact statement from the daughter of murdered Bessbrook man Brian Phelan.
Daniel Carroll was today (Friday) sentenced to a minimum of 22 years behind bars for the "vicious and murderous" attack on Bessbrook man Brian Phelan in the foot of Camlough mountain in July 2018.
During Carroll's sentencing hearing at Newry Crown Court on Friday afternoon, Crown Court Judge, Gordon Kerr QC, read heartfelt victim impact statements as visibly emotional family members watched on.
"Their sense of loss is immense," Judge Kerr commented. "At the time of the incident, his sister Ashling was arranging her wedding. [Brian] was to walk her up the aisle and give her away. The devastating effect of his death stopped that from happening.
"His father, who had suffered from ill health, died in 2019, and the family are of no doubt the grief of the death of his son played a part in his death too."
Judge Kerr, read parts of a statement from Brian's mum, Angela, where she spoke of the last three years being "extremely difficult".
"The emotional pain I incur on a daily basis is sometimes too much to bear…Brian's murder has taken a toll on all of us.
"Ashling, for the first year after Brian's death, kept herself busy helping the family try to remain strong but that took its toll on Ashling.
"Ashling has never got married. Her wedding will always be inextricably linked to Brian's murder. Paddy, Brian's dad died on November 1, 2019 with ill heart.
"The stress of Brian's murder was too much, and he died with a broken heart. After Brian's murder, Paddy began taking pills. He never stopped walking the floors every night. He was a deep man; he kept his feelings to himself. I know he spent his days just longing for Brian to walk it back in the door and shout his usual, 'well da!". Paddy held on to his feelings, not realising how ill it was making him."
Judge Kerr then referred to a statement from Brian's sister Ashling where she spoke about her wedding plans and how close knit the family were.
"As a family we all got on well, supported each other, and importantly, would have each other's backs. The evil actions of Daniel Carroll robbed us of so much.
"One of our big questions is why did Daniel Carroll murder Brian? If it was money Daniel wanted, Brian would have just given it to him, he didn't have to murder him.
"We sat through every day of the trial and the lies of Daniel Carroll in the witness box and still no answers about why he chose to murder Brian.
"Brian was not a fighter and would have avoided confrontation. Brian trusted Daniel Carroll and even collected him on the day he murdered him. There was nothing Brian could have done which would have justified being murdered. He was well-known and well liked the local area. The funeral showed that.
"For the next year after Brian's murder, I tried to keep busy, and eventually things took a toll on my health. I couldn't sleep, I wasn't eating, I was losing weight. I had to seek help at the doctor's. I have now been diagnosed as clinically depressed. I've tried counselling, anything to try and ease the pain, but nothing has helped so far. The trial was really tough, the fact that my partner and other family members were not able to support us in the courtroom was hard.
"I'm grateful to the jury for the difficult job that they did. No sentence given to Daniel Carroll will ever make amends for what he has taken from us. At the end of the day his family are able to see and speak to him. Our only option is to go to a graveyard.
There were further statements from his sister Michelle and the mother of his two children, Amanda O'Riordan but it was the statement from his daughter Georgia, which Judge Kerr chose to read from – it was a handwritten letter.
"My name is Georgia Phelan. My daddy is Brian Phelan. This was what my daddy meant to me. He was a lovely, loving, kind father. Whenever I felt sad, he always made me laugh. I felt safe when I was with my daddy until that bold man took him away from me. On that horrible day my mummy told me that my daddy had gone to heaven; she said he was with the angels. I was so confused and I started crying."
At the end of the statement, which she signed Georgia Phelan, she stated: "I hope this bold man can never hurt any child's father again."
Welcoming today's sentencing, Detective Superintendent Corrigan, said: "Today our thoughts are very much with Brian's two children, his mother, two sisters and his ex-partner.
"Daniel Carroll cruelly cut Brian Phelan's life short on the 26th July 2018 when he stabbed him in the neck and then proceeded to chase him for a period of time. Whilst Brian sat mortally wounded on the ground, Carroll callously proceeded to rifle through his pockets and steal money from him, before the left the scene.
"Whilst lying wounded Brian had to phone police himself to ask for help. Unfortunately his life could not be saved and he died at the scene at Carrivekeeney Road, Newry.
"Through the dedication of the investigating officers and working closely with our partners in the Public Prosecution Service, Daniel Carroll was found guilty of the murder of Brian Phelan and sentenced today.
"Daniel Carroll has robbed Brian's two young children of their father, his mother of her son, his sisters of their brother and his ex-partner of the father of her children. There will be no more memories made together; no more birthdays celebrated. They have all been left bereft. Unfortunately Brian's father never lived to see his killer brought to justice.
"This is a family who has suffered unimaginable grief."
"I know that today's sentencing will not bring Brian back, however I hope that it brings some sort of comfort to his family, knowing that Daniel Carroll is now serving time in prison for taking Brian's life."
Sign Up To Our Newsletter