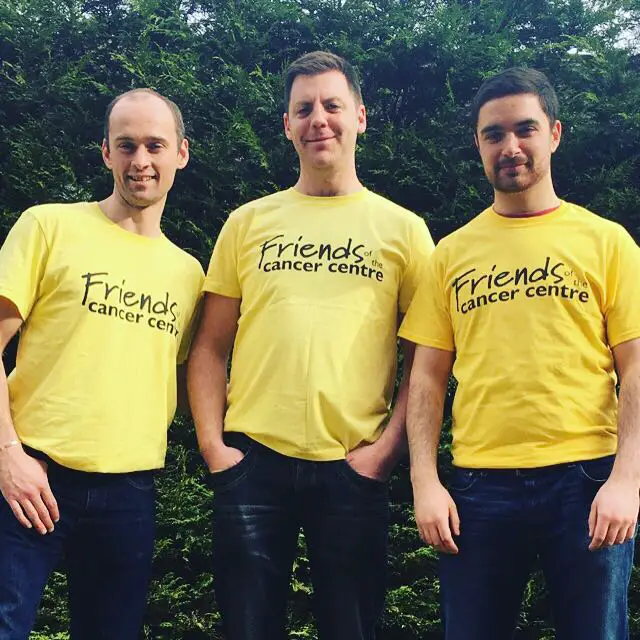 Three local men are getting set to abseil one of Northern Ireland's most iconic and tallest buildings to raise money for local charity Friends of the Cancer Centre – in memory of their mother-in-law Caroline Mathers.
Christopher Haughey, Damian McLogan and Kieran McAteer are among the many brave people taking on Friends of the Cancer Centre's 'Take on the Tower' Abseil, which will see supporters from across Northern Ireland abseil Belfast City Hospital's famous yellow tower block on Saturday and Sunday, April 9 and 10.
They are calling on others to follow their lead and sign up to take on Northern Ireland's fourth tallest building and make a 190ft adrenaline-filled descent right in the heart of the city.
Caroline sadly passed away from cancer just before Christmas last year and the three are taking on the challenge to say thank you for the support their family received during Caroline's last days.
Looking ahead to the abseil Christopher said: "Whilst I'm nervous about the challenge, I'm also really excited and I know the money that I raise will make a huge difference to Friends of the Cancer Centre.
"It's such a great honour, as the Cancer Centre staff were so helpful to my wife and her family during my mother-in-law's last days.
"Places for the abseil are filling up fast, so I'd call on local people to make sure they don't miss out on this great event and sign up to Take on the Tower today."
Claire Hogarth, fundraising manager of the Cancer Centre, said: "The Cancer Centre and Belfast City Hospital are two of the most important buildings in Northern Ireland, treating countless numbers of people. The striking yellow tower block of Belfast City Hospital is also one of Northern Ireland's most iconic buildings.
"In 2015, over 260 people from across Northern Ireland took part in the very first Take on the Tower abseil. This year we want to make the event bigger and better and are calling on thrill seekers from across the province to Take on the Tower for us and raise funds for local cancer patients and their families."
Friends of the Cancer Centre is one of the leading cancer charities in Northern Ireland working to support cancer patients, their families and carers through key projects in the areas of research, patient comfort and care, and clinical care.
The charity is committed to making a difference to the lives of people with cancer; from providing small everyday comforts such as newspapers and magazines throughout the Cancer Centre, funding specialist cancer nurses who play a vital role in patient care, to investments of nearly £1 million into local cancer research.
Registration for the event is £40 per person and each participant is asked to raise a suggested minimum sponsorship of £150 for the charity. Participants must be over 14 years of age.
If you would like to Take on the Tower and help raise vital funds for Friends of the Cancer Centre, you can register online at www.friendsofthecancercentre.com or call 028 9069 9393 to find out more.
Anyone who feels they aren't brave enough to take on the tower can also support the boys and the charity via the below link, which has been set up in Caroline's memory.
Visit the JustGiving page here
Read more news:
Ant and Dec's TV surprise as kind-hearted foster carer Ella recognised for Mother's Day
Approval for 24-hour unmanned 'Go' station on Portadown Road – with ATM now added too!
Lottery Fund extends Richhill heritage scheme with more iconic buildings to be restored
Anger as roadside memorial cross to murdered UDR man desecrated in 'vile act'
Major Keady housing development to be approved more than five years on…
Public inquiry into controversial north-south interconnector to reconvene in June
First look inside new trampoline park at the Outlet Business Park
Sign Up To Our Newsletter