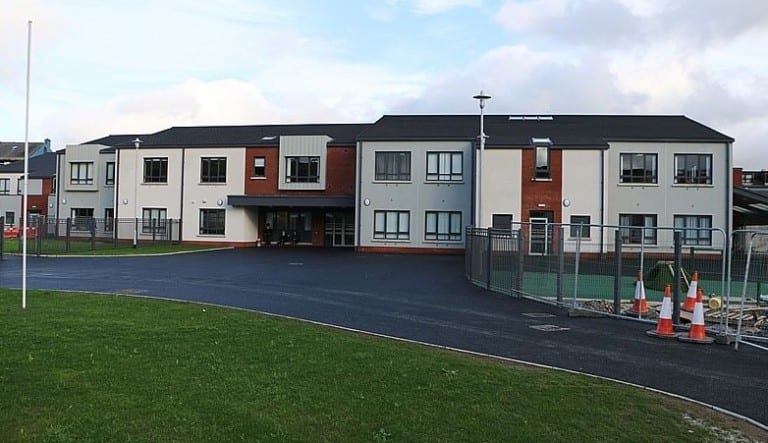 A new £8 million primary school has been officially opened in Newry – just a day after plans for three new build schools were announced locally as part of a further £40 million investment in the primary school sector.
Education Minister John O'Dowd has sent his congratulations to St Joseph's Convent Primary in Newry on the opening of their new school.
"I originally announced the capital investment for St Joseph's Convent Primary School in June 2012 and I am delighted that the new £8million accommodation has been officially opened today," said Mr O'Dowd. "Such investment provides a tangible difference to the pupils and staff of any school."
The new build provides a 14-class base school, double nursery and two classrooms for pupils with moderate learning difficulties.
The Minister continued: "Improving the schools estate has been a priority for me and I have always lobbied hard to get a better deal in terms of capital investment. I am delighted that during my time as Minister I have been able to advance 56 major school projects to proceed in planning representing over £500million investment and 51 School Enhancement Projects with an estimated value of £134million.
"In addition, yesterday I announced a further £40million capital investment that will enable 10 primary school projects to advance in planning."
That announcement was greeted with delight as new-builds were promised for St Malachy's Primary in Armagh, King's Park in Lurgan and St Peter's Primary in Collegelands.
In Newry today (Wednesday), the Minister concluded by thanking Principal Doreen O'Neill and the Board of Governors.
He said: "I commend all those connected with the school for dedication to delivering this project and I wish everyone well for the future."
Principal O'Neill said: "On behalf of the board of governors, staff and pupils I feel great pride and joy in welcoming everyone to school today to celebrate the historic occasion of the official opening of the new St. Joseph's Convent Primary School.
"We are delighted to have moved into the new building and the new Nursery unit. The new school will enable high quality teaching and learning to continue for many generations to come."
Read more news:
Campaign for air ambulance comes full circle as Chancellor pledges £4m
Minister rules out compensation bid by ex-UDR man acquitted of 1983 murder
Minister promises to help Keady firm 'double workforce' after MLA steps in
Two county Armagh primary schools to get new builds in £40m spending spree
Teenagers disturbed as they attempt to burgle house
Shelbourne Motors sets sight on opening new showroom and creating 15 jobs
'Someone will be killed': Wheelie bins dragged on to roads for THIRD night in a WEEK!
Sign Up To Our Newsletter