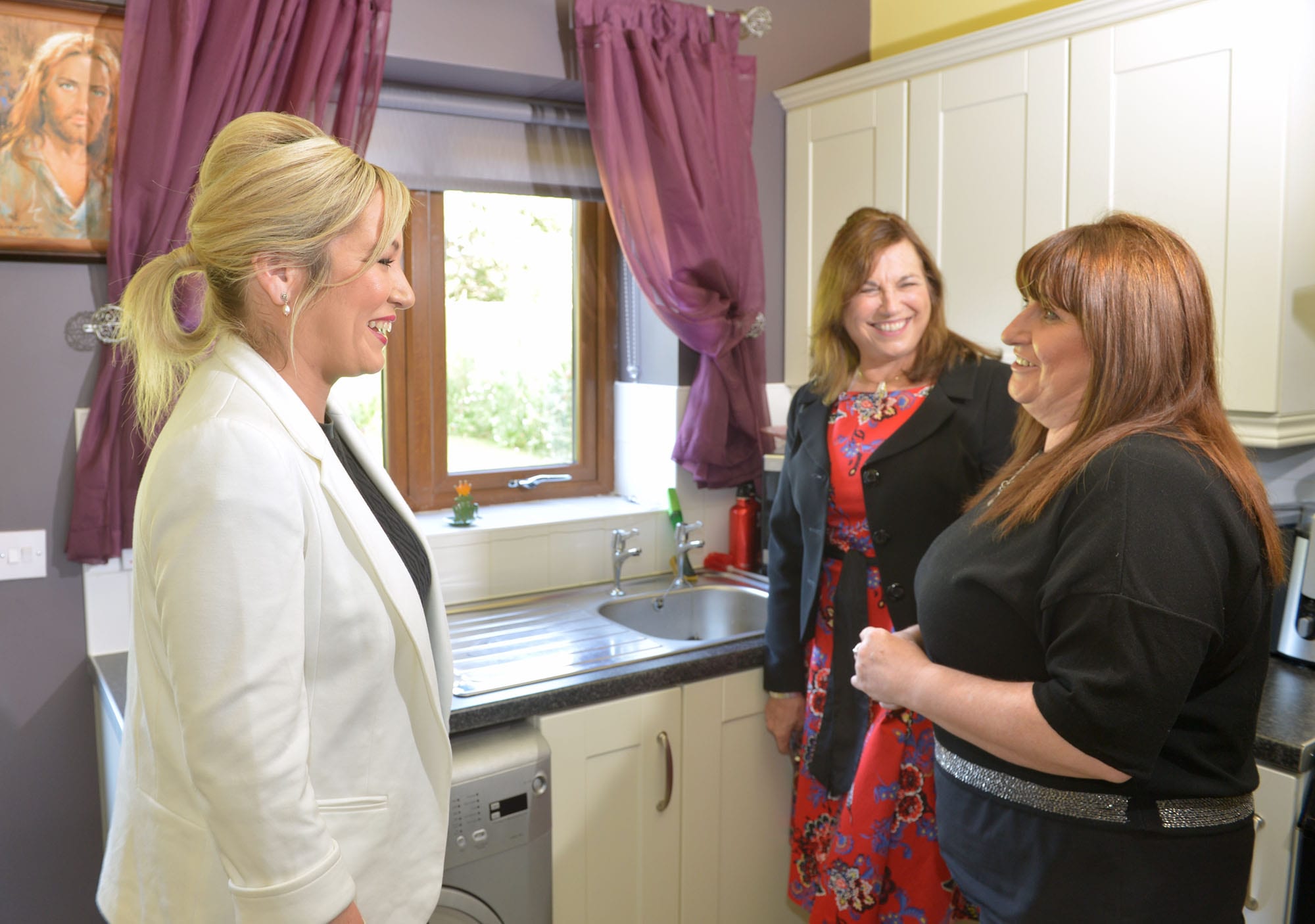 A new housing scheme has been officially opened on a former military site in south Armagh.
The completion by Fold Housing Association of Park Urney in Forkhill marks a further significant milestone in the redevelopment of the site and will improve the lives of people living in the local area.
During a visit to the site, Rural Development Minster O'Neill, who performed the official opening, met with new tenant Ms Brigid O'Hanlon.
Minister O'Neill said: "I very much welcome the completion of the Park Urney housing scheme by Fold Housing Association, which will provide affordable housing for the local community.
"This brings us a step closer to the full regeneration of the former military site in partnership with the Forkhill and District Development Association (FADDA).
"Speaking with Brigid in her new home it is very much apparent how the regeneration of this former British military site is improving the lives of our rural dwellers."
Speaking about the wider redevelopment Minister O'Neill said: "DARD and Newry, Mourne and Down District Council jointly funded the appointment of Groundwork NI to assist Forkhill District Development Association in bringing forward proposals for development of the 'Green Space' in the overall site development and the production of design options and ideas which bring creativity, innovation and excitement."
The Minister concluded: "My officials will continue to provide assistance to FADDA, working in partnership with Newry, Mourne and Down District Council and the Executive, to help ensure delivery of their vision for the village of Forkhill."
The regeneration of the former military site is in line with the Department's strategic objective of strengthening the social and economic infrastructure of rural areas.
South Armagh MLA Megan Fearon has welcomed the official opening.
"The Fold housing development at the new Park Urney represents another major step in the continued redevelopment of Forkhill," she said.
"While this high quality build scheme is fantastic in itself, the even better news is that this is just phase one of an overall project that will include a green space and an illuminated walkway.
"As well as the Fold Housing Association I want to thank Minister Michelle O'Neill for her efforts in pushing this project and ensuring it reached completion and, of course, her predecessor Michelle Gildernew, who first started this project 10 years ago."
Picture: Rural Development Minister Michelle O'Neill (l) chats to Fold Housing Association tenant Brigid O'Hanlon (r) during the official opening of a new south Armagh housing scheme. They are joined by Diana Fitzsimons (centre), Chair of Fold, at the Park Urney development which is on a former British military site.
Read more news:
Appeal to parents to take responsibility for children after altercation
Three teenagers sustain injuries in tea-time stabbing incident
Retail action plan goal to breathe new life into Armagh and local towns
Solicitor says Parole Commissioners 'erred' in not releasing Armagh man
Three women walk out of Armagh supermarket with trolley load of unpaid goods
Pregnant woman punched in the face and stomach
Sign Up To Our Newsletter