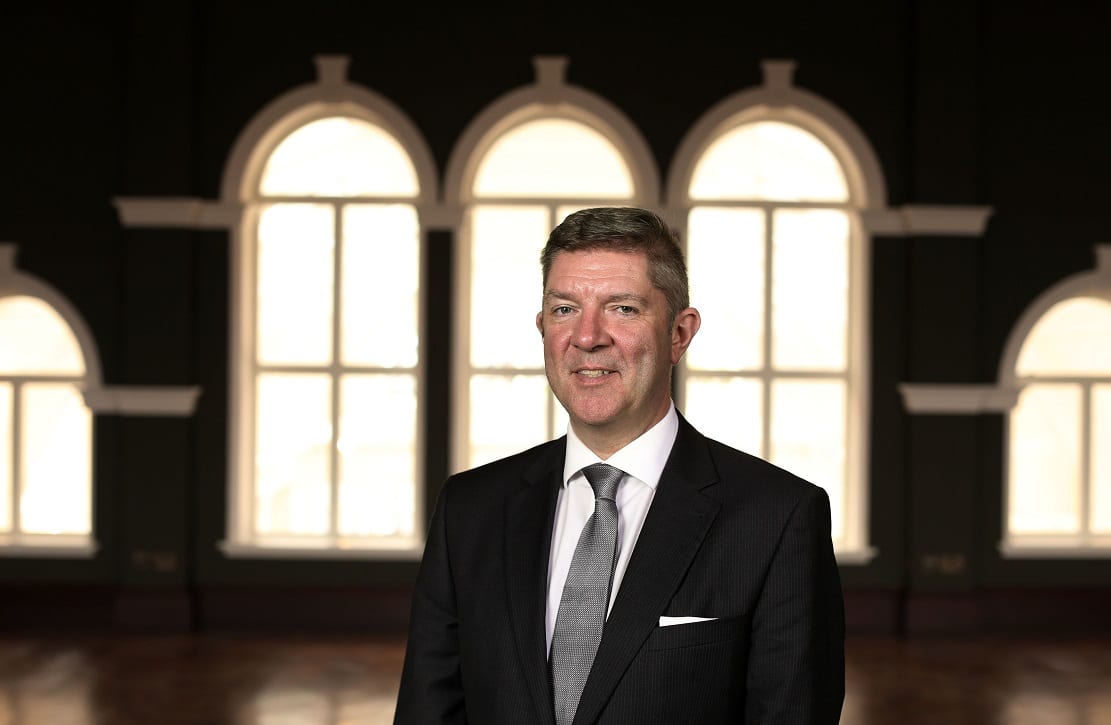 A Co Armagh man who has worked in hospitality on four different continents returned to take the post of general manager at the award-winning Titanic Hotel in Belfast.
Having been born and raised in Middletown, Adrian McNally left these shores back in 1991 after graduating from Ulster University, Magee, in a Hotel and Tourism Management course.
Little did the young Adrian know that this would be the start of such a rewarding and jet setting career.
Armagh I caught up with him to find out the whole story…
First stop was a hotel in London, now called the Renaissance at Heathrow Airport, where Adrian was offered a full time post having previously been an apprentice. And so began a 20 year stint working internationally.
"I came back to Middletown every now and then but I didn't come back to work in Northern Ireland until 2011," he told Armagh I. "I honestly did not think that when I left university that I would be gone for 20 years, it wasn't part of the plan.
"But once I got to London, big city the whole lot, for a lad from Middletown all of a sudden you start to see there's an awful lot more to the world.
"The other thing was you're so used to seeing the army about and the checkpoints and one thing and the other whenever you're living along the border, and all of a sudden we start to see that the world is a very different place.
"It was the scale of the volume of everything that was London. The hotel had 600 and something rooms, I'd never seen anything like that. You would be lucky if there were 600 houses in Middletown!"
Then came the chance to transfer within the company to another hotel in America, after getting his visa through the Green Card Lottery.
Adrian explained: "I just decided to go for it, I thought sure I can go over for a year and if I don't like it I can come back but there was no way I was coming back, because I went to San Francisco and it was just the most incredible experience."
After two and a half years at the Fairmont in San Francisco, Adrian moved briefly to Denver, Colorado, but not being the biggest fan of the climate he later returned to the Californian heat.
He said: "I stayed in San Francisco for another six or seven years. The Fairmont San Francisco is just an iconic landmark, I loved it. That is really where my career grew and my experience grew.
"I had an amazing general manager as a mentor from day one. He spring-boarded my career. He gave me an opportunity in San Jose, California that ultimately got me transferred to Kansas City, Missouri, as deputy GM."
Adrian enjoyed his time in Kansas City but the hotel was later sold and de-flagged as Fairmont. Wanting to stay with the chain he was then offered the opportunity of a lifetime.
"I wanted to stay with them as they were so good to me, then they asked me to go to Kenya," he explained. "I just sort of thought, yeah dead on, sure what would I be doing going to Kenya from Middletown?"
Describing his time there, Adrian said: "It was just the experience of a lifetime, I fell in love with Africa. Kenya was absolutely amazing, the people, the landscape, the safaris.
"I was never one who watched animal shows, I didn't particularly care to go to the zoo. It just wasn't me. I love the high rises and concrete that's what fascinated me about America.
"Then to really have been exposed to it, I got the safari bug and I still tell everyone who has not gone on one to do so as they are incredible."
One snapshot which sticks out in his mind is that of his last day. Having taken up running whilst there Adrian recalls doing laps of football pitches whilst a man in the centre sat with a rifle!
He explained: "He's sitting in the middle of the field and he just rotates as I'm running around in case a wild animal would come at me, that's the only reason for the gun.
"And I'm sort of thinking, who in their right mind from Middletown ever would have thought that this is going to be life, how the world is so different and so beautiful in other parts?"
Afraid of losing his Green Card, Adrian returned to the stated taking up post in Dallas, Texas, but later had his head turned by the opportunity of returning closer to home.
After spotting on the Ritz Carlton website that they were opening up in Powercourt in Dublin, Adrain applied for the post, describing it as "a chance I could not turn down".
But this return would be short lived; opened in the middle of the recessions, 18 months in Adrian was asked as part of a restructuring to leave for Shanghai.
"At this stage I did not even bat an eyelid, I had done Kenya and it was amazing, so I then went to work in Asia for two years and once more it was the experience of a life time," he said.
Adrian returned back to these shores in 2011, working with the Lough Erne Resort in Fermanagh, but has said that his "travelling days are certainly not behind him".
"The bug is there, I have always wanted to do Australia or New Zealand but they are hard to get into but I wouldn't say they are out of the question," he adds.
Looking back at his experiences, Adrian confides: "The industry in itself gets a really bad rap. People think are you going to hospitality because you don't have qualifications, it's a low paid job.
"But there are some parts of the industry that are just breathtaking, some that other careers cannot afford you the opportunity, but you really just have to open your eyes and take them."
Whilst at Lough Erne, Adrian had the pleasure of hosting the G8 Summit, meeting some of the world's most powerful leaders, but this was not a first for him.
He explained that through the years he has met numerous leaders, performers and movie stars but only one can take top spot.
"Bill Clinton was the big one for me. At the time he was in power, the Good Friday Agreement had just been signed and he had actually been at the Mall in Armagh but I hadn't been home, I was in San Francisco.
"So there I am waiting on the motorcade coming in, nervous as anything. I put my hand out and say 'welcome to the hotel Mr President' and straight away he picks up on my accent."
The pair talked away about Bill Clinton's experiences in Ireland, and Adrian revealed a photograph of the pair of them still takes pride of place in his home.
After moving on to the Culloden Hotel for two years, another opportunity which was too good to pass off up presented itself to Adrian, one which he is still dedicated to today.
"Is there any young lad who doesn't know the Titanic story?," he says. "I have visited the museum on several occasions when international friends had come over and I was actually living at the apartments there at the time.
"I would be out for a walk in the evening, you'd see the restoration work starting on the drawing room and I just thought what an opportunity. I threw my hat into the ring and I am so glad I did.
"I've taken over hotels and opened hotels but never as a general manager. I thought I would just love to be able to say that, that one is mine from from the get-go!"
The Titanic Hotel has gone on to have unrivalled success, winning the best Northern Ireland hotel title at the World Travel Awards three years in succession, one for every year their doors have been open.
Explaining this success, Adrian said: "We've really made a big impact on the Northern Ireland hotel sector and we're very much into the journey and the guest experience. It's not just another hotel room.
"Whether it be the art on the walls, whether it be the product that we're delivering, everything has to have a sense towards the ship yards and Titanic and quality.
"It really makes a big impact on our customers. They just want to keep coming back and that's a testament that we're doing something right."
However, this year has been one like no other for those in the hospitality sector with numerous closings and reopenings.
"We're a resilient bunch, I've got to commend the staff. They're absolutely exceptional and they're looking forward to being able to reopen because it's what they do best," said Adrian.
"Hospitality,  it's about welcoming guests in, it's about putting the smile on a guest's face, it's about just that anticipation trying to do something that really makes the customer go 'wow, that's a little different'.
"They just want to get back, because that's what we really do best. We're not here to work in an office with no windows, that's not what we're all about."
The hotel has had to innovate in these times and are just about to launch a Christmas to go offer.
Adrian commented: "I would never have said last year that I would have boxed turkeys, ready to be picked up on Christmas Eve, but the market is going to be there for it.
"There are going to be people who maybe can't go home for Christmas and we want to make sure they have a Christmas Dinner, even if mammy isn't there. Perhaps some are like me and would not know where to start."
Speaking candidly, Adrian admitted that going into hospitality had not always been a foregone conclusion; indeed, in his youth he had aspirations of becoming a dentist!
He said: "I did Maths, Chemistry and Biology for my A-Levels at the tech in Armagh. My heart wasn't in it but I think I did it for my family; my brother is a doctor, my sister taught me in the tech and my other sister is in finance.
"So it was kind of wouldn't it be great now just to get a priest or a dentist, and I can remember my Mum's face when I didn't get the grades and told her I was doing hotel management."
Looking back on his career thus far, Adrian said: "I think that sometimes we can get too preoccupied on what we should do, rather than what we want to do, as teenagers.
"I'm glad that I followed my heart. My father was always one to say 'whatever is meant for you won't miss you', and I think that getting the results that I did in my A Levels, opened the opportunity to go into hospitality and I'm so delighted that it did."
Sign Up To Our Newsletter