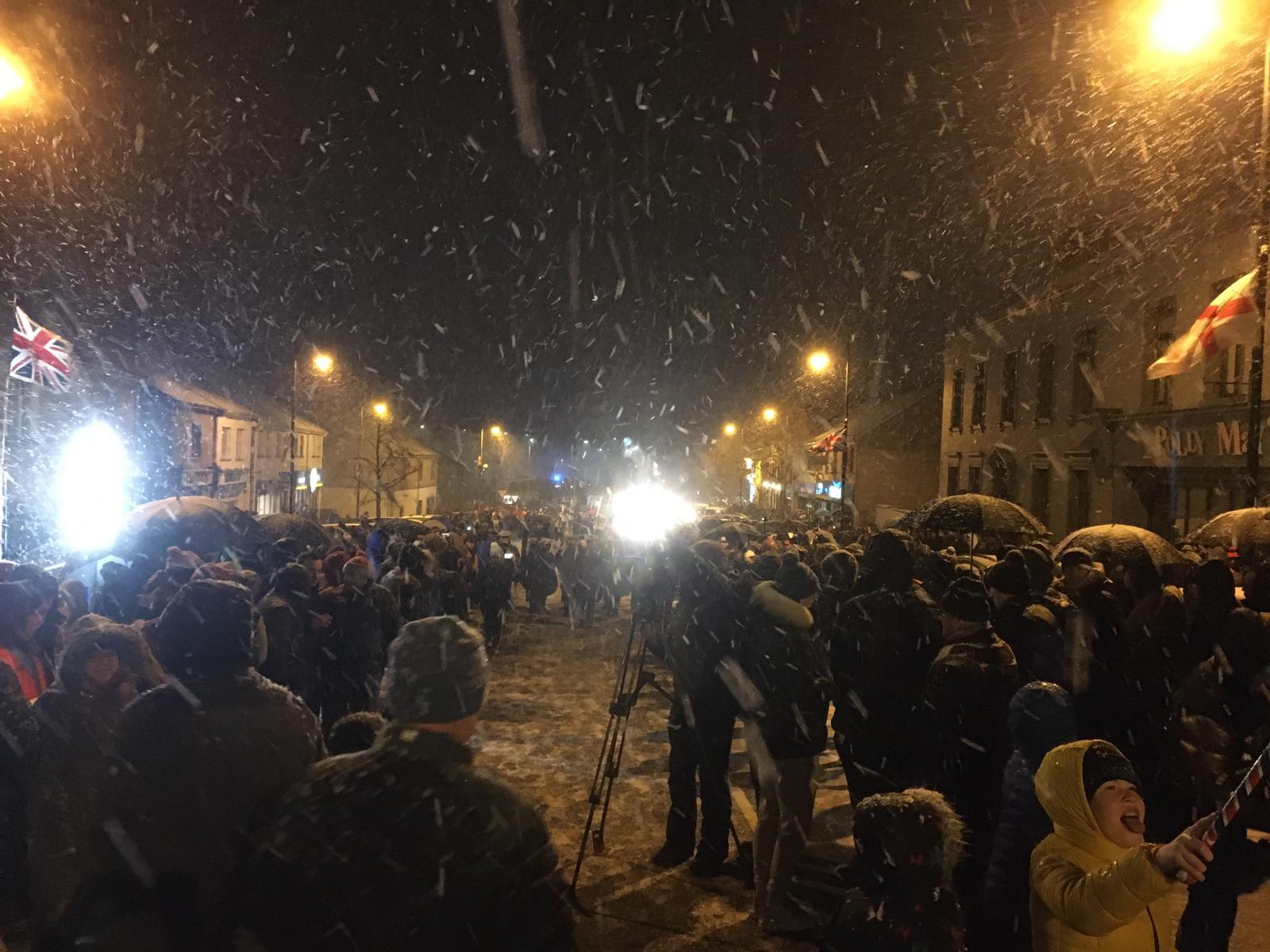 DUP MP Sammy Wilson was heckled and booed as he addressed a large crowd of anti-protocol protesters in Markethill on Friday night.
Around 3,000 people braved close to freezing temperatures, and at times, heavy snowfall to make their thoughts known on the Irish Sea border.
The protocol is a special Brexit deal for Northern Ireland designed to prevent the return of a hard land border with the Republic of Ireland.
However, earlier this month, the issue led to the collapse of the Executive following the resignation of DUP First Minister Paul Givan.
His party colleague, Sammy Wilson MP, was one of the speakers at the event held in Markethill last night.
But as he spoke he was subjected to heckling and boos from the crowd.
TUV MLA Jim Allister was forced to intervene in a bid to quell the unrest.
Mr Allister said: "You'll get your opportunity at the polls to express yourself, but tonight it's important that we listen to all unionist voices."
TUV leader Jim Allister had to intervene during DUP MP Sammy Wilson's speech at an anti-protocol rally after the crowd booed and jeered him. Jim Allister urged the crowd to listen to him but said to make their anger known on Election Day. pic.twitter.com/6RjK5y2Qg2

— Cate McCurry (@CateMcCurry) February 18, 2022
More footage of Sammy Wilson DUP MP getting booed and jeered at Markethill…if this is anything to go by they are in for a rough election! Notable that Donaldson who app cancelled last min would have likely had an even worse reception over latest 'betrayal' of communities 😬 pic.twitter.com/FLieZIqmY2

— Carla Lang (@CarlaLangNI) February 19, 2022
Unionist parties oppose the NI protocol, arguing that it means  additional costs for businesses and undermines Northern Ireland's place in the Union.
Sign Up To Our Newsletter