The fight to save a rural County Armagh primary school from closure has gone to Stormont.
Representatives of St James' Primary School in Mullaghbrack were accompanied to a meeting with Education Minister John O'Dowd by local SDLP representatives.
Armagh I exclusively revealed in September that the axe was poised to fall on the school next year – despite vehement protests from the local community.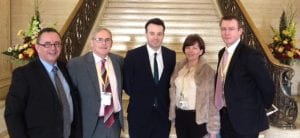 St James' Primary School is one of a list of schools which had been recommended for closure as part of the Area-Based Planning for the Primary School Sector in Northern Ireland.
In September, we reported that a formal development proposal had been published which would see the school – which falls within the Parish of Tandragee – close by the end of August 2016 or "as soon as possible thereafter".
Today (Wednesday), SDLP Newry and Armagh MLA Dominic Bradley and local representative Justin McNulty joined representatives of St James' Primary School in a meeting to fight proposals to close the school.
Sean Conlon, the chairperson of the school's Board of Governors and Shauna Boylan, of the 'Save Our School Committee', were part of the delegation which included the newly-elected SDLP Leader Colum Eastwood.
Mr Bradley said they were determined to fight proposals by CCMS and the Department of Education to close the school, which he described as "a vital part of the community infrastructure" and one which "serves a minority Catholic community in the Markethill area".
"It is vital the school is retained," Mr Bradley told Armagh I after the meeting.
He continued: "St James' Primary School has a long and proud history. It has served this community well for generations and we cannot allow that to be lost in a debate which focuses on enrolment numbers.
"We are unequivocal in our argument. The Department of Education's own Sustainable Schools Policy says that there must be exceptions for schools which serve minority communities and we believe this is the case in St James'."
Local SDLP representative Justin McNulty added: "This is truly an exceptional case, for an exceptional school.  The most recent inspection reports highlight the quality of education and pastoral care at the school. This is due to the committed and dedicated staff, both teaching and non-teaching, in the school.
"We pressed the Minister to use his ministerial discretion to save St James'.
"St James's serves a minority Catholic community in Markethill. Equally there are other schools in parts of Northern Ireland which serve minority Protestant communities and they too should be protected.
"We need to see the Minister protect small rural schools and I hope that the Minister has listened to the passionate pleas made by the school's representatives today and that he intervenes to save St James's Primary School."
In 2012, Minister John O'Dowd commissioned the five education and library boards – working closely with the Council for Catholic Maintained Schools and other sectors – to prepare Strategic Area Plans for the restructuring of primary education in their areas.
What followed was a period of public consultation on the various proposals, which ran from the middle of March until the end of June 2013.
A report detailed the responses and went back to the SELB at the end of August of that year.
A number of specific points had been made in relation to St James' Primary School, not least that it would "impact negatively" on the local community.
It was stated that this was "the only Catholic school in the wider Markethill area" and, if the proposal proceeds, there will be "no provision within reasonable travelling distance".
It was argued that St James Primary provides a good standard of education and "serves an isolated minority community well".
It was also claimed – and contained within the summary report – that consultation by the CCMS had "not involved the main stakeholders and had not proposed alternative options for parents in the event of closure".
It was stated as part of the exercise that issues arising in respect of specific school proposals, which were detailed in the area plans, would be addressed by the individual boards, while those relating to Catholic Maintained schools would be considered by CCMS.
But the new Education Authority – which replaced the five boards – published the development proposal in September for the closure which had been brought forward by CCMS.
Dominic Bradley MLA, Sean Conlon Chairperson St James's Primary School Board of Governors, SDLP Leader Colum Eastwood MLA, Shauna Boylan Save Our School Committee and SDLP Representative Justin McNulty at Stormont. 
Read more news:
Murder inquiry launched following death of county Armagh pensioner Eugene Carr
County Armagh takeaway raided in overnight burglary
Man arrested after discovery of £1.6m cannabis factories; one in county Armagh
Several vehicles broken into during early morning crime spree
Disabled robbery victim loses fight for life almost three months after brutal attack
Paramilitarism, welfare reform packages and fewer MLAs agreed in 'Fresh Start' deal
Newsletter
Sign up for our weekly newsletter here.