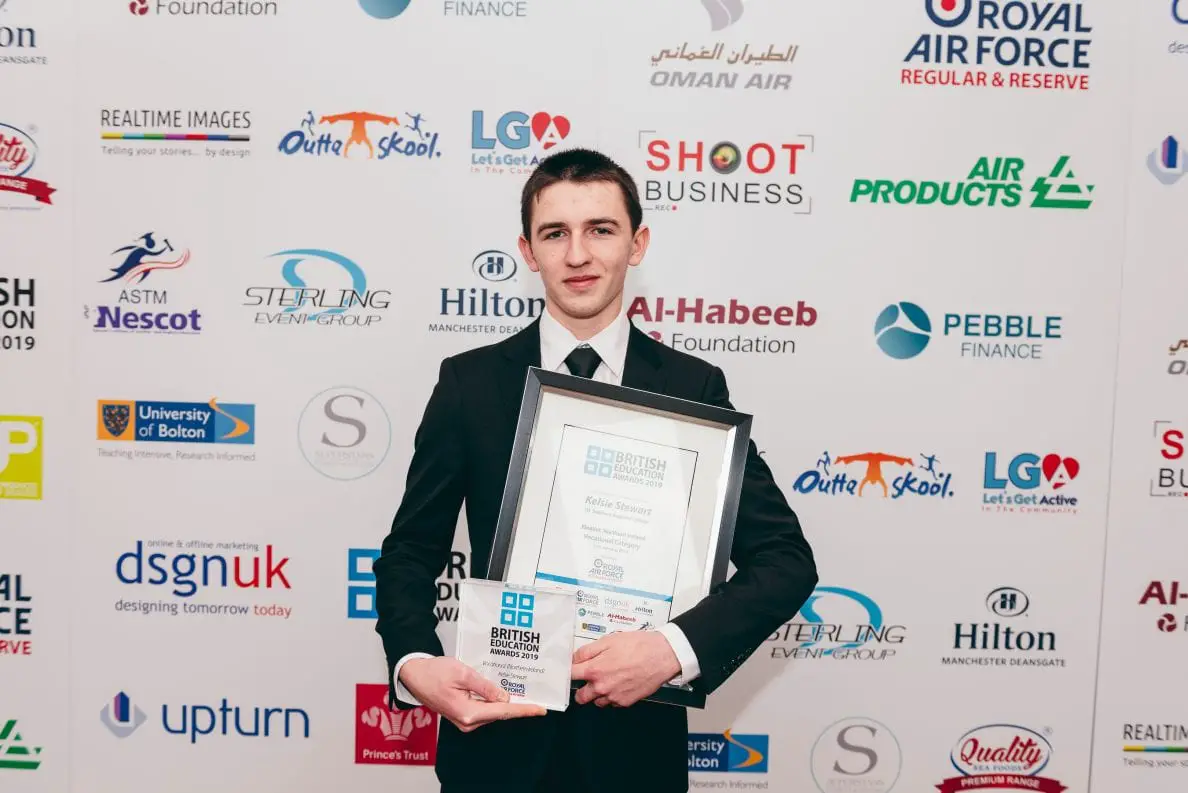 A hardworking student from Markethill has jumped to top of the class after scooping a prestigious British Education Award for outstanding academic results, attitude and a clear commitment to his community.
Kelsie Stewart, 17, who is from Markethill and studies at Southern Regional College Banbridge, made his mark in the voluntary category in Northern Ireland before collecting his award at a major ceremony in Manchester.
Now in their third year, British Education Awards (BEA) celebrates the academic and extracurricular achievements of students in the UK.
Joined by families, teachers, politicians, professionals and celebrities from across the UK who came together to celebrate educational attainment, Kelsie received the highest results achievable – two Distinctions – in his Pearson BTEC Level 3 Diploma in Public Services and was praised for his discipline, positive attitude and outlook.
A volunteer with the Army Cadets where he holds the rank of Cadet Corporal while also coaching and mentors younger members, Kelsie is also a talented marksman and a member of the Junior Olympic Squad.
Kelsie's Southern Regional College Course Coordinator, Liz Hudson, who also joined Kelsie and his family at the ceremony, said Kelsie's win was well deserved:
"Kelsie is an outstanding student and a credit to the college, his family and friends and to the whole of Northern Ireland and we're thrilled that his outstanding achievements have been recognised in such a prestigious way," she said.
"This British Education Award is richly deserved for a young man who is both humble and inspiring."
More than 75 candidates were shortlisted from candidates in all UK regions at this year's British Education Awards BEA 2019 within four key categories – GCSE or Scottish National 5, A Level or Scottish Advanced Higher, Vocational and Degree.
"This year's British Education Awards Finalists have shown an admirable level of focus and dedication to their studies, invariably balancing demanding timetables of external activities alongside their official curriculum to achieve incredible academic results," British Education Awards organiser Amin Chowdhury said.
"We are extremely proud to be able to honour them at the third British Education Awards and hope that, as BEA Ambassadors, their example will encourage others to make the most of the education and learning opportunities available here in Britain," Amin added.
The British Education Awards is a not-for-profit organisation set up to promote excellence in education by celebrating student achievement with the aim of inspiring the pursuit of learning and further education.
Sign Up To Our Newsletter