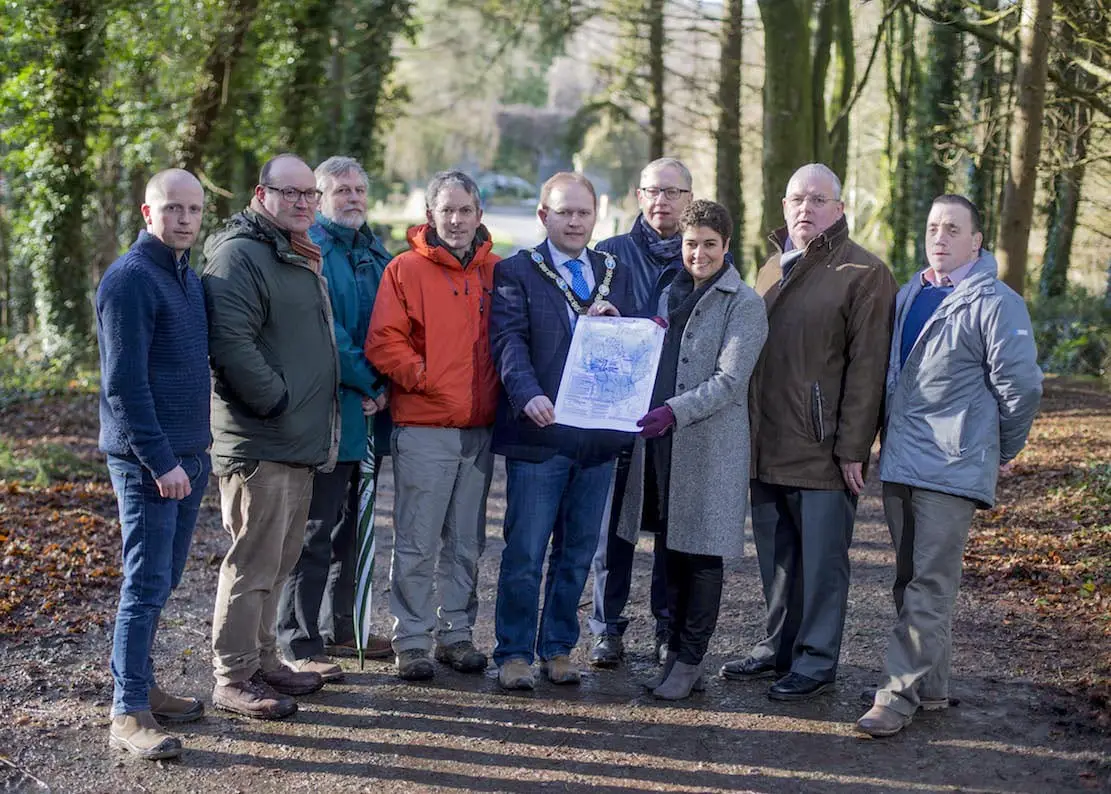 Specialised trails, equipment and vehicles to cater for people with disabilities are to be introduced as part of the multi-million pound redevelopment plans at Gosford Forest Park.
The park is due to be officially handed over to Armagh City, Banbridge and Craigavon Borough Council on January 1.
And Disability Sport NI is set its sight on creating a further exciting opportunity at the five-star forest park – the first of its kind in Northern Ireland.
It is pledging to spend close to £180,000 on the plans for introducing the 'All Out Trekking Project' to improve the health and wellbeing of people with disabilities in Northern Ireland.
Council have already hosted two demonstration days for Disability Sport NI at Gosford.
A range of four-wheel vehicles – self-propelled and motorised – have been trialled.
And it is intended that a number of these will be bought – at a cost close to £160,000 – for use at Gosford.
DSNI has agreed to fund the project, which includes an upgrade of a storage area at Gosford to facilitate the scheme.
Details are being presented to the ABC Council's leisure committee on Monday night.
An official report to committee explains: "The project will provide the opportunity to access the countryside through the provision of a range of specialist outdoor wheelchairs and all-terrain vehicles at a number of outdoor recreation sites across Northern Ireland.
"Gosford Forest Park has been selected as the first site to be developed.
"The project will also include the purchase of a number of standard mountain bikes so that people with a disability plus other groups and individuals including tourists visiting the area, can use the trails alongside their non-disabled friends and family members."
The committee is being asked to enter into an agreement with Disability Sport NI.
The council for its part – if accepted – would store the equipment 'free of charge' at the agreed location within the forest and maximise accessibility of the park for people with disabilities.
Council would also support the development and promotion of an inclusive outdoor trails participation programme and provide Disability Sport NI staff and volunteers with free access to the storage area.
The first stage of the project – to be completed by March 2019 – involves the identification, testing, purchase and storage of a range of specialist adapted outdoor vehicles and standard mountain bikes at Gosford Forest Park and to refurbish and increase accessibility to the storage area.
The second stage – to be carried out between next April and March 2020 – will involve the development of a regular outdoor trails participation programme in partnership with council.
Committee is expected to back the plans – which would then go before full council later in the month to be formally ratified.
The report to committee points to the benefits of the proposals, adding: "This project will have a very positive impact on the council's ability to include those with a physical disability in health and recreation activities."
The proposals come as the the Council agreed a new pricing structure for Gosford Forest Park which will come into effect from January 1.
The annual car parking pass for local regular users of the park has been cut in half from £50 per year to £25, while an annual motorcycle pass is £12.50, Minibus – £50, Coach – £55 and Horsebox – £55.
The annual pass concessionary rate for a car pass will be £16.25, motorbike £8.50 and minibus £32.50. Daily entrance fees will remain the same at £5.00.
Lord Mayor Julie Flaherty commented: "Gosford Forest Park is a fantastic facility which the council is committed to transform into one of the top five forest parks in Northern Ireland.
"We believe this new agreed pricing structure not only recognises our local ratepayers who use the park on a regular basis but it will also maximise income from visitors and out of state tourists as development plans start to progress.
"This is also welcomed by our Cusher councillors who have continually raised concerns over regular users parking on the hard-shoulder and multi-agencies including the PSNI and Department for Instructure (Roads Service) who are working together with the council to improve the safety of road and park users."
Plans are still progressing on the development of an iconic themed play trail, additional car parking, visitor facilities including toilets and onsite café.
In addition, the new multi-use walking and cycling trails will be officially opened to the public this Friday, December 7.
Caravanning will be available to book online from 2nd January 2019.
Cusher DUP representative Alderman Gareth Wilson has welcomed the special programme.
"This is another fantastic development for Gosford Forest Park and I commend our hard working council officers who have in tandem with Disability Sport NI secured this package of funding," said Alderman Wilson.
"This will completely transform accessibility to Gosford Forest Park for those with disabilities who would otherwise struggle with accessing more challenging parts of the forest. I await the full approval of council and go-ahead at the end of the month."
He concluded: "I am really delighted to see this significant development and having watched a video of a recent trial of the equipment at Gosford and the sheer sense of achievement and delight on the faces of those who braved the trails, it will be a very popular pursuit when it becomes operational in 2019."
Sign Up To Our Newsletter