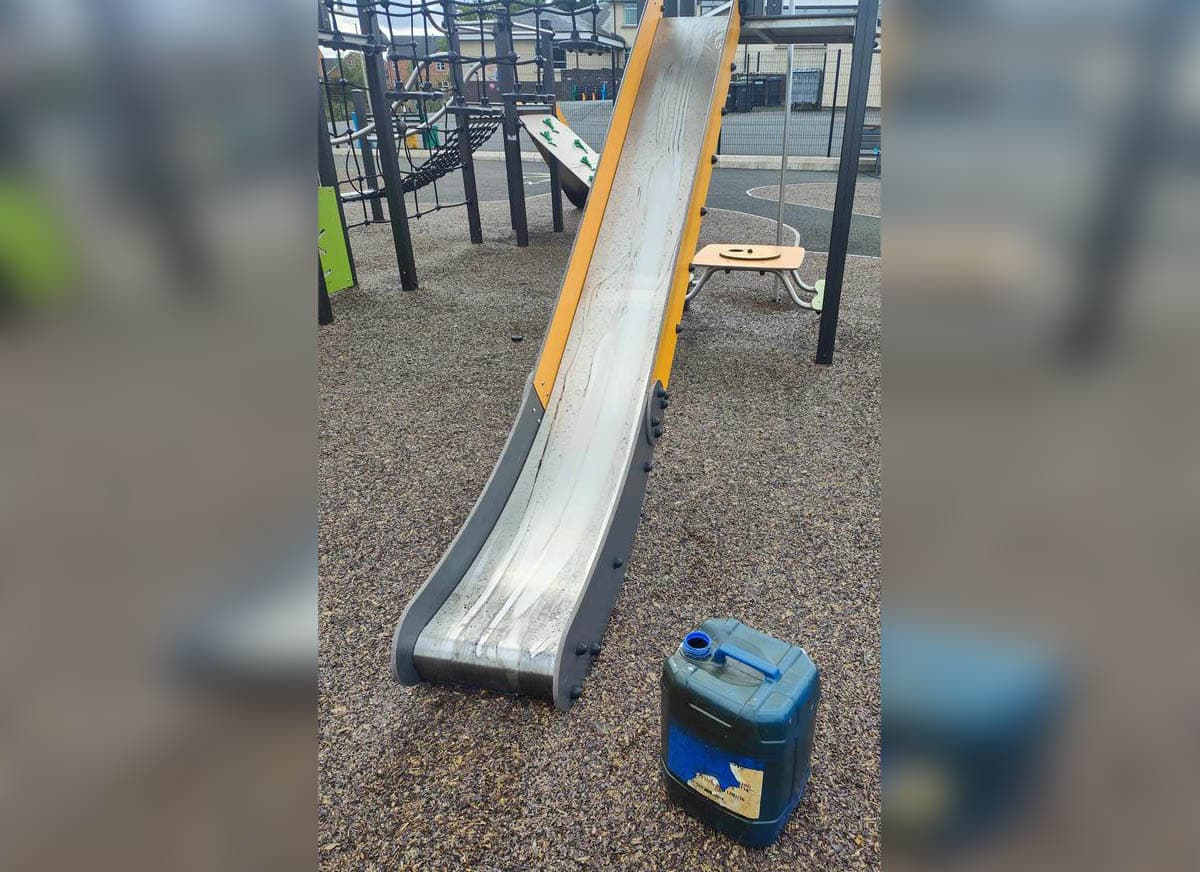 Markethill play park has been closed and will remain shut overnight after vandals doused the equipment in oil.
The culprits even left the oil drum behind them as Council confirmed the clean-up operation, which will involve detergents, will continue for the remainder of today (Wednesday) – and overnight – in a bid to rid the park of the foul substance.
Staff at the nearby primary school made an initial attempt to clean the substance.
One woman said she was there with a friend and six youngsters but hadn't realise there was an issue until two of the children came over with their clothes destroyed with oil.
The woman, speaking to Armagh I, said: "I am a local and a regular user of this park and was disgusted with the mess of it. The school was great and sent someone out straight away.
"I was there with a friend and we had six young ones between us; two of them ended up covered and clothes ruined.
"As we were leaving the Council showed up to close the park so they were extremely prompt. The idea that someone has gone to their garage and carried this heavy drum to the park, to then pour it over the play equipment, slides and tarmac is concerning.
"If it is mindless anti-social behaviour by some 'bored' youths then parents need to be asking if they are missing this drum from their garages."
Cusher DUP Councillor, Gareth Wilson, said: "I'm concerned by yet another incident of vandalism at a play park in the borough, this time in Markethill where I understand that an oily substance has been thrown over equipment and surfacing.
"This has been attended to by Council officials and will require the park to be closed overnight as the cleaning agent takes effect.
"I would call on those responsible for this vandalism to cease immediately as this mindless vandalism serves no purpose and costs rate payers money to repair.
"This follows vandalism at Tandragee play park in recent days where soft surfacing was once again pulled up and torn. It really is beyond understanding why people feel the need to destroy kids play equipment."
The £100,000 play park officially opened in June 2021.
Sign Up To Our Newsletter