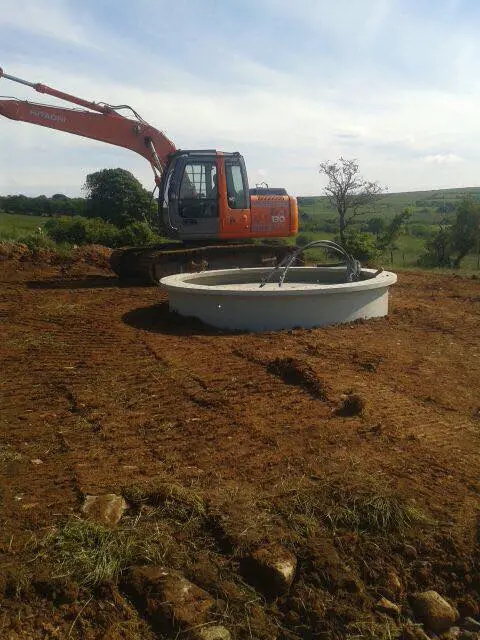 A large Hitachi digger was stolen and driven three fields before it was loaded onto a lorry and taken away.
The orange digger was stolen in the Markethill area under the cover of darkness last night.
The son of the owner contacted Armagh I appealing for the public's help in returning his dad's livelihood.
"It was my dads livelihood and I just can't believe people can still do something like this," said Mark Moore.
He  added:  " The digger had its shutters as well as the kill switch was out but yet they still stole it, before driving it three fields and on to a lorry.
"We can only assume that but it's the only vehicle capable of carrying such a large digger.
"I am hoping the public can share this appeal. t's also got a black bracket on the dipper arm. There's not many with it, so it would stand out even if they take are name off the side."
Local DUP Cllr Gareth Wilson also appealed for anyone with information to come forward.
He told Armagh I: "This was a really audacious theft with criminals driving the digger a considerable distance in order to load it onto a suitable transporter.
"It is a shocking act and it has caused great concern for the owner as they have been left without this machinery which is their livelihood.
"I would appeal to anyone in the vicinity who may have seen anything suspicious to contact the PSNI immediately and assist with their inquiries.
"Rural crime continues to be a source of great concern for local people following the theft of machinery and vehicles in recent weeks and I will again be liaising with local police on these important issues."
Read more news:
Armagh company prosecuted after worker falls from height and breaks nine ribs
Vandals damage four vehicles as car dealership is targeted over the weekend
South Armagh primary school gets £1.5m funding boost
Picture shows man caught trying to force open window of Co Armagh home
Vote passes to ban smoking in cars when children on board
Urgent action call at Richhill after another accident at scene of last month's tragedy
Large parts of Armagh without water after contractor hits mains on Mall
Nathan Carter fans play waiting game over 'booking error' claims over Armagh gig
Sign Up To Our Newsletter