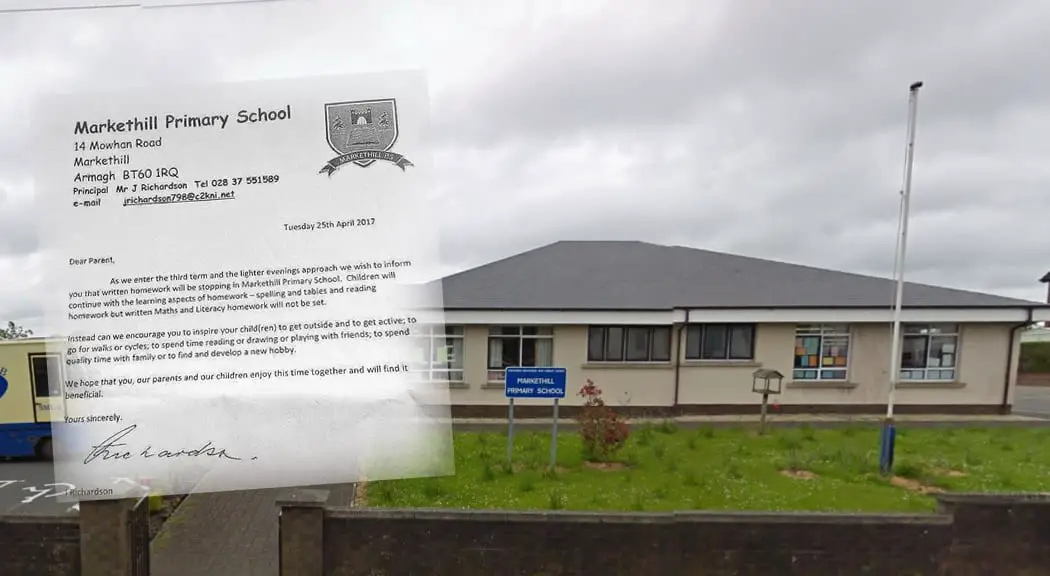 A county Armagh primary school is getting the thumbs up from parents and pupils alike after deciding to take an alternative view of homework.
Markethill Primary School principal James Richardson is encouraging parents to get their kids outdoors and active.
He has written to all parents insisting homework will be ceasing as the lighter evenings approach
In the letter he wrote: "As we enter the third term and the lighter evenings approach we wish to inform you that the written homework will be stopping in Markethill Primary School. Children will continue with the learning aspects of homework – spelling and tables and reading homework but written Maths and Literacy homework will not be set."
He added: "Instead can we encourage you to inspire your child(ren) to get outside and to get active; to go for walks or cycles, to spend time reading or drawing or playing with friends; to spend quality time with family or to find and develop a new hobby.
"We hope that you, our parents and our children enjoy this time together and will find it beneficial."
Superb, Mr Richardson!
Laura Quinn posted the letter on Facebook with the message: "Now this school has got the right idea!!!
"This should be standard, don't you think? We have plenty of dull miserable days to spend inside doing homework but looking after the physical and mental health of the kids is just as important. Superb work Markethill Primary setting the example
🙂))"
Sign Up To Our Newsletter