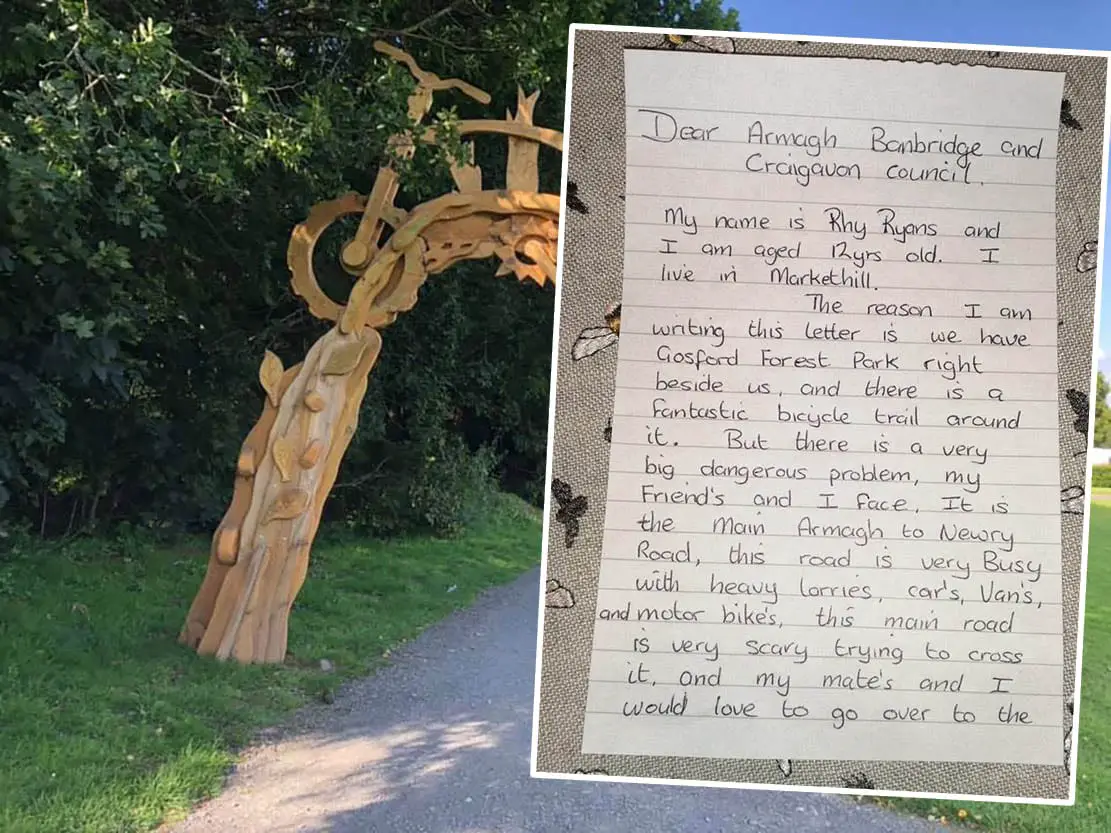 A Markethill schoolboy has called on councillors to do everything in their power to provide a safe crossing over the busy main road to Gosford, so he and his pals can enjoy the exciting new facilities at the park.
Twelve-year-old Rhys Ryans has written to Armagh City, Banbridge and Craigavon Borough Council in the hope that his plea – and that of other young folk in the Co Armagh town – is heard.
Millions of pounds are being spent to convert Gosford into a five-star tourist destination.
This has included bike trails and other facilities, with further linked themed play structures in the pipeline.
Rhys – a pupil at Markethill High School – says he and his friends and other children around the town want to enjoy what is being made available to them on their doorstep.
But in order to do that, it means crossing the main Gosford Road, which has huge volumes of traffic travelling at speed.
Rhys wants them all to be able to go to Gosford but they want to make sure they have safe passage.
To that end, he is asking councillors to pick up on the calls for a crossing and 'run with it', so that all the hard work and investment at Gosford is not put beyond their reach.
In his correspondence to council, Rhys states: "The reason I am writing this letter is that we have Gosford Forest Park right beside us and there is a fantastic bicycle trail around it.
"But there is a very big dangerous problem my friends and I face. It is the main Armagh to Newry Road. This road is very busy with heavy lorries, cars, vans and motorbikes.
"This main road is very scary trying to cross it and my mates and I would love to go over to the forest park to get the benefits out of it on our bikes but we can't because of the continuous traffic on this main road.
"As anyone knows the Gosford Forest Park is a big temptation for us kids and nobody wants to hear of any kids being killed by traffic trying to get some recreational use going to Gosford Forest Park or coming from it.
"Is there any way you, our council, could give us kids a safe path to cross over, so that is all we are asking from our district council?"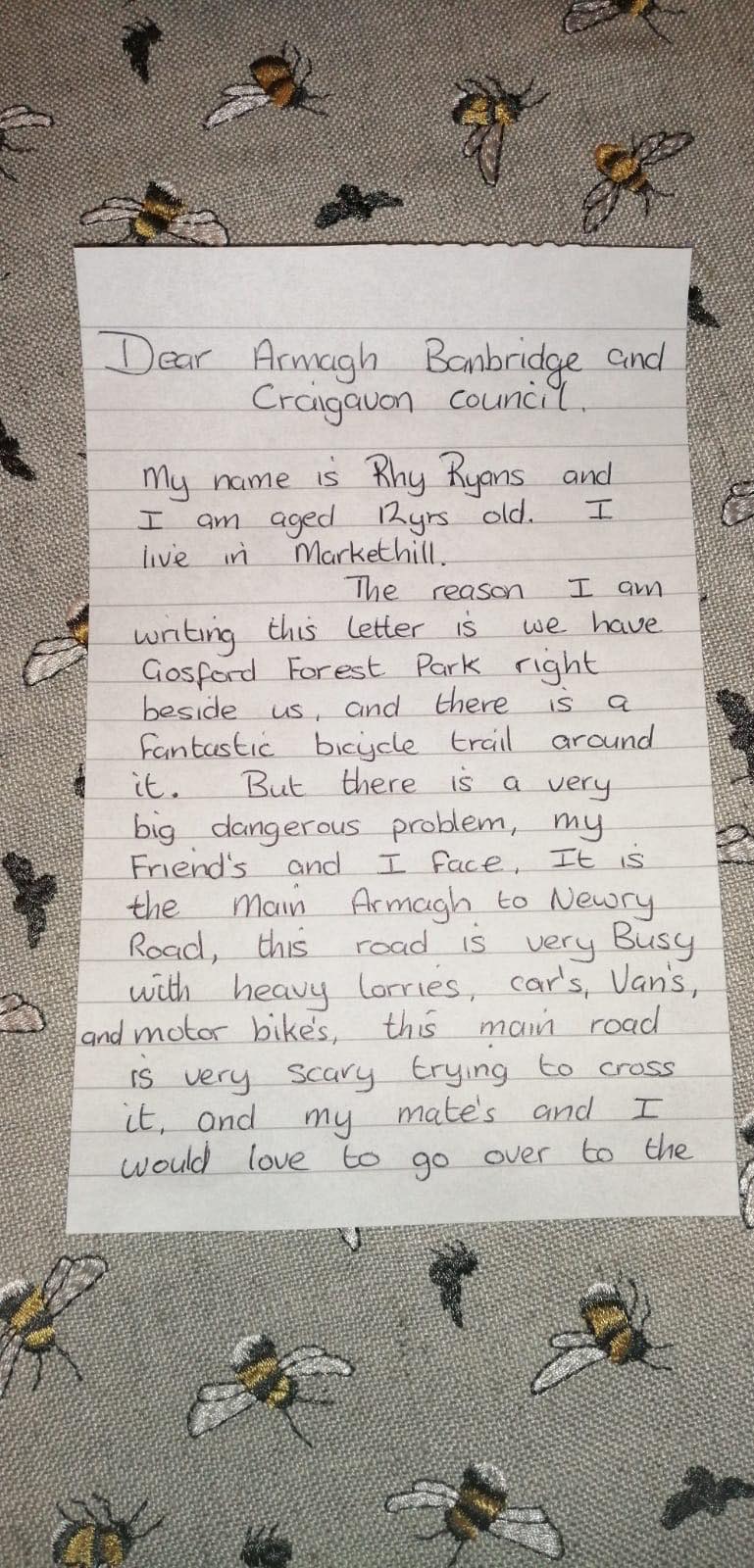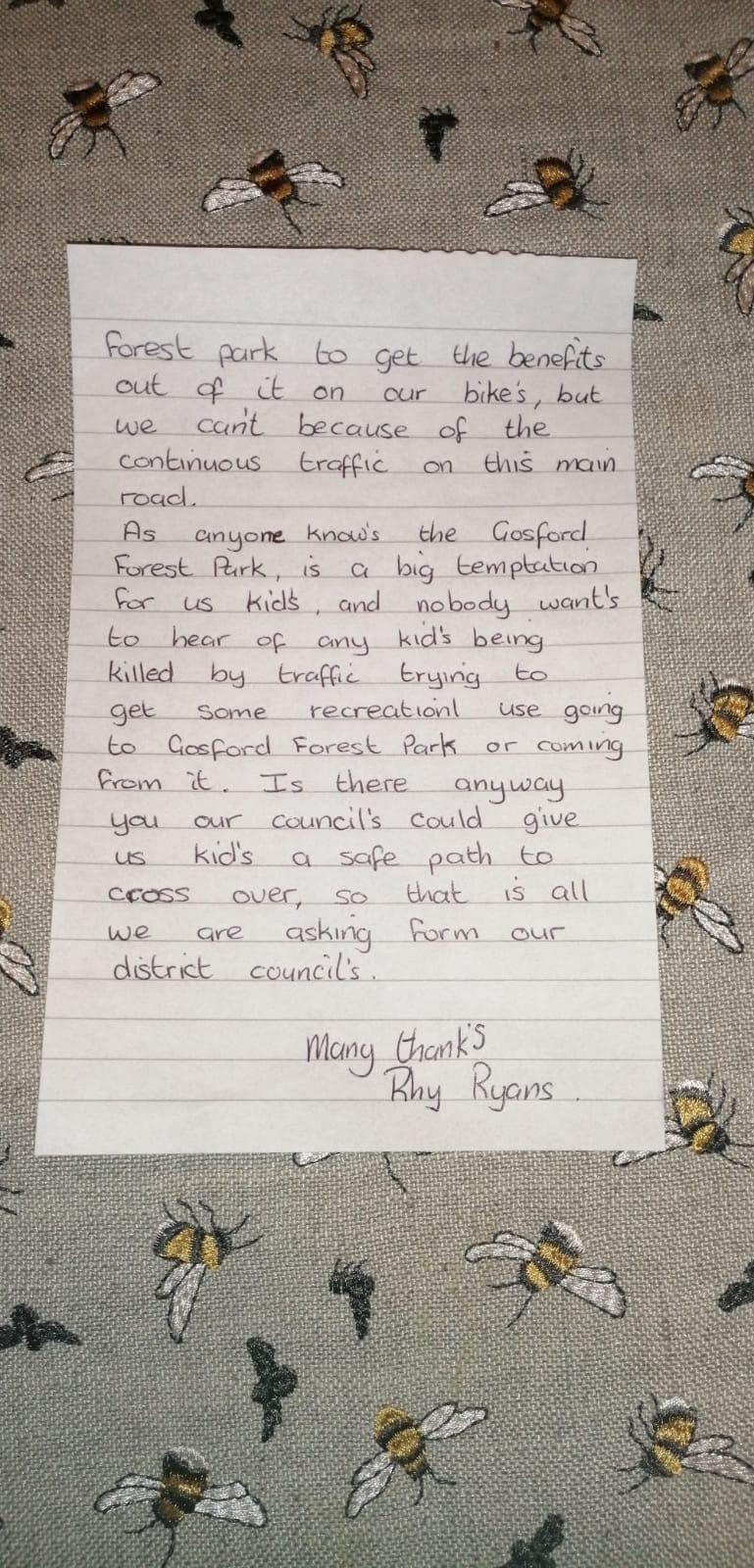 Mum Lucy has three children, with the youngest just nine months old.
In order to get the children a few hundred metres from where they live on the main street, she says she has to pack up the car and drive the short distance.
"I have to pack my car car up to take him over to Gosford as crossing the road, even with me, it's scary for him and myself," she said.
"Many a time cars have come on to the hard shoulder early to enter Markethill.
"As a mum, it's scary because my son loves the park and he and his friends are scared to cross the road, and the temptation for Gosford and its bicycle tracks are great, so I understand fully their desire to make that treacherous crossing but the danger is just too much."
Sign Up To Our Newsletter