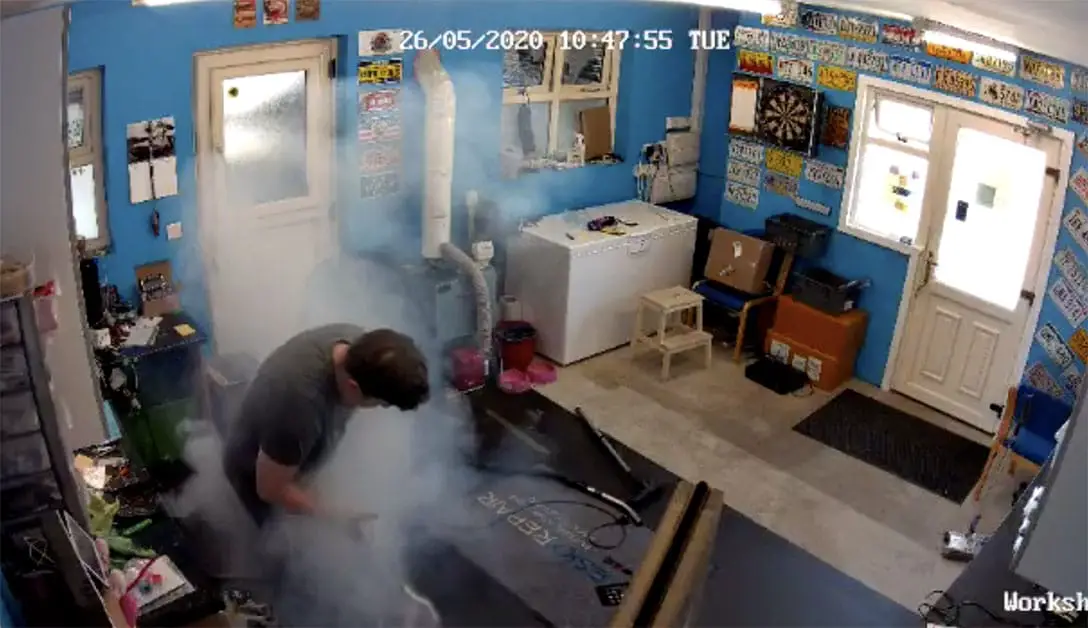 This is the dramatic moment a phone battery explodes as a plume of smoke fills a gadget repair shop in Co. Armagh.
David Abraham of Esky Repairs, has been in business for seven years and says luckily this has only happened to him four times, but he believes this should be a warning for those carrying out DIY jobs – which is why he shared the video on his social media (see below).
Speaking to Armagh I, the Lurgan man explained the dangers.
"As the battery gets older, degradation sets it, and it will start to swell," he said.
"A lot of people would come in saying they need a new battery, you can go into the settings but someone like myself can tell just by looking.
"The outside of the skin would be, the best way to describe it would be bubbly, that is the battery starting to go bad, eventually the cell will swell, especially in iPhones, you will see the screen starting to lift off the phone."
David admitted that the first time it happened it was bit of a shock but he is well used to it by now.
"I had always seen videos of it happening. You always sort of prepare for it because there is always a chance it can happen. That is why you can see me stand back, I knew what to do, get the dustpan and brush and just buck it out onto the concrete.
"This actually wasn't a bad one, normally they glow red hot when exploding and sound like bacon frying. This just smoked."
Despite, this being a very specialised task, people are turning to DIY YouTube videos, just as with plumbing and electrics.
David said: "Well, you wouldn't pay a shoe mender to fix your phone, but people still try to do it themselves off YouTube videos; I actually had a fella in today who tried to do a DIY screen repair and it ended up costing him twice as much, he damaged that much whilst he was attempting it.
"Also if you are buying the stuff off eBay, its not the same quality, the likes of myself would make sure to buy in the best quality – there are a lot of places which use these cheaper products."
Despite the current climate, David said trade was up, the main reason being he works from home "so I can bring forward the social distancing a lot better than shops can".
"People come out, they can sit in their cars, I can get the phone, fix it, clean it and bring it back out. I also have a hatch system where people can leave in tech which need to be fixed."
Sign Up To Our Newsletter