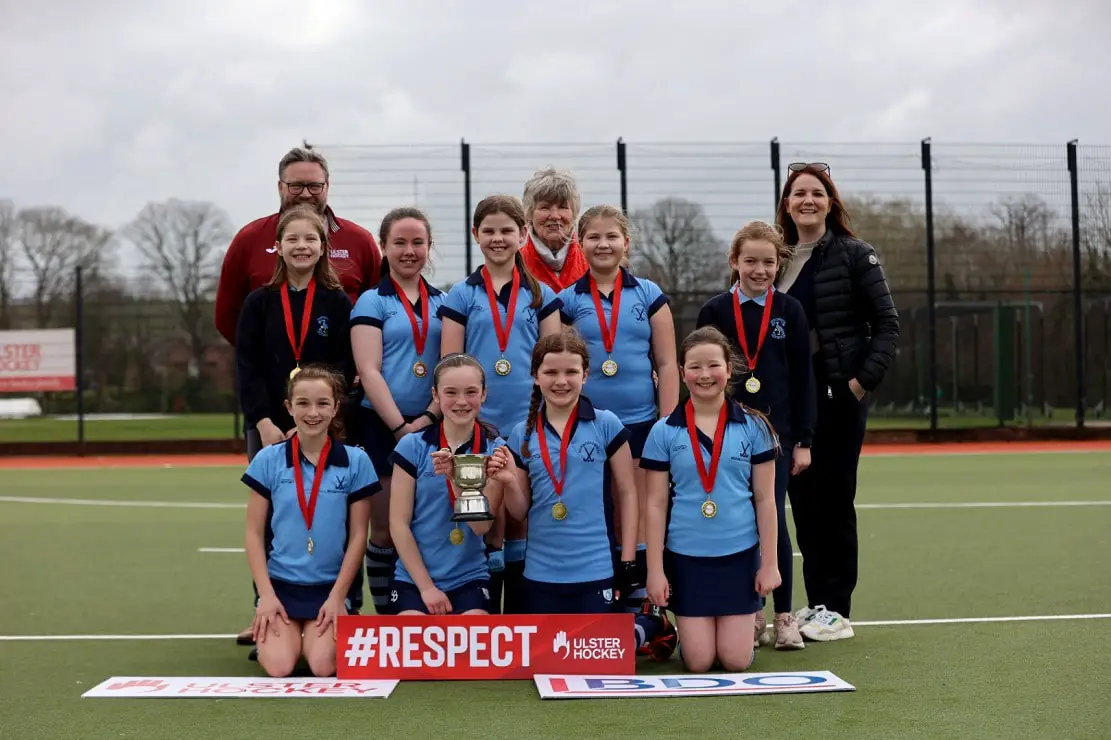 Waringstown Primary School have been crowned champions of the Ulster Hockey's Girls competition – McCloy Cup, in a fiercely competitive final, showcasing some impressive young talent from across 18 schools.
Part of Ulster Hockey Youth Divisions annual schools' competition, the McCloy Cup, along with the boy's competition – Pearson Cup took place at Stormont Playball Pitches.
The finals, which took place over two days involving all qualifying teams from across Ulster. Now in its fourth year, the partnership between Ulster Hockey and BDO NI continues to profile the sport of hockey among young people across the region, encouraging participation from an early age.
Alongside the winners of the main McCloy Cup, the Competition Plate was shared by joint winners Abbey Primary School in Newtownards and Moira Primary School.
Laura Jackson, Partner at BDO Northern Ireland, who attended the finals said: "Everyone at BDO NI would like to congratulate Waringstown Primary School for their success in this year's finals. The primary school's festival is the starting point for many young people getting involved in hockey and the popularity of these finals is growing year on year.
"BDO NI has always been committed to partnering with sporting organisations who focus as much on participation as they do competition, particularly from an early age. For many young people, the activities they take up in primary school follows them throughout their education and beyond and plays a significant role in developing much needed life skills.
"We are proud to continue our partnership with Ulster Hockey and supporting the McCloy and Pearson Cup competitions, helping to promote the sport throughout the region."
Marc Scott, Chief Executive of Ulster Hockey, added: "Both the Pearson and McCloy Cups are fantastic examples of how local and nationwide schools can get involved with hockey. Each year sees more teams across the province get involved. Seeing more teams, both girls and particularly boys, from more rural areas get interested in hockey from such a young age is an inspiration. This year saw our Foyle Blitz's triple the number of teams from last year. This shows that hockey as a sport is growing in popularity across all communities and areas, and across all of Northern Ireland.
"Ulster Hockey relies on youth hockey fuelling the desire for the sport for children from a young age. It is a source of great pride that we have BDO Northern Ireland as partners for the Pearson and McCloy Cups which feed off these nationwide blitzes. We have been delighted to partner with BDO NI for 4 years and at Ulster Hockey believe this partnership and, indeed, these two competitions to only be getting bigger and better."
BDO Northern Ireland is an award-winning accountancy practice that employs more than 150 people in Northern Ireland and provides professional services to more than 1,000 local companies.
The partnership with Ulster Hockey aims to facilitate the growth of their primary schools' competitions, attracting more kids and making it more accessible to schools across Northern Ireland. It will also help improve facilities and allow them to hire more resources to support the growth in the sport.
Sign Up To Our Newsletter