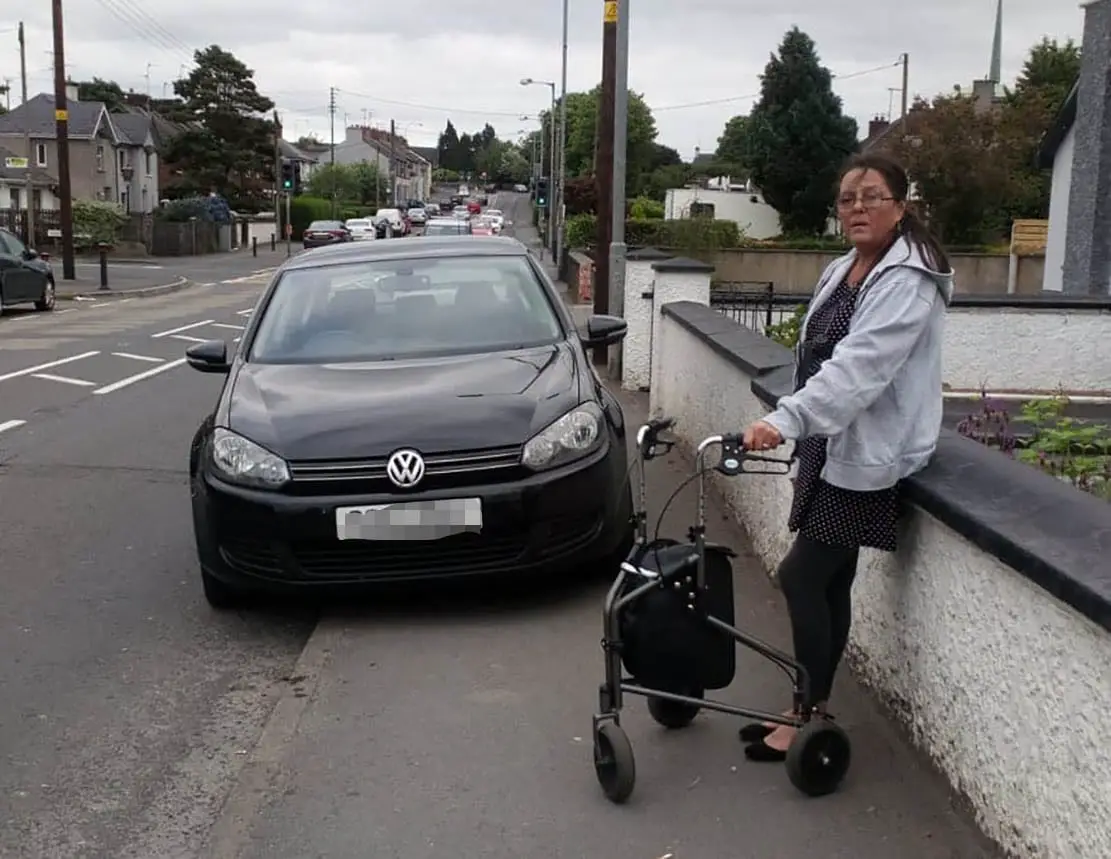 A Co Armagh woman – visually impaired and with severe mobility issues – has hit out at "irresponsible drivers" who choose to park on footpaths.
And Suzanne Devitt has urged people to think of others first before simply parking, locking up and walking away.
The photograph shows the plight faced by the Lurgan woman as she attempted to walk along Francis Street in the town.
But it's not an isolated incident, with haphazard parking making life extremely difficult for Suzanne and others with similar needs.
Suzanne told Armagh I : "I normally use a long cane – I'm visually impaired – but recently have to use a rollator as I have hip and back problems.
"This photo shows me – after walking on the road – standing in front of two cars, one parked in front of the other.
"Despite plenty of parking on the far side of the road, I had to walk on the road to get past.
"It is just down the road from me and I was going to the local GAA club to do a class on CPR. This has happened a few times.
"This is a constant problem that disabled people face with drivers. I am visually impaired and use a rollator. But what about people with guide dogs?
"I just want to highlight this problem and raise awareness of the dangers of this type of parking and ask people to think twice before doing it."
The Department of Infrastructure's website says "there is no general ban on footway".
Where parking restrictions are marked on the road, for example yellow lines, those restrictions also apply to the footway (pavement). Therefore parking tickets (PCNs) can be issued to vehicles which are parked in contravention of the restrictions.
Footway (pavement) parking is not permitted at any time along the length of urban clearways and parking tickets (PCNs) can be issued to vehicles parked in contravention.
However, apart from urban clearways, there is no general ban on footway (pavement) parking.
Where there are no parking restrictions marked on the road, parking tickets (PCNs) cannot be issued to vehicles on the footway (pavement).
If, however, a problem of obstruction arises as a result of vehicles parked on a footway, that situation is a matter for, and can be dealt with by, the PSNI, according to the Department's website.
Sign Up To Our Newsletter