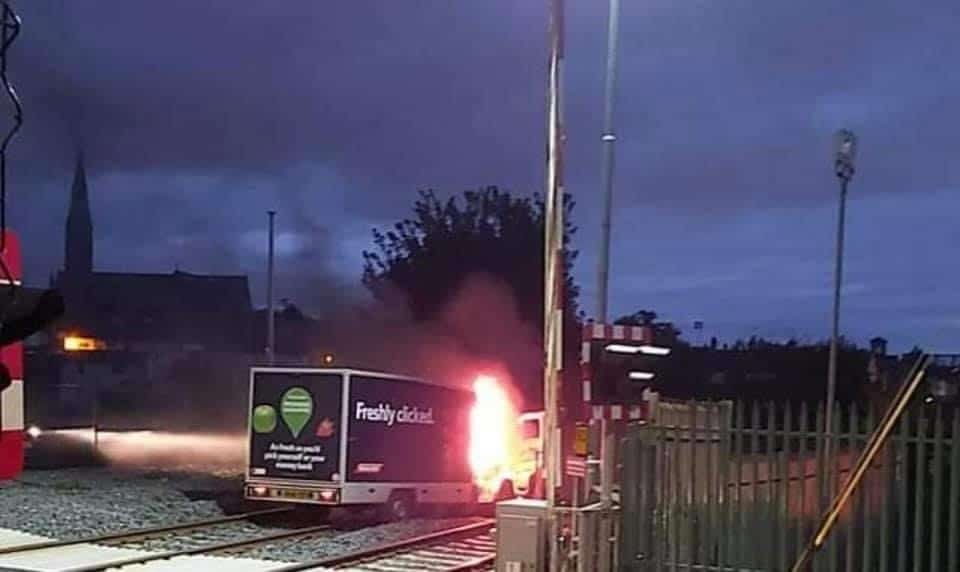 A van has been hijacked and set on fire in Lurgan this evening (Sunday).
Inspector Adam Ruston said: "We're dealing with an incident on the railway line at Lake Street in Lurgan where a van has been hijacked and set on fire this evening (Sunday 23rd August).
"The line is currently closed. We would ask drivers to use an alternative route."
Sinn Fein MLA John O'Dowd commented: "Those responsible need to explain to the people of North Lurgan what this is about.
"There is more than enough to contest with at the minute without this! The people of North Lurgan have earned the right to live in peace.
Meanwhile, Sinn Fein Councillor Keith Haughian condemned the hoax device found in north Lurgan.
"An innocent man doing his job delivering pizza was threatened last night by two men, one of whom had a weapon, he explained.
"They then left a hoax device which caused serious upheaval for local residents today.
"A number of residents had to be moved from their homes and into emergency accommodation while the situation was being dealt with.
"I condemn those behind this hoax and call on them to cease and to explain to the residents of the area what rationale, if any, they have.
"Today's rioting, hijacking and petrol bombs have done nothing but bring this area more negative publicity and goes against everything this community of all generations stands for.
"The Lurgan community does not support those behind it. It needs to stop."
Alliance Lurgan Councillor Peter Lavery has said those behind the security alert and attacks on the police do not represent the vast majority of the town.
"I condemn those behind these attacks and appeal for them to wise up and stop," he said.
"Those who caused this security alert and who attacked the police with petrol bombs do not represent the vast majority of people in Lurgan. They are achieving nothing except causing disruption for local residents and forcing vital resources to be diverted elsewhere.
"My thanks go to the police and army technical officers for dealing with this incident, and I appeal to anyone who has information to pass it to the PSNI immediately."
Sign Up To Our Newsletter