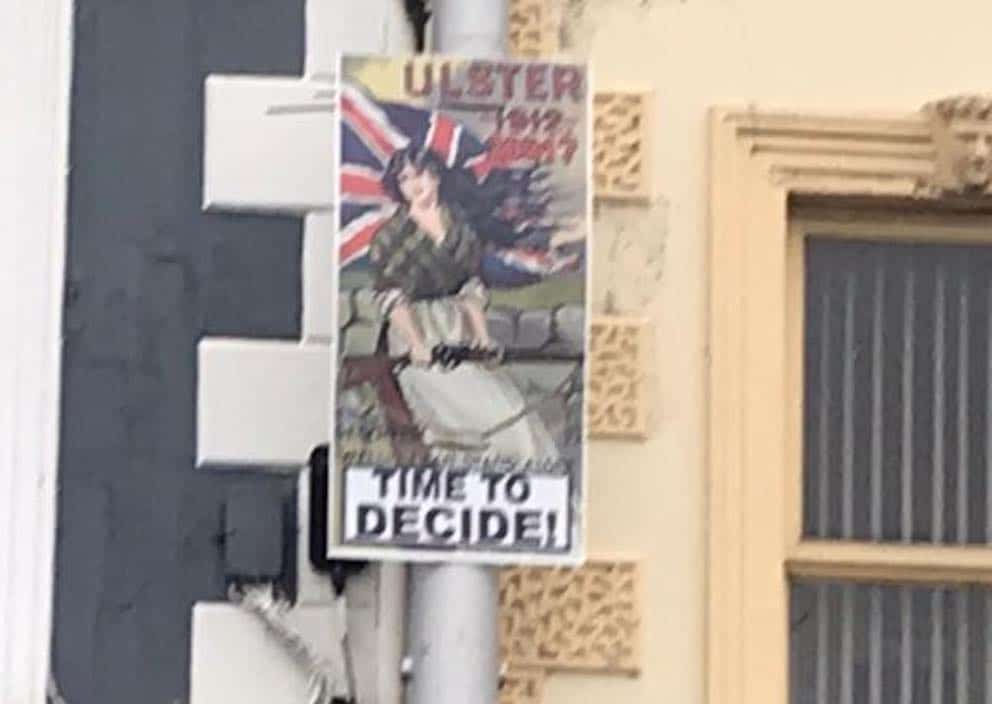 Police have been asked to investigation a number of "sinister" posters erected in Lurgan over the weekend.
Sinn Fein MLA John O'Dowd says the placards, which depict a woman holding a gun emblazoned with the words 'Time to Decide' have no place "in today's Ireland".
Above the woman reads "Ulster 1912 – 2021?", while below her it states "Deserted. Well – I can stand alone" and "time to decide!"
"I have called on the police to investigate the erection of sinister posters in Lurgan town centre," said the Upper Bann MLA.
Mr O'Dowd commented: "The posters appear to be replicas of a historical poster of the 1912 period when thousand of guns were illegally landed in Ireland by the UVF.
"The addition of the term 'Time to Decide' is seen by many as a call to repeat the use of the gun in modern day Irish politics.
"The police need to investigate those responsible for the erection of these posters and their motivation.
"The promotion of the gun in today's Ireland is totally unacceptable and should be condemned by all."
Alliance Councillor Peter Lavery added: "Over the weekend a number of posters were erected on lampposts across Lurgan which aim to incite tensions.
"I have been in contact with the PSNI and Department for Infrastructure asking that the posters be removed.
"Those who are seeking to exploit ongoing difficulties for their own gain need to take a step back before someone gets hurt.
"We need to continue to work together as a community to resolve problems for the betterment of us all."
It comes just a number of days after graffiti was scrawled across the wall of a property on the Mourneview area of the town, which at the time, was described as an act of "whipping up hate".
Sign Up To Our Newsletter