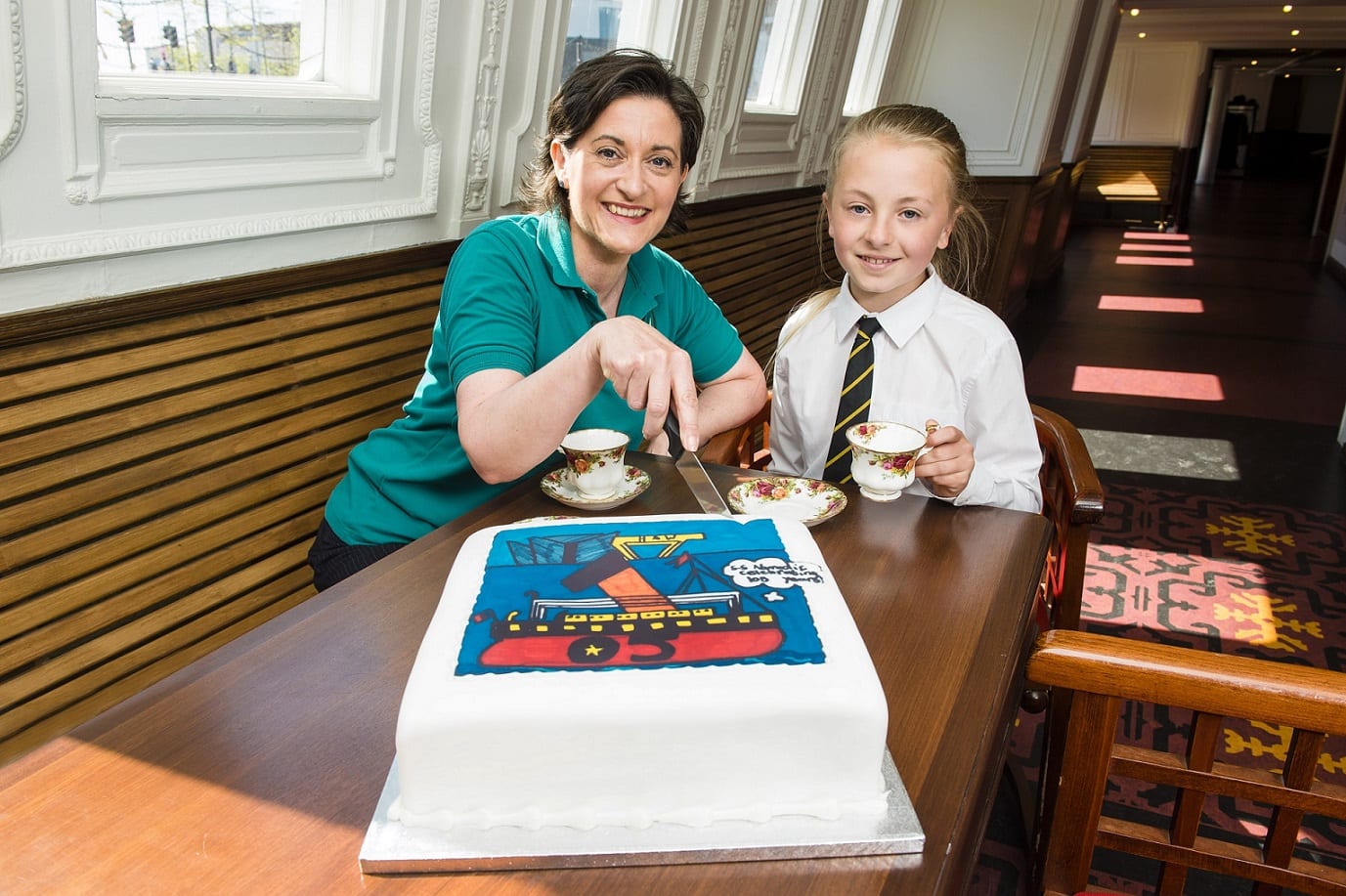 A County Armagh primary schoolgirl was on the crest of a wave after her design won a competition for a special anniversary cake for the SS Nomadic.
Megan Ross, a pupil of Kings Park Primary in Lurgan, beat off stiff competition to be named Nomadic's Petit Pâtisserie Chef!
The 10-year-old designed SS Nomadic's anniversary cake which was made specially to mark the occasion.
She also won the opportunity for her class to visit the last remaining White Star Line vessel and the biggest Titanic artefact in the world, and celebrate the anniversary, on board.
Her class enjoyed a guided tour of SS Nomadic and 'Get the Message' workshop, which enabled the pupils to explore and experiment with different methods of communication, including those used on the SS Nomadic and Titanic.
Siobhan McCartney, Titanic Belfast's Learning and Outreach Manager, commented: "Megan's cake was the outright winner of the competition.
"Her cake design used striking colours to illustrate SS Nomadic's industrial maritime history, from its launch 105 years ago, with a career spanning from serving Titanic, WW1 and WW11, to tendering celebrities such as Richard Burton and Elizabeth Taylor to its role today as a visitor attraction and a learning facility.
"The 31st May marks a day of great historical significance for SS Nomadic. Originally over 100,000 people gathered in Belfast, from as far as America, to mark the occasion when it alongside, its sister ship Traffic and RMS Olympic left Belfast and RMS Titanic was launched.
"Last year, it was reunited with Titanic Belfast and this year it is fully open as a learning space. It was a pleasure to have the pupils from Kings Park Primary on board to celebrate."
Titanic Belfast's learning programme, which is recognised as a leading learning resource and has welcomed over 100,000 participants since its opening in 2012.
For more information, visit www.titanicbelfast.com/learning.
Read more news:
Trail of destruction after another night and morning of vandalism in Armagh
Sad end to brilliant day as thieves steal ducks from Marie Curie fundraiser
Bingo hall extension will leave Armagh's car park boozers out in the cold
REVEALED: Just how much was raised in car park charges at our local hospitals?
Mall litter shame: Bottles, wrappers and even soiled nappies blight city green
More than 20,000 expected to flock to Armagh show
Police bail for man arrested in connection with murder of Bessbrook pensioner
Tandragee 100 organisers win prestigious Queen's Award for Voluntary Service
Sign Up To Our Newsletter