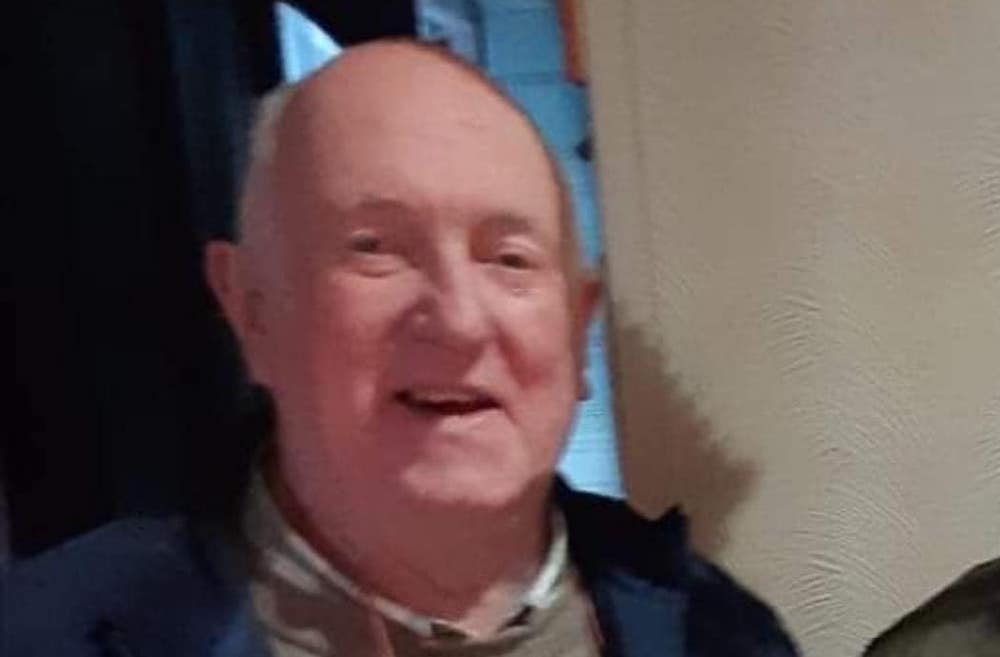 The sister of a much-loved Lurgan man whose loyalty was unrivalled paid an emotional tribute to her brother as he was laid to rest earlier today (Sunday).
Paul Cardwell passed away at Craigavon Area Hospital earlier this week.
The 73-year-old may have been born outside Glenavy in County Antrim, but he was a Lurgan man to the core, reflected in his guard of honour from Clan na Gael club members.
His love of GAA – in particular the Clans – was second only to his family, whom he was devoted.
During his requiem mass at St Paul's Church in Lurgan, his sister Elizabeth, paid a heartfelt tribute to her big brother, as only a sister could.
Loyalty was the theme, for he was a man who spent 51 years at Langford Lodge engineering in Crumlin before his retirement at the age of 67; he was also 50 years married to his beloved wife Ann later this year.
"Paul may have been small in stature, but he was big in many, many other ways," said Elizabeth. "Big in heart, in generosity, kindness, and a willingness to help others.
"During his time at Langford, he made great lifelong friends, some of whom are here today. Staying in a job for over 51 years is quite an achievement. But I reckon he stayed on for that number of years as he said himself a goal, he wanted to be the longest serving member of staff in Langford, which I think he achieved at that time.
"Like his first job, Ann was his first girlfriend, and they made a lovely wee couple. Paul and Ann met in 1965 in Clann Eireann hall when they were both 17…this was the start of their seven year courtship, and it soon became obvious that Ann was the one for him."
Paul and Ann married on the 8th of July 1972 and would have reached 50 years marriage in July this year.
She continued: "I believe that Paul had big plans to celebrate the 50th wedding anniversary. Paul and Ann went everywhere together – apart from the pub."
Mourners heard how Paul loved going to their mobile in Bundoran every weekend in season and how he and Ann spent many happy years there.
"When in bundoran you would find Paul and the Hollyrood Hotel on Fridays and Saturday nights," Elizabeth said. "Sitting in the same seat at the bar, greeting all of the regulars. Paul love the craic and banter and it has been said that he would keep a nation going, however, God help you if you were on the receiving end of that banter as I was many times, but it was all taken in good humour."
Paul's great passion was Gaelic football and for decades he was heavily involved in the GAA, from refereeing to helping out with the Armagh senior, as well as underage teams.
And in the 1980s and 90s he was kitman, masseur, and countless other duties. Paul was named referee of the year in 1994, which "he was very proud of".
Paul's other big love after Ann was the Clan Na Gael club, where he was a member for over 50 years.
Described as a stalwart of the Clans he put his heart and soul into such was his character. He did everything, from being a coach to driving the coach – and most things in between.
In recent years he helped out with the club lotto and was the head groundsman maintaining and marking out the football field in Davitt Park.
Elizabeth joked: "And we heard how he was very particular about the pitch and made sure it was well maintained. I also believe that he had plenty of opinions on the renovation of the club, and I can only imagine how those conversations would have gone.
"He made great friends over the years in the club, and I know that he really valued all of their friendships as well.
"When Paul's illness first started to show on the 26th of October past we realised something was wrong when he started to get the days of the week mixed up and he was insisting on going to the Clans on a Tuesday night to do the Sunday night lotto. He was not best pleased that Ann and I wouldn't let him go.
"As recent as New Year's night, Ann and I spent four long hours trying to keep Paul from going to his beloved Clans, but unfortunately he just wasn't well enough to go out and it is sad to say that he never got back to the club before his illness took hold."
Addressing her sister-in-law, Elizabeth concluded: "I would like to thank Ann for her love and devotion to Paul for over 56 years and to the wider May family for their friendship and love of Paul.
"For me and my family, Paul was a great brother, brother-in-law, uncle and Godfather to my son Gary; I know he will be sadly missed by many and his absence will be felt for a very long time to come. God bless you Paul, may you rest in peace."
Sign Up To Our Newsletter