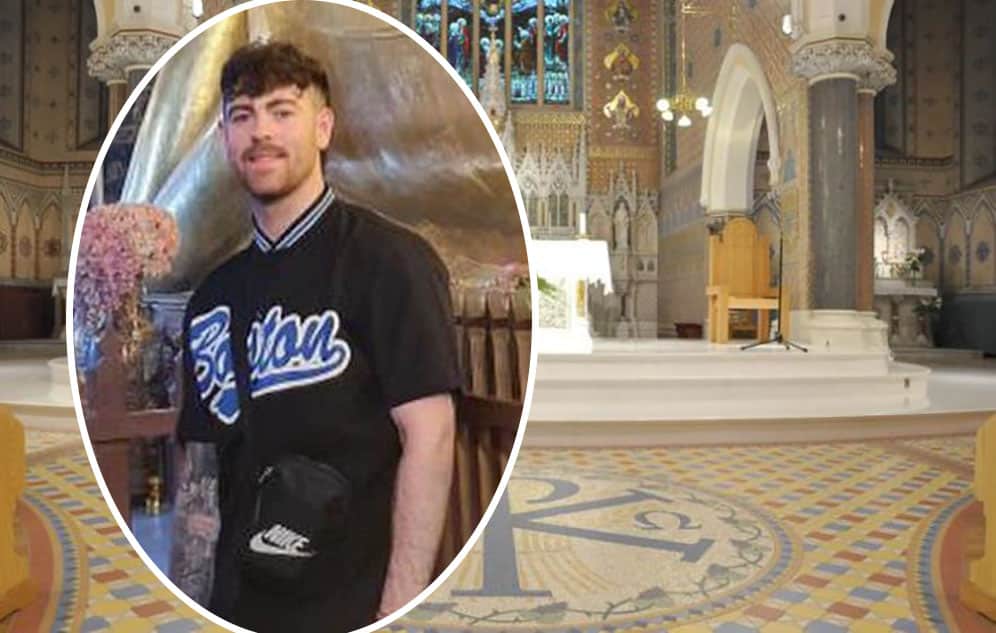 The sister of a young Lurgan man who died tragically while on holiday in Thailand last month said she adored her big brother and everything he stood for.
Michaela O'Neill, fought back the tears to deliver a heart-rending and emotive tribute to her brother Odhran, who was laid to rest following his funeral mass in St Peter's Church in Lurgan earlier today (Monday).
Odhran was flown home from Thailand by friends who had accompanied the 22-year-old on what was suppose to be a trip of a lifetime.
Tragically Odhran's time – and life – was cut short during a kayaking experience in Khao Sok National Park on Saturday, December 17.
Today, his remains were taken into the church to a beautiful version of Coldplay's 'Yellow'.
A number of tributes were read by Odhran's friends and family – a mix of poignance and humour that painted a picture of the loss that will truly be felt by those who knew and loved him.
His humour, infectious personality and his undoubted intellectual ability – if common sense was something he sometimes lacked – were a flavour of what mourners were given during today's service.
But it was the tribute from his doting little sister Michaela, to a brother she said was "far too pure for this world", which brought home the raw emotion and pain of Odhran's untimely passing.
"Mum and dad said from the moment I was born, you were so fascinated by me and there would be times you would just watch me sleep in my cot and from then, they knew we would be inseparable – and so we were," she recalled.
"Growing up, we were stuck to the hip and as we got older people thought we would become more distant. But we didn't. You took me under your wing and never left me behind. Sometimes I think that's why I got into so much trouble because although I was younger, I copied everything you did. By then it was me who was fascinated by you.
"I adore you and everything you stood for. You had bad luck at times; the kind of luck that would make a person become angry but not you, it only made you better kinder and stronger. And with that you only saw the good in people. You only had a good heart so I became your protector.
"You're my big brother, but I protected you like you were like my little brother because you were far too pure for this world. I am so proud of you Odhran and I aspire to be just like you.
"You're brilliant and you've taught me so much from how to pass my exams, because you had brains to burn, or even how to style my clothes because everyone knows you were best known for your extravagant taste in clothes. I can even hear you giving off to me for wearing your clothes.
"You showed me it was okay to be myself and not for one second did you even make me feel bad for who I was; you even praised me for it. Even though I give you a hard time, you always find a way to find the funny side of it. Odhran, you are my rock, my backbone, you will always be my big brother. Until the very end I will love you forever."
Another tribute detailed how, as a keen Manchester United fan, Odhran enjoyed his annual trip to the Theatre of Dreams in Manchester, but as he grew older, the matches "paled into insignificance and it was more about the craic and memories we created".
Just last year, Odhran nearly had the hotel he was staying in evacuated – his grandad "mortified" when Odhran set a croissant on fire using the hotel's conveyor toaster. It prompted a change in hotel policy – all guests who wanted their croissant heated were to ask a member of staff to do so.
Odhran – "brains to burn but no common sense". The friends and family had been due to reacquaint themselves with Manchester in February.
Those brains, however, landed Odhran a job at one of Northern Ireland's biggest firms, Norbrook; a job one level higher than that for which he interviewed. In academia, Odhran excelled – he once received the prestigious title of Geographer of the Year, which went down well with the family, but a "title not exactly enticing to the ladies".
Another tribute described Odhran as "an amazing man who was the kindest, most loving people in the world. And in the words of everyone here, a true gent".
"He was one of a kind, loved by everyone; a live wire. The fun spirit he had was infectious. He charmed every single person he met."
A cousin, in her own tribute, thanked Odhran's parents Maurice and Claire "for bringing Odhran into this world and how you raised him to be such a strong, independent and lovely young man, who we had the pleasure to not just call him our cousin, but our friend, and we will miss him forever."
Another said Odhran was "just a natural comedian, always the life and soul of the party".
"Odhran being in your life just made it more fun, more enjoyable and that's why everyone here loves him and why we're all gonna miss him so much."
One friend, who first met Odhran when he transferred to Lismore Comprehensive, said he owes so much to him, "if not just for the memories, but how well he took life".
"He didn't care what people thought of them. He lived how he wanted to and laughed as much as possible. All this while working hard on this degree and job. The man couldn't put up a tent, but he definitely knew how to have a good time. I couldn't have asked for a better friend."
Odhran was later laid to rest in St. Colman's Cemetery.
Sign Up To Our Newsletter