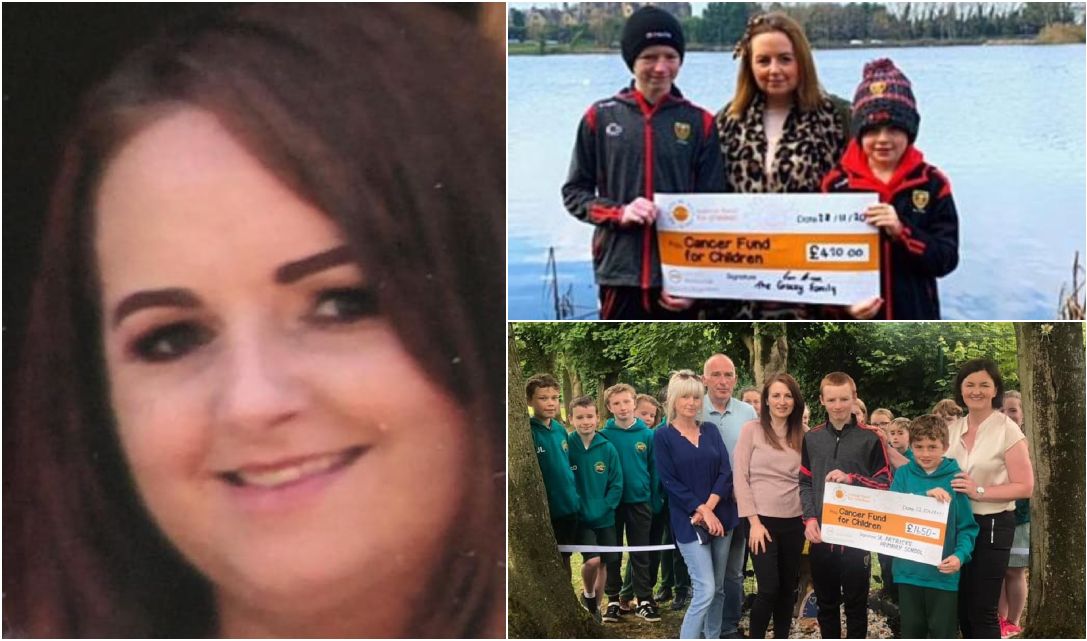 The sister of a woman who died of skin cancer just a few months ago is honouring her memory by continuing to raise awareness of the disease.
Laura Gracey (33), a mother-of-two from Magheralin, was diagnosed with melanoma in February 2019, and despite "throwing everything at it", she passed away on April 15 this year.
Her sister Mary Gracey said Laura's death is still very raw for the whole family but, with summer and good weather already here, they want to remind people of the dangers of the sun and the warning signs of melanoma.
Laura, who worked in Subway in Lurgan, had been active in raising awareness of the disease. She had written a moving blog about her experience and in April 2020 spoke to Armagh I, after her cancer returned for the second time in a year.
She said she had not used sunbeds or been a sun worshipper, adding: "People are just so uneducated, I myself was until it happened to me, so know I am asking for people to learn from me."
Speaking to Armagh I on Tuesday, Mary said: "As a family, we hadn't heard much about melanoma. We weren't aware of the changes to look out for and how serious they can be.
"We are a fair-skinned family and would be quite good at using sun screen and covering up, and we just can't pinpoint when it happened to Laura.
"The mole just seemed to have appeared and once it did, the cancer was always one step ahead.
"The sun doesn't have to be out for damage to be done. The more we looked into it, the scarier the statistics. There are more people who get cancer from sunbeds than there are who get lung cancer from smoking.
"And, globally, Ireland ranks 12th and the UK 14th for skin cancer which is surprising as neither country is known as a sunny holiday destination.
"I spent time in Australia and they are so aware, they treat the sun like the enemy. With melanoma, it's so important to catch it early. With Laura, we just couldn't get in front of it.
"She battled so hard and so did we.  She had consultations with doctors in London and New York, we spent thousands on holistic therapies but the surgery didn't work and neither did the treatments.
"We weren't ready to give up and neither was Laura but the reality is we were powerless. We were on the back foot with cancer.
"I would say to people, if there are changes in a mole or your skin and you think something isn't quite right, don't wait, just go to the doctor.
"People seem to think that if it's skin cancer, they just cut the mole out and that's it, that's it's not serious, but it is so aggressive. Once it gets into the skin, it goes to the lymph nodes and it takes off then around the body."
Laura's mole, which was on her arm, was  spotted by one of her sons who commented on it because it was so black.
Mary said that although Laura knew it was a new mole, she hadn't been worried about, but once she went to the doctor,  "everything moved really quickly".
Said Mary: "Laura was very outgoing and people would have seen her out and about, maybe picking up prescriptions, but didn't realise how sick she was."
During her illness, Laura began fundraising for the Cancer Fund for Children, and Mary is planning to continue that until July, when Laura's sons Eoin (14) and Daniel (11) will present the cheque to the charity.
The amount stands at over £12,200 and Mary says the family have been "gobsmacked" by people's generosity.
People can still donate on Mary's JustGiving page at www.justgiving.com/crowdfunding/mary-gracey
Sign Up To Our Newsletter