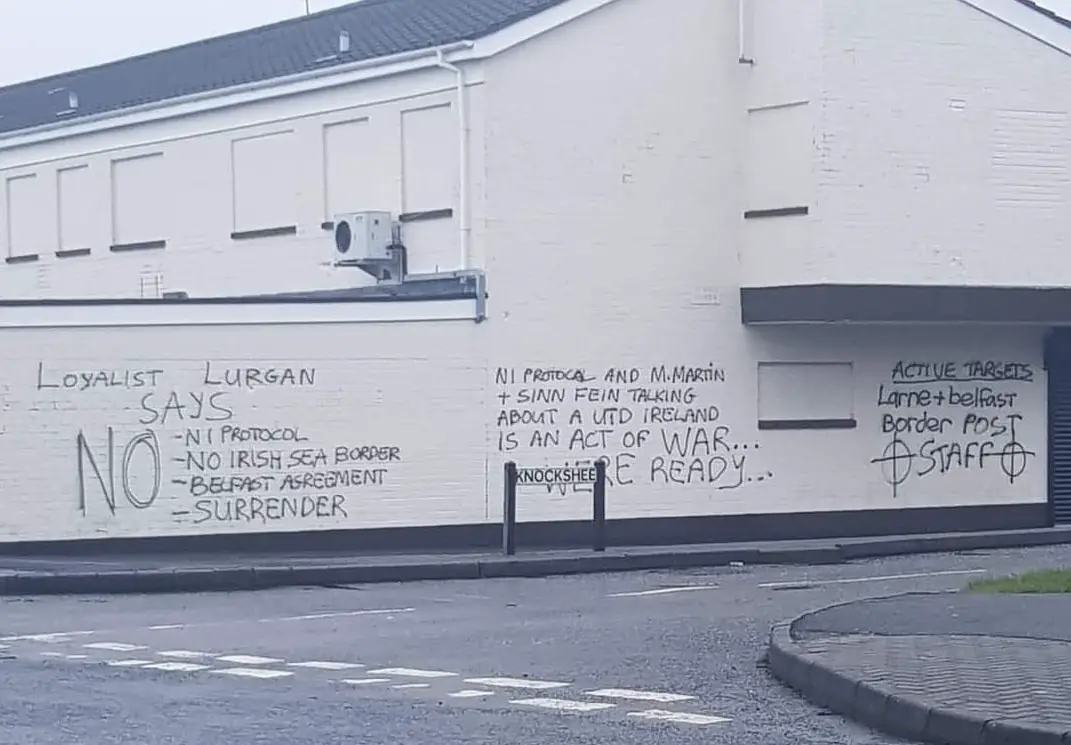 Graffiti scrawled across the wall of a property on the Mourneview area of Lurgan has been described as an act of "whipping up hate" in the area.
The crude remarks – in reference to the controversial NI Protocol – once again targets port workers in Belfast and Larne, sentiments of which, according to the culprit/s, come from "Loyalist Lurgan".
Condemning the graffiti which appeared in the town overnight, Alliance Councillor Peter Lavery, stated: "Those behind it do not represent the people in Lurgan, and the local community does not want to see violence return to our streets."
Mr Lavery said that he already been in contact with senior Council management to ask for the offensive work to be removed.
He added: "Those who are whipping up hatred need to take a step back and cool the rhetoric before someone gets injured. We all need to remain calm and work through problems together."
This latest act of sinister vandalism comes in the wake of several similar incidents across Northern Ireland in recent days.
Politicians too have been on the receiving end of personal threats and attacks. Mr Lavery's party colleague, Stephen Farry MP, had his constituency office spray painted with messages of a similar sentiment.
DUP MLA William Irwin also informed the NI Assembly this week that he had been contacted last week by police making him aware of a threat against him.
The Newry and Armagh representative was also forced to issue a response to a lengthy social media statement on Friday night from Markethill District LOL No 10, who accused Mr Irwin – indirectly – of letting his voters down.
Mr Irwin defended himself saying the claims levelled against him are "untrue" and voiced his disappointment.
Meanwhile, SDLP Councillor Ciaran Toman, added: "I totally condemn this act. This is a hate crime motivated by prejudice. It's also criminal damage and anyone with information should contact the police who must investigate.
"We have to get serious about treating the elements behind rhetoric and actions like this as the threat to society that they are.
"This is a very challenging time politically and it needs all political leaders to be crystal clear that relighting old fires serves no-one."
DUP MP Carla Lockhart also condemned those responsible.
"These are Housing Executive properties and I have been working with the local community and the NIHE to have it removed," said Ms Lockhart.
"It is important that people whilst frustrated remain calm and don't engage in criminal activity."
Sign Up To Our Newsletter