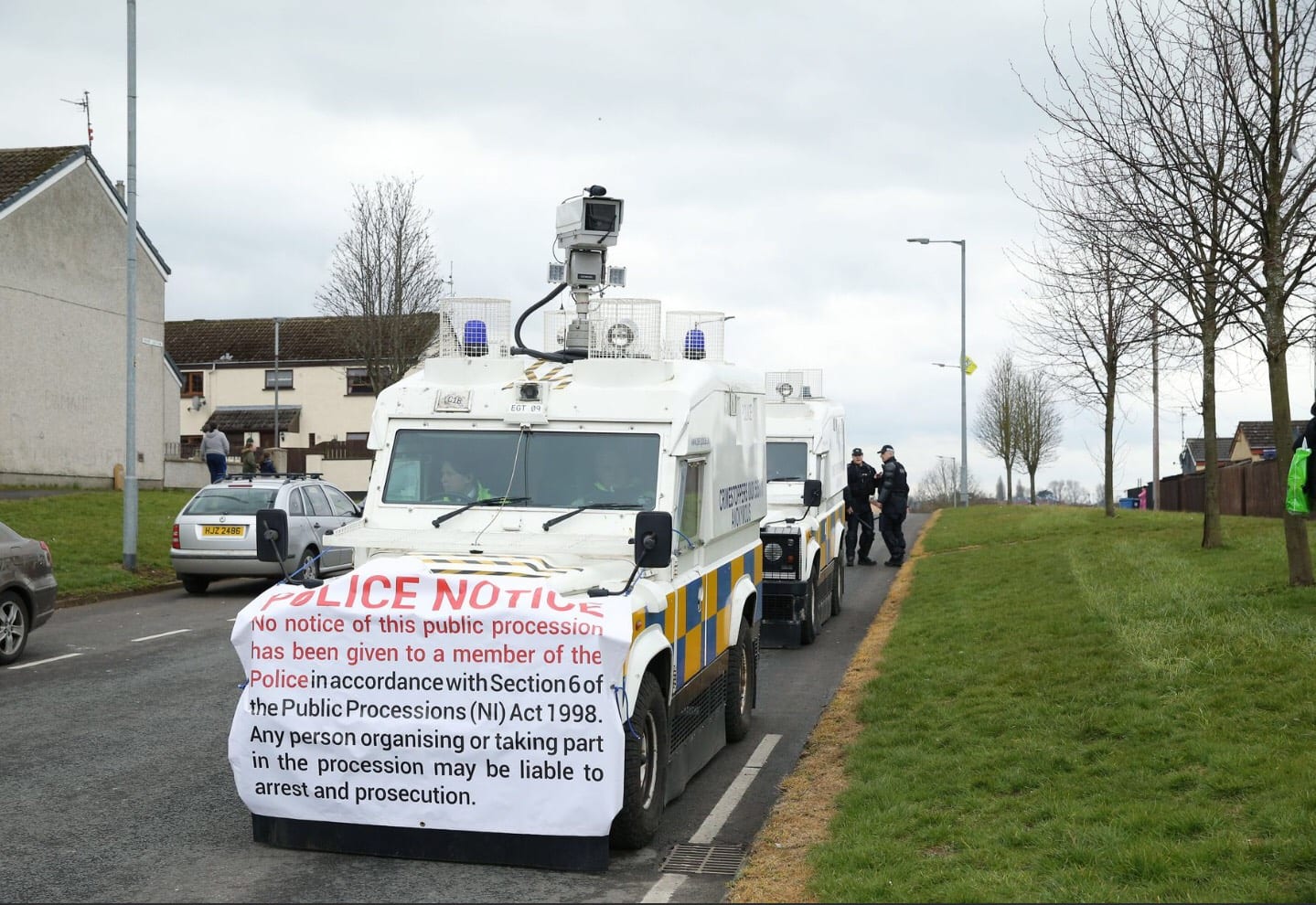 Nine people were arrested during an Easter commemoration event organised by Republic Sinn Fein in Lurgan on Saturday afternoon.
The PSNI said the "unnotified procession" along the Levin Road included eight people "dressed in paramilitary style uniforms and wearing masks".
Chief Inspector Jon Burrows said they were arrested on suspicion of offences under Section (13) 1 of the Terrorism Act 2000 – wearing uniforms and carrying items which give cause to believe he or she was a supporter of a proscribed organisation – and taking part in an unnotified procession.
A ninth person was arrested "on suspicion of assault on police and obstruction", he added.
A woman injured was taken by ambulance to Craigavon Area Hospital where she has been described as being in a stable condition.
Chief Inspector Burrows added: "Those engaged in unnotified parades wearing masks and paramilitary style uniforms do not represent the majority of people who live in north Lurgan, indeed many of those who participate in this event every year are not from the local community and do not live in Lurgan.
"There have been similar parades in previous years organised by the same group and repeated prosecutions for related offences.
"Police have attempted to engage with members of this group advising them to comply with their legal responsibilities in relation to processions.
"The police service have reported a number of people to the PPS over the past number of years in relation to this event and a significant number of people have been successfully prosecuted.
Chief Inspector Burrows also confirmed that "a woman was injured during this incident and she has been taken to hospital".
"Our enquiries are ongoing," he added.
Upper Bann Ulster Unionist MLA Doug Beattie MC has praised the police action.
He said: "Every year Republic Sinn Fein flout the law and organise an illegal terrorist show of strength in the Kilwilke estate in Lurgan. Every year the Police Service of Northern Ireland hold back and adopt a low profile in an attempt to dissuade RSF from doing similar in the future.
"That was until today 31 March 2018.
"Today the PSNI said enough is enough and through a well coordinated plan delivered with professionalism and skill they broke up this illegal RSF gathering and arrested the colour party.
"There is no place in our society for these intimidating parades no matter who they think they represent.
"I commend the police for their actions today and the courage of the young officers who have to face this aggressive attitude from people who want nothing more than to disrupt our society.
"Remembrance of what is important to your community does not mean you can break the law. It means you should commemorate within the confines of the law."
Republican Sinn Fein had said it was a "peaceful commemoration" which had "come under attack from the forces of the Crown".
Sign Up To Our Newsletter