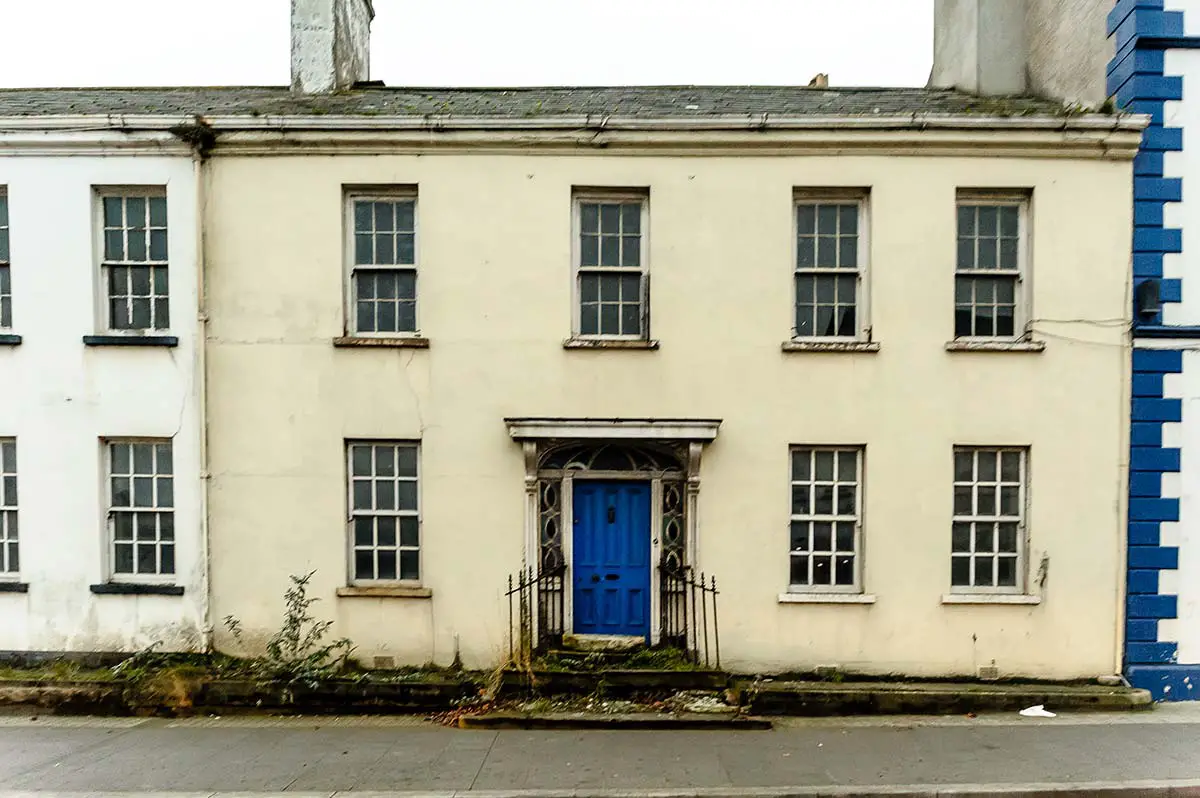 An historic property in Lurgan town centre – which was gutted in a fire five years ago – is to be fully restored.
The two-storey structure – one of the oldest in the Co Armagh town – originally formed part of a farmhouse built in the late 1700s.
The property at 45 High Street was most recently the offices of BE Silcock and Co Ltd, which went into liquidation almost 10 years ago.
This building, along with 47 High Street, had been a single unit until, in the 1850s, they were subdivided into two. Number 45 – along with outbuildings to the rear – had been used in their day by businesses associated with a thriving linen industry.
By the middle of the 1950s, it had been owned by Dr Robert Pedlow.
The property had remained vacant and fallen into a state of dereliction, an eyesore and a sad end for what was – and perhaps still is – one of the most recognisable buildings in Lurgan.
It was sadly destroyed in a blaze in September 2017, flames engulfing the historic building leaving nothing but a shell.
Now, however, and having featured on the radar of the Lurgan Townscape Heritage group, it looks set to make a proud return.
It has been identified by Lurgan Townscape Heritage as one of its 'priority buildings' in terms of restoration and refurbishment.
And five years on, after being ravaged by fire, it looks set to rise from the proverbial ashes.
A planning application has been lodged with Armagh City, Banbridge and Craigavon Borough Council to bring it back into productive use.
Listed building consent is also being sought for the works, with the application by Johnston Pedlow Ltd – bearing the name of that 1950s owner – now under consideration.
It will be an extensive programme of works with some detailed and specialised processes.
The application relates to the "conservation, reinstatement and alteration" of a "fire damaged building".
This will involve the repair of the surviving historic windows and doors and the reinstatement of those destroyed in the fire.
The natural slate roof – also a casualty of the blaze – will also be restored, as too will the property's timber floors.
Works will involve the re-rendering of the property internally and externally with lime render/plaster.
And the existing historic entrance steps will be repaired, with wrought iron railings to the front to be reinstated too.
Internal partitions will be introduced and existing chimneys repaired.
It is an extensive redevelopment which will represent a significant investment, understood to be in excess of £500,000, with grant aid being sought.

The proposals are now with ABC Council and will be publicly advertised shortly.
Sign Up To Our Newsletter