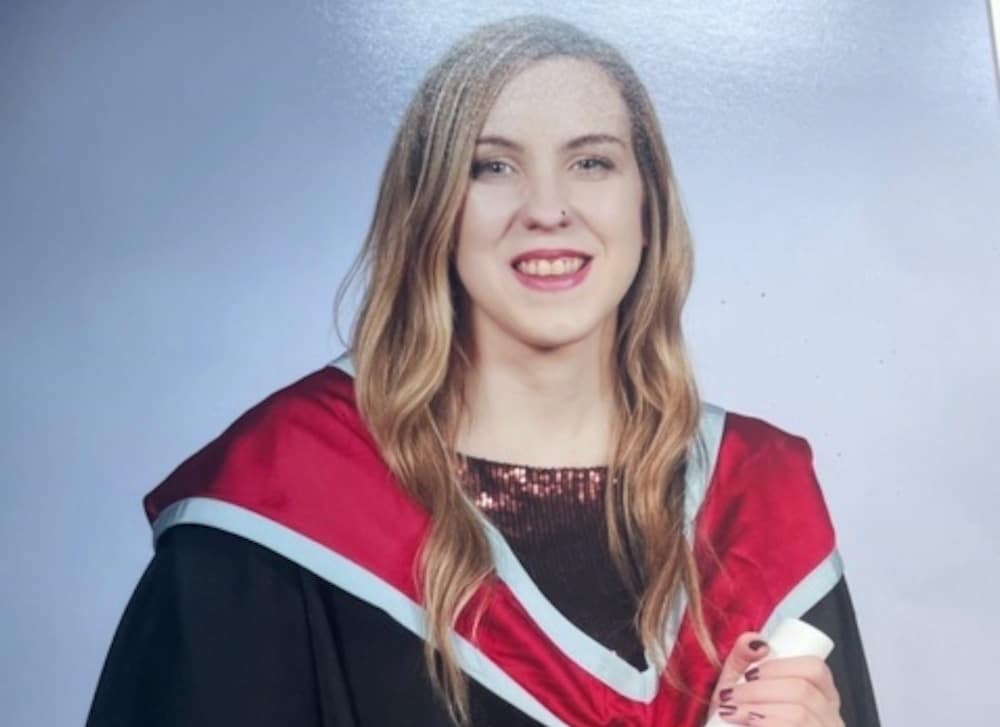 The man accused of murdering Lurgan mum-to-be Natalie McNally just before Christmas has been refused bail in the High Court this afternoon (Monday).
Stephen McCullagh, of Woodland Gardens in Lisburn, who had been refused bail in the Magistrates' Court previously, was making a fresh bid to be released from custody, following his arrest earlier this year.
The accused sat and watched proceedings via live link from Maghaberry while members of Miss McNally's family watched on from inside the courtroom in Belfast.
Objecting to bail during a lengthy application, crown prosecution barrister Natalie Pinkerton contended that McCullagh, who was the partner of Ms McNally and the father of her unborn child, was a "significant risk to the public" and that the case against him, while circumstantial, was "overwhelming".
Ms Pinkerton outlined how the pair had begun a relationship in August 2022 and that Ms McNally fell pregnant, and was 15 weeks into that pregnancy by December 18 – the date of her murder.
The court heard how Ms McNally's body was found at the top of the stairs of her Silverwood Green home by McCullagh, who went to her house when she had not replied to his messages. McCullagh rang 999, a call which lasted 12 minutes before paramedics arrived.
When police spoke to McCullagh at the scene, the prosecution claimed the defendant attempted to point suspicion towards another person, saying, "I know why this happened, her [named person] has done this."
He also provided police with his alibi – a six hour live stream which he allegedly conducted on Sunday night.
Ms Pinkerton, addressing Lady Chief Justice Dame Siobhan Keegan, said: "And it cannot be forgotten, that at that stage, no one knew what time it was when Miss McNally was attacked, except the person who carried out the attack."
McCullagh was arrested that evening and taken into custody and, Ms Pinkerton contests that "from the applicant's arrival and walk from the police car to custody, that footage has been secured. And the prosecution say again, the gait of that individual is consistent with a portion of the footage of the male walking through to Lurgan to visit Miss McNally's home on the 18th of December".
The court also heard that the the state pathologist conducted a post mortem on Miss McNally and the initial findings of death were "compression of the neck, stab wounds to the neck and blunt force injuries of the head".
A knife was located adjacent to Miss McNally's body and it's believed that that was the knife used, however, no blunt instrument or weapon consistent with the head injuries has been recovered.
Said Ms Pinkerton: "And Miss McNally's unborn child also died as a result of the attack. As the court knows from experience…compression of the neck and strangulation is an intimate act and offences of this nature ordinarily involve a domestic context."
During the defendant's interviews he again repeated that it was another person, and that person had been harassing her.
Ms Pinkertson told the court that upon release on bail, and subsequent to him being released unconditionally, McCullagh refused to engage with police as a witness and refused to assist with any inquiries.
The court heard that there was no evidence to suggest that the person McCullagh had accused was in Lurgan at the time of the murder and that that person was with someone else at the time.
However, police did investigate that information.
Ms Pinkerton continued: "Police have been able to confirm that that individual and Miss McNally were in regular contact….that individual had contacted Miss McNally on the evening of December 15.
"On that night, Mr McCullagh had stayed with Miss McNally. There are communications between the pair prior to that evening. However, in the early hours of the 16th, this male attempted to call Miss McNally twice and police know that Mr McCullagh was aware of these calls.
"The applicant himself [McCullagh] advised a family member of this. And the applicant also told the family member that after these phone calls, Miss McNally was upset, she was curled up in a ball and she started to cry, saying [he] won't leave me alone.
"However, this is entirely at odds to the examination of Miss McNally's phone, which shows between 12.15am on the 15th and 4:56am there were 33 WhatsApp messages exchanged between Miss McNally and [the male]….but there's nothing contained within these messages that suggests Miss McNally was upset in any way.
"The prosecution suggests that this is an attempt to manipulate the narrative by the applicant and pointed suspicion towards somebody else. That somebody who Miss McNally was communicating with in an intimate manner."
Ms Pinkerton argued that the contact between this individual and Miss McNally over a period of time was "the catalyst for what occurred to Miss McNally".
She added: "The police are aware that the night before her murder on the 17th, Miss McNally was staying at [McCullagh's] home in Lisburn. That night there was texting communication between Miss McNally and again [the male]…
"A 9.54, on the day of her murder, Miss McNally's device was unlocked nine times. Her WhatsApp was viewed as well as her Twitter account. However, no messages were sent from the device until 10.02 and again it is inferred that it was the applicant who had accessed Miss McNally's phone, and viewed the information within.
"And it's been confirmed by a family member of Miss McNally that she had given [McCullagh] the passcode to her phone in November of 2022."
The court also heard how the pre-recorded YouTube video had been deleted "just five minutes after the broadcast ended" which, the prosecution contends "shows a disposition to dispose of material".
Ms Pinkerton also addressed concerns around McCullagh's Google search history, referencing searches on various dates in November around terms like 'is it more painful to be shot in the head or the heart?', 'which is less painful, drowning or burning to death?' and 'is drowning a painful way to die?'.
The prosecution also alluded to his live stream entitled Violent Night "on what was ultimately an extremely violent night".
During the streaming of the game Vice City in the Grand Theft Auto series, the prosecution addressed one side mission in particular within this game – "murdering a woman to make it look like an accident".
Ms Pinkerton adds that during the game "the player does change his clothes regularly and the colour of his car to avoid detection".
She adds that some of the detail during the live stream was "chilling" and says McCullagh makes repeated references to specific times and "numerous comments about staying in the house, and that he is live streaming".
"But each and every one of those was a lie," she contested.
Ms Pinkerton noted that the relevant time the prosecution say for Miss McNally's murder was between 8.52pm and 9:31pm.
"The court will recall neighbours hearing a scream at around 9pm. The court will also recall mention of the side missions in this game. And one of those side missions, as I've indicated is for the player to murder a woman and make it look like an accident. And that is done by hitting her with a car, approximately three hours into the pre recorded video, which would have been at a roughly 9pm.
"Mr McCullagh chose to undertake the side mission that he did not have to do. And upon beginning that mission, when Miss McNally's killer was in her home, the applicant says in the video, 'I need to kill this b***h, I need to take her down'."
She also claims the screen is replaced momentarily during one of his many breaks with a promotional photo of a James Bond film with the words 'No Time to Die'.
Turning to how McCullagh made "sure to integrate himself with the McNally family who were understandably distraught and extremely vulnerable at this time", Ms Pinkerton said he "attended their home frequently" in the aftermath of her death.
"He was permitted to spend time alone with Miss McNally's body prior to her funeral. This was on Christmas night and he spent roughly 20 minutes with her undisturbed."
"On a separate occasion, Mr McCullagh devised a way to record the McNally family, unknown to them at the time….he returned a short time later to retrieve it, pretending he had left it there unintentionally. However, subsequent to his arrest, police investigations revealed that he had attempted to record conversations between the McNally family during this time."
Ms Pinkerton also said he attended a rally in aid of Miss McNally and violence against women in Lurgan Park and even prepared the montage of photos and videos of Miss McNally's life for the event.
She said McCullagh pitched himself "as Miss McNally's grieving partner, preying on everyone's sympathies and painting himself as a victim".
"There is reasonable suspicion he's committed this offence and these details increase the public feeling towards the applicant which are present and feeds into the concerns for the applicant should he be released."
The court heard how some family members have gone to the lengths of getting cameras fitted on their properties, "given the fear that they are in", and there could be "a reduction in public confidence with regards to this case, should he be released".
She concluded that his alleged actions "shows a chilling disregard for human life".
Defending, Craig Patton addressed concerns around the positive identification made by the taxi driver, who allegedly drove the defendant home from Lurgan to Lisburn on the night of the murder.
"The taxi driver also accepted that he had seen Mr McCullagh in the media," said Mr Patton.
He also told the court that police had handed back McCullagh's house keys to his instructing solicitor, therefore could offer up a suitable bail address "20 miles from the deceased and her family".
Mr Patton also alluded to conditions and that his client is "well aware" and "intelligent of mind" to know how the public perceive this matter.
"But that alone," he argues, "should not be, or should not be a reason, to refuse [bail] and I feel he's entitled to the same protection any citizen is entitled to."
Mr Patton argued: "We heard a lot about the suspect that was on the bus and the clear planning that that suspect has gone into, given the changes of clothing, given the attempts to hide the identity, given the double gloves on…but we heard very little on how this applicant is purported to be that person on the bus."
Addressing the reasoning behind the pre-recorded live stream, Mr Patton said it was "unfortunately, terminology".
"The reality is that pre-recording something and putting it out as live is commonplace, and is described by the applicant as what's called a failsafe video.
"If someone knows they're not able to perform live, they will do this and put it out as live material. As we've heard, he has over 35,000 followers, he has a significant amount of content on YouTube, in which he reviews games, and he reviews toys and other matters.
"But he instructs the fact that matter is that people prefer to watch live material, people will stay on the link watching live material for longer periods of time..
"I know it sounds like I'm perhaps dancing on the head of a pin but it is extremely important. There is a difference between performing live and being actually in front of a camera and that streaming.
"Streaming a pre recorded video, you still need to be there, you still need to be activating the equipment to stream it. And this applicant instructs this was the first time for him to watch it. So he did take alcohol, make some noise and watch the live stream. He accepts he wasn't performing live and there is a difference."
On McCullagh's alleged failure to engage with police after his release, Mr Patton added: "One, I don't like the attempt to put anybody in the shoes of a person who has been arrested on an allegation of murder, or someone who's found their girlfriend and unborn child [dead].
"It's a very difficult ask of this court to think how they would react and as to why they wouldn't have engaged with police after they were released. Firstly, this applicant did not disengage with the process entirely….he did engage with the McNally family. He was asking questions, he was himself trying to find out what had gone on. The investigating officer advised the instructing solicitor that the applicant should never have been arrested during these days, and this was conveyed."
He added: "He had been kept in overnight, he had been questioned and then we're asked to wonder why he didn't welcome cooperation with the police with open arms."
On the browsing history put forward by the prosecution, Mr Patton said: "I would say what the court is receiving there is a snapshot of what would be an extensive search history."
Lady Chief Justice Dame Siobhan Keegan refused bail stating there was a prima facie case to answer.
"If further investigation or information should aid the applicant then a further bail application can be made," she said.
Sign Up To Our Newsletter