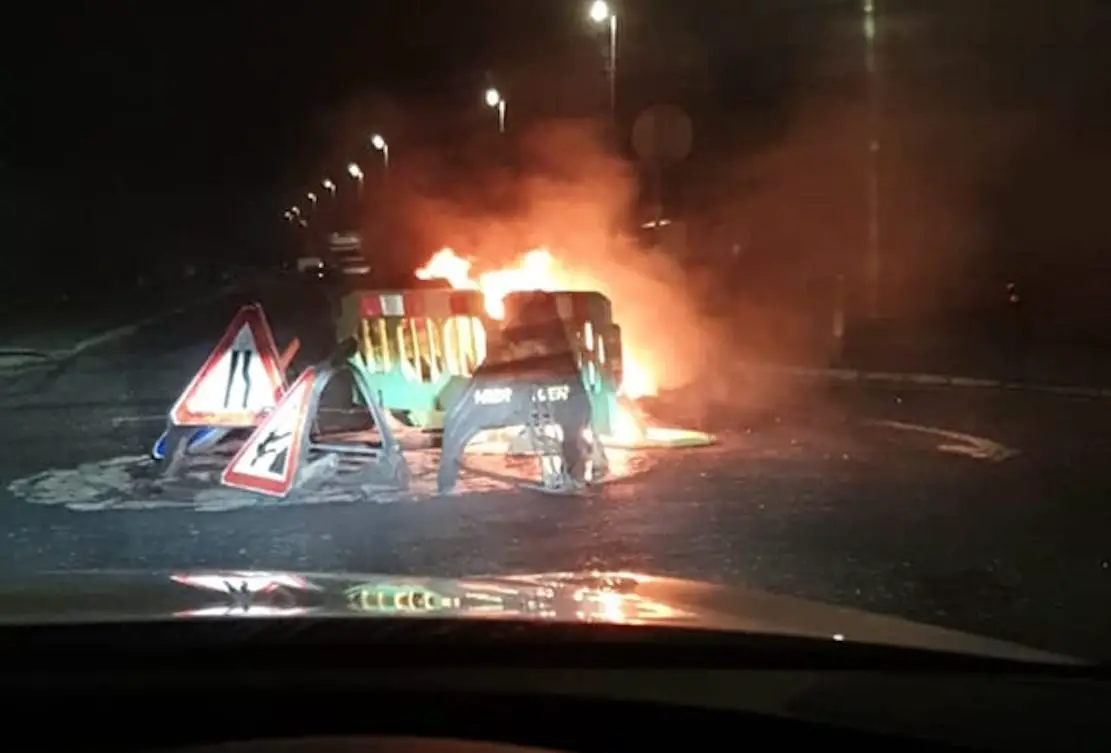 This was the scene in north Lurgan where a fire was lit on a roundabout late on Wednesday night.
Councillors and nearby residents have hit out at the culprits responsible for the "moronic" act at the junction of Lake Street, Victoria Street and Kilwilkie Road.
This morning, Sinn Fein councillor Liam Mackle posted a video those involved had taken themselves and shared on social media, branding them "absolute idiots".
Speaking to Armagh I, he said: "They are easily identifiable so hopefully the police can look at it, get them arrested and get them off the streets.
"They shouldn't be out putting people at risk and putting public services at risk, that all has to be dealt with by people that have to go and work to do it.
"My understanding is that they are not even from the area, it is unbelievable what kind of mind set people have."
Councillor Mackle added: "It is hard to fathom, how could you do it, even being out at night in this current climate is mad enough but to think it's a good idea to drag stuff into the middle of the road and set it alight".
The video was later shared by SDLP councillor Ciaran Toman, who told Armagh I that he had been contacted by people who identified one the individuals as a man originally from Portadown, but now living in the Lurgan area.
He said: "A group called Lurgan community aid has been set up, with all the GAA clubs looking after their own areas, the whole community have become united in the last few weeks.
"This is not the true face of the community, I think we are now passed all of that and we are trying to move on."
Fellow SDLP councillor Dolores Kelly commented: "This crisis is making many people feel frightened and anxious for themselves and their families. It is also bringing out the best and the worst in people.
"The despicable behaviour of these young people is adding to their fears. We have reported the incident to the PSNI and call on anyone who can help identify the culprits to assist the police with their investigation.
"They are not representative of the young people of north Lurgan where there is a huge community response to helping people affected by Covid-19 by delivering essential medicines and food".
Posting a picture of the fire on social media, Sinn Fein councillor Keith Haughian also wrote: "In the midst of everything that's going on, this is what some idiots who aren't even from the area have brought onto the streets of North Lurgan.
"Whilst the rest of us are worried about our families and community, these morons are bringing destruction to our streets and terrifying young children.
"The true face of this area has been seen the last few days in the kindness and generosity towards our elderly and vulnerable. If you're going to come into this area then do so with respect."
Sign Up To Our Newsletter