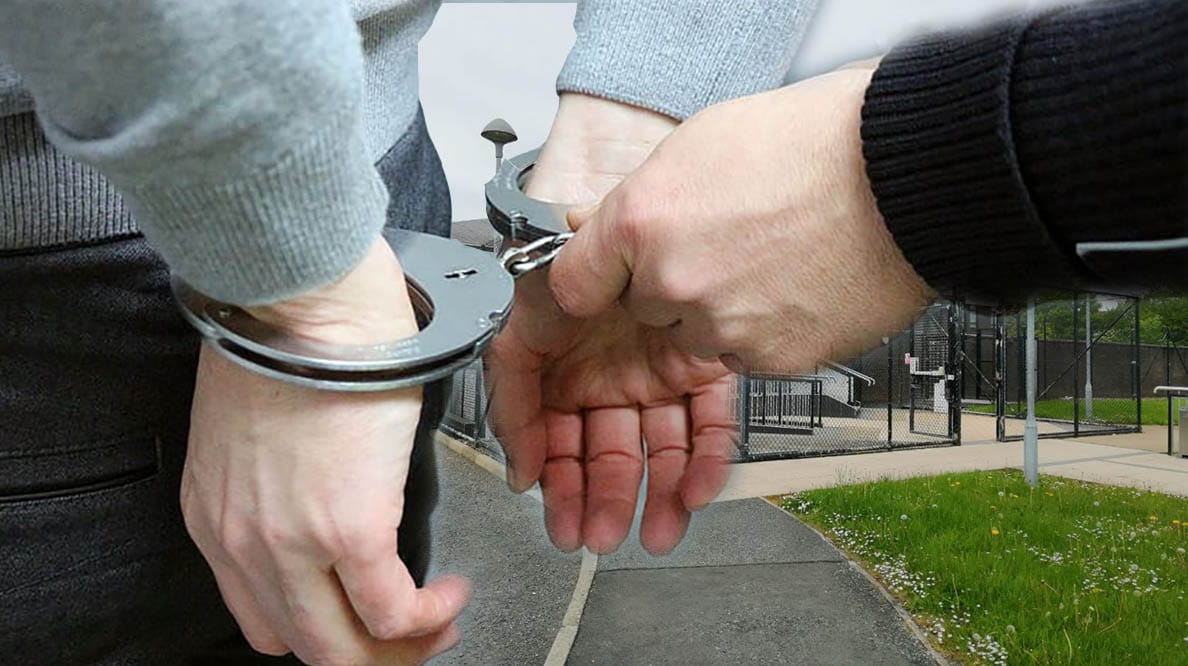 A Co Armagh man accused of trying to kill three random men in a series of frenzied knife attacks in Lurgan was suffering from paranoid schizophrenia at the time of the alleged offences, a court has heard.
The trial of Ben John Gibson, from Glenfield Road in Lurgan, began at Craigavon Crown Court on Monday.
The 21-year-old stands accused of the attempted murders of three men and a single count of having a knife with intent to commit murder on the evening of April 11, 2022.
While the major facts of the case are not disputed, it is the defence's submission that Gibson was in fact insane and should be found not guilty by way of diminished responsibility.
Prosecution KC Richard Weir opened proceedings, calling a number of witnesses, including the three complainants in the case.
The first of the three victims was working in a Polish deli and was on Moore's Lane, at the rear of the shop, when he was approached by the defendant who offered to help out.
He told the jury he had to tell him no several times and he believed the man was "heavily intoxicated" but after they shook hands and he turned to go back inside, he "felt a thud" at the base of his neck and when he reached up, he saw blood on his hand.
The jury heard that as he turned around, Gibson was "holding the knife up high", potentially about to strike again, but the victim fled inside and locked the door.
The second victim, although not stabbed, told the jury how he saw what looked to be a man swinging a punch at a pallet lorry but as he came closer, he saw the defendant was armed with a 12-inch kitchen knife.
He told the jury "there was a moment of eye contact" where Gibson had a "blank stare about his face", but fearing for his life he began to sprint away, warning a woman that he passed before he and she sought sanctuary in a nearby kebab shop.
The victim then opted to follow the defendant at a safe distance down Windsor Avenue in the town – towards Lurgan Park – to "keep an eye on him" before phoning the police.
He told the court that in those initial moments "I was under no illusion he was probably going to stab me" adding that he was "running for my life".
Taking to the stand, the third victim confirmed he was in Lurgan town centre shortly after 8pm, where he had parked in front of the Poundstretcher store. He then encountered an "extremely suspicious" male who "stumbled towards me at a pace". That male bent over clutching his stomach before pulling out a 12-inch knife.
"I thought I was going to be killed," he told the jury. "I needed to do what I needed to do to stay alive".
The jury heard how he started to swing at the victim who retreated to the porch of a nearby tanning shop. He went inside and into a changing room but the accused followed him in and stabbed him twice.
However, the victim managed to escape from the shop and run back towards Poundstretcher but the door to the store was locked. The victim also had a problem with his key, and as a result, was unable to open his car. He then ran off towards the police station. The defendant gave up chasing a short time later.
The court heard how this victim had suffered two puncture wounds; one close to the heart and the other on the lung, resulting in a collapsed lung which was "extremely painful", "distressful and frightening" – the effects of this attack continue "to this day".
Gibson was arrested a short time later in Lurgan Park following a foot pursuit. He was ordered to drop the knife and get on the ground, to which he complied.
A constable told the court that they had quite a long wait in the Park as they waited for a cell van as they did not wish to walk him the considerable distance through the park, in front of the watching public, to the police car.
At the time, Gibson told the officers that "I attempted to kill them people" before stating he had taken two strips of Pregabalin – around 30 tablets – and a bottle of Buckfast, resulting in him ending up in Daisy Hill Hospital for some time after his arrest.
During police interviews Gibson repeatedly denied it was him captured on CCTV, that he was at home all night, but when questioned as to how he was detained by police in Lurgan Park with a knife beside him he admitted he was "out for a while".
He told detectives that he had been suffering from hallucinations and that, on occasions, had blacked out before which meant he could not remember what he would do during these black outs, however, he denied he had committed the offences in question.
The court heard that Gibson called his father to tell him he "had stabbed people". His father called police on receipt of this information.
Defence KC Gregory Berry then called his key witness in the case – consultant psychiatrist Dr Adrian East, who said Gibson "has a an established diagnosis of paranoid schizophrenia" and that "he was experiencing an abnormality of mind at the time of the alleged index offences and that this prevented him from appreciating what he was doing was wrong. As such, I believe that Mr Gibson was insane."
The jury heard that Gibson was experiencing "persecutory beliefs at a delusional intensity" in that "if he did not kill, then his family would be killed".
Dr East contended: "What Mr Gibson was doing, was from his delusional perspective, not wrong, and that he was acting to prevent his family from being killed."
Defence KC Gregory Berry asked the psychiatrist to explain what would happen if the jury were to find Gibson not guilty by reason of insanity, "to put it plainly… he isn't going to be walking the street of Lurgan tomorrow?"
Dr East told the jury that even if Gibson is found not guilty by reason of insanity, his recommendation is that he is made the subject of a hospital order with an associated restriction order.
Mr Berry also called a second psychiatrist – Dr Curran – who had also examined Gibson.
He said: "I concur totally with the conclusions by my esteemed and respected colleague Dr East that Mr Gibson was effectively insane at the time of the index offences."
While all the evidence in the case was heard today (Monday), both prosecution and defence will offer up their concluding statements on Tuesday for the jury to consider before trial Judge Patrick Lynch KC directs them on how to apply the law to the charges.
The trial continues.
Sign Up To Our Newsletter