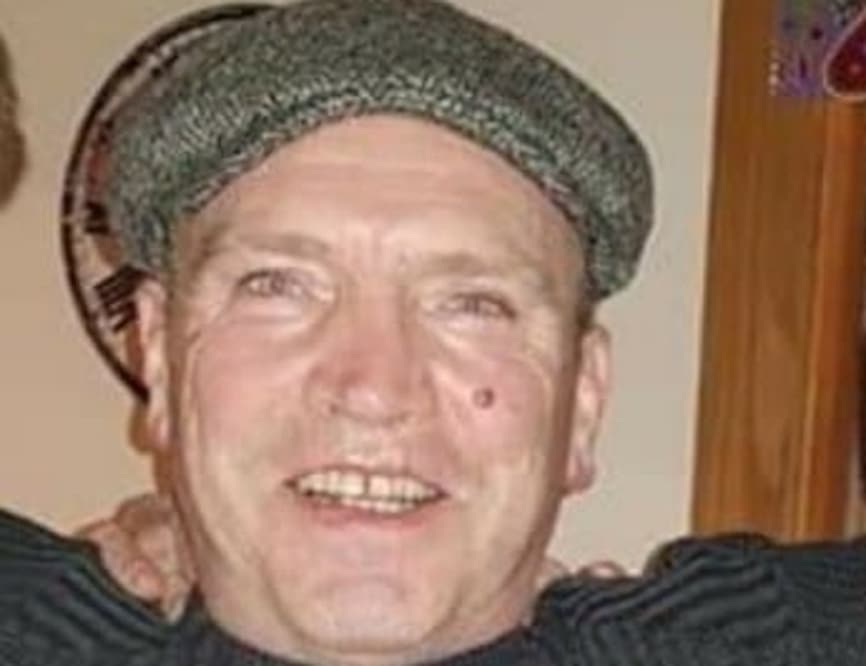 Mourners at the funeral of hugely popular Lurgan man have heard how he was a "hard, strong and fearless worker" who took the news of his terminal illness in the very same way – "head on".
Stephen 'Bull' Mallon passed away at the age of 53, following a short illness, on Friday.
Stephen was laid to rest following Requiem Mass at St. Paul's Parish in Lurgan on Tuesday morning.
Fr Colum Wright, addressing the small congregation of family members, as well as online viewers, spoke of a man who was dearly loved by his family, and grieving partner Lisa.
"It's so hard to say goodbye to someone who has been taken away from us, and from someone so young, so cruelly taken away, who has been sick for a very, very short time," said Fr Wright. "He was a man in the prime of his life.
"And for Stephen's family and friends, and for Lisa, his partner, for all who have watched him suffer so cruelly this past while, they handled it all with such dignity, such honesty, just like Stephen did."
From a young age, Stephen's sporting prowess shone through.
"At St Paul's he excelled at sports and in one year at sports day he won seven out of the eight competitions that day, and the one that he didn't get, he came second. It's a record I've never heard of," the priest added.
Stephen played for St Paul's from the age of seven until he was in his mid-30s. The St Paul's team were very successful during this era, right through from underage up to senior level.
With St Michael's, Stephen was on the team that won the Herald Cup, the MacLarnon Cup, the Ireland B Colleges' as well as a MacRory Cup final where they lost to a Maghera side.
Fr Wright noted: "I hate to say this but while Seamus Heffron was managing the [St Michael's], he himself is from Maghera, so he may just have done something.
"Stephen played for County Armagh in the first ever Milk Cup, along with Robert Blevins and Finty McConville, winning the Shield. He played for different soccer teams in Lurgan but his loyalties were always for gaelic."
Such was his talent, he was a member of the Armagh minor side in 1985.
Fr Wright continued: "He followed in dad Philip's footsteps by becoming a steel erector and this brought him to England, France and all over Ireland. As the firm grew he would have had the power to hire his own employees and he didn't forget his St Paul's clubmates.
"Stephen gave his opinion very freely, and Philip, while he adored you, and you him, I believe there were small work differences and they culminated in both of you being great workers at doing the same thing but you weren't great work-mates at doing the same thing.
"On occasions you sacked him and on other occasions he walked out. I'm told that the words used are not for the chapel. He came back a while later and all was forgiven."
Fr Wright explained how Stephen made his home in Collingwood from 1999, with his partner Lisa, who was "the great, great love of his life".
Mourners heard how he loved to enjoy himself and he did that right up until the end, going on a cruise with his partner Lisa, a final journey as a couple.
Mourners also heard of Stephen's love for hats – 45 in total, some of which were brought to the chapel as a tribute.
"Stephen was a very hard, strong, fearless worker of a man, he took news of his sickness in the same way," said Fr Wright.
"He prepared for what he needed to get ready for in the next life. He faced it head on. In this past while, in the two visits I had with him in the hospice it was certainly clear that after he discussed all the things that needed to be said, he assured me he had no fear.'I know what I have to face'. Like Helena, his sister who went before him, he was ready to meet his maker.
"I never thought in the hospice, and he talked about wanting home and how he was getting home. I remember thinking 'it'll be a miracle for you to get out of here', he was so sick. I remember nodding and thinking, 'how, Stephen you are so weak', but you did, Paula and Lisa, you got him out.
"He was so delighted to get out and I'm told, even last weekend you got him down to Newcastle. It was absolutely beautiful – it was a celebration of his life."
Fr Wright said he was determined not to offer platitudes akin to a bumper sticker, but he added: "I can't imagine what it is like. I think Lisa, for you to be sitting here, he was your great love and you were his. I haven't got the words. To all of his family, on behalf of everyone in our parish, we are all very, very sorry."
Stephen was the loving partner of Lisa and beloved son of Philip and Pat Mallon, brother of Christine, Philip, Paula, Jude, Barrie, Peter, and the late Helena, dear stepfather of Ryan and cherished grandfather of Rioghán and Órlaith, a much-loved uncle and great uncle. May he Rest in Peace.
Sign Up To Our Newsletter