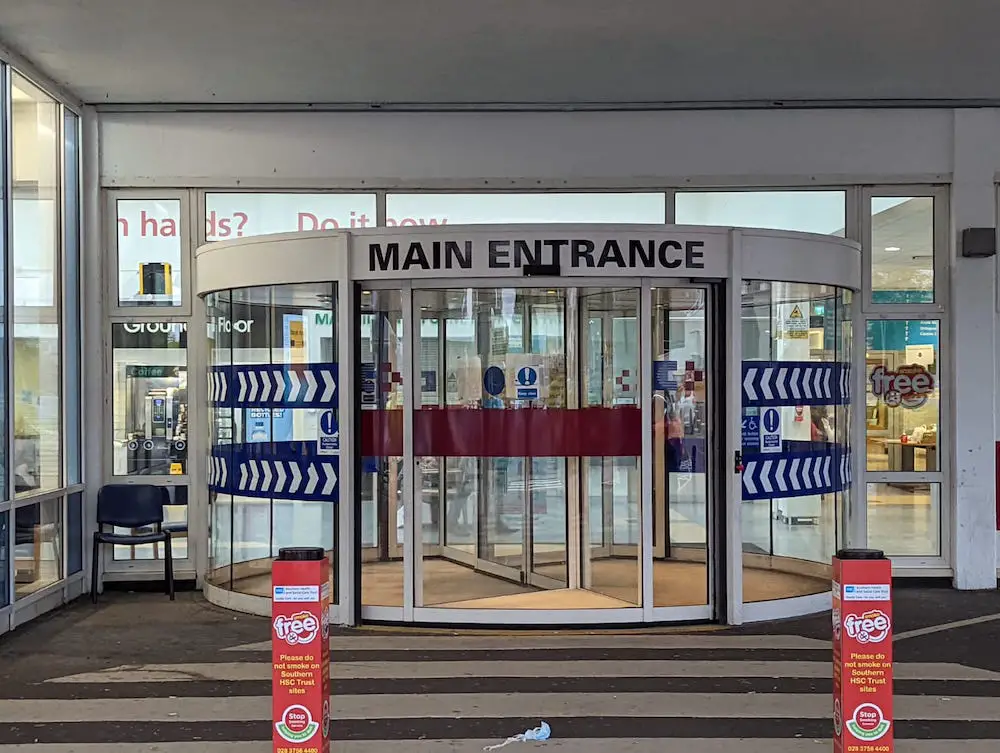 A Lurgan man has been sentenced to a total of nine months in prison for a range of offences, including disorderly behaviour, assault on police, and motoring offences.
Ryan Shortt, of Carrickvale Manor, appeared before Craigavon Magistrates' Court on Friday, via video-link from Hydebank.
The 20-year-old faced with a litany of charges which stem from incidents that occurred on various dates.
Shortt faced charges of disorderly behaviour, assault on police and criminal damage, from an incident on July 11 of this year, alongside a range of motoring offences from April, May and August of this year.
The court heard that on July 11, police were in attendance at Craigavon Area Hospital on an unrelated matter, when they observed the defendant who was wanted for arrest.
As he was walking out of the hospital through the main waiting room, the defendant shouted "go f**k yourself" and was aggressive, shouting and swearing in front of ambulance staff and patients.
He was informed that he was under arrest, at which point he attempted to run away. He was pursued and then turned to advance towards police, who had to use spray on him.
He continued to resist arrest by thrashing out his legs and attempting to kick and spit at officers.
Cuffs and limb restraints were applied and he was moved to a cell van where he attempted to bite and spit on a police officer. He also spat on the window of the cell van.
In regards to the motoring offences Shortt was accused of, the court heard that on April 20, police were tasked to a report of the defendant – who was disqualified from driving – driving a Volkswagen car.
Police stopped the vehicle and Shortt admitted that he was disqualified and was not insured.
On May 31, police observed a vehicle "abruptly parked " in a space in the Carrickvale Manor area of Lurgan, and noticed movement between two passengers in the front of the vehicle. Shortly afterwards, the vehicle reversed and came to a stop.
Police spoke with the two occupants in the vehicle and observed a woman in the driver's seat and the defendant in the rear of the vehicle. It was believed that the parties had changed position in the vehicle.
On completing checks, the defendant was arrested for driving whilst disqualified and driving without insurance.
Finally, on August 30, whilst on mobile patrol in Lurgan, police observed an abandoned vehicle in the Lidl car park.
Police contacted the insured party who confirmed that her vehicle had been taken without her permission by her partner – the defendant.
The defendant attended Lurgan station where he was cautioned for the offences and made full admission to police that he had been driving the vehicle.
Shortt's defence said that the disorderly behaviour incident had taken place mostly outside the confines of the hospital, but said in respect of the driving matters: "They are court orders, they should be obeyed and clearly the defendant has not done that.
"He has apologised and is contrite in respect of his offending," defence added.
District Judge Bernie Kelly said: "He has repeated breaches of court orders and that has to be reflected in sentencing."
In respect of each of the driving cases, Shortt was sentenced to two months each and disqualified from driving for three years.
These periods of imprisonment were to run consecutively with three months imposed for the hospital incident, leaving a total of nine months imprisonment.
Sign Up To Our Newsletter