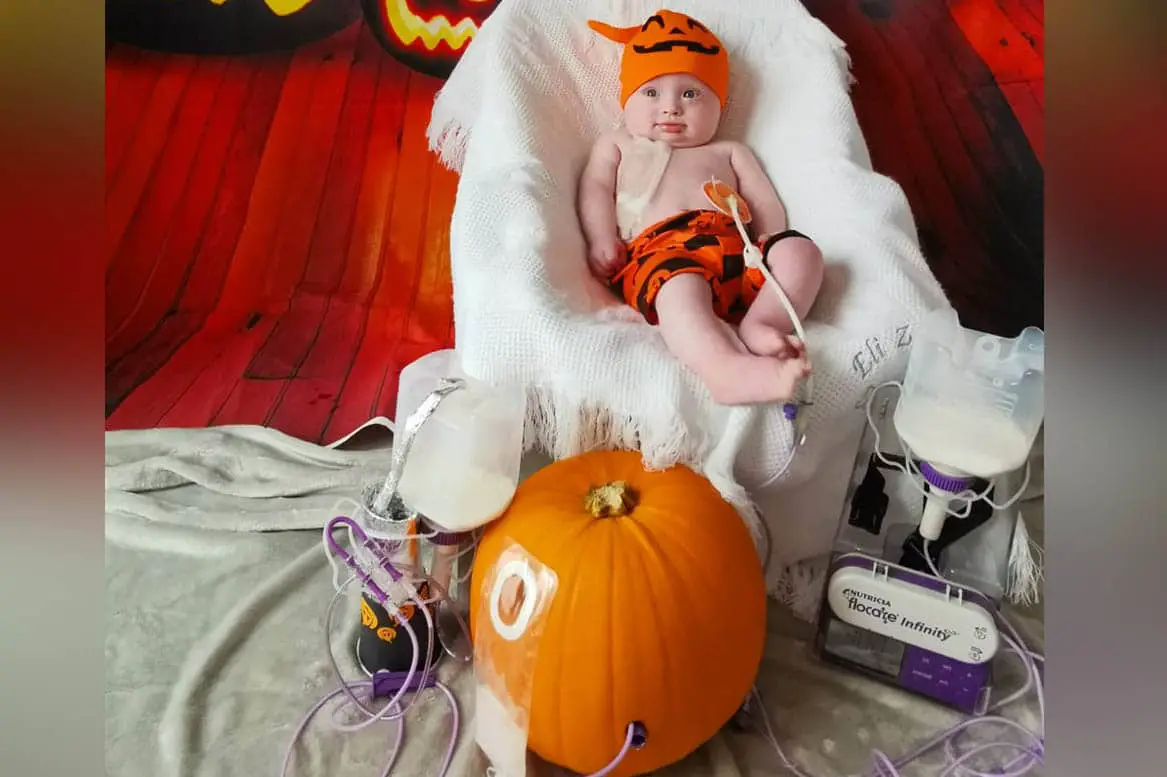 A Lurgan woman whose son was born with Down's Syndrome and a rare condition which leaves him unable to swallow says it is amazing to have him home at last.
Little Eli Massey spent the first six months of his life in hospital, and this Tuesday marked eight weeks since he was allowed home.
Eli was born with long gap oesophagal atresia, which means his oesophagus is not connected to his stomach, and he has to be fed through a tube.
Yet despite everything he has gone through, his mum Nicola says he keeps "everyone going" with his smiles and happy disposition.
The only cloud on the horizon is that the family are still waiting to have a discharge care package put in place for Eli which would provide both him and them with the support they need.
However, they are hopeful this will be sorted out shortly.
Nicola (31), who has two older children, Archie (8) and Isla Rose (5), learned of her son's condition at her 20-week scan. He is one of only three children in Northern Ireland that she knows of who has the condition.
However, she and partner Sean didn't realise Eli also had Down's Syndrome until he was born on February 25.
"He kept that one a wee surprise!" she added.
Eli spent his first few weeks in the Royal Victoria Hospital in Belfast, before being transferred to the neonatal unit in Craigavon.
In June, he was transferred back to the Royal to see if surgeons could connect the oesophagus to his stomach.
Unfortunately, the procedure proved impossible and, instead, he was given an oesophagostomy, which drains the saliva from his chest.
He also took a rare reaction to this operation, which resulted in two cardiac arrests among other problems, but eventually pulled through much to his family's relief.
Eli has also been fitted with a button in his belly, known as a G-Tube button, through which he is fed.
Said Nicola: "He's on a special milk at the moment. I connect a wee tube to the button and he has a machine and you select whatever volume of milk he needs.
"We don't know what's going to happen when he needs solids. There's no plan yet. There has been talk of a gastric pull-up which means moving his stomach into his chest area but the hospital hasn't decided if they can or will do it yet or not.
"We are just lucky that he was born now, as opposed to years ago when there was no treatment. We were also lucky that we found out about it at the scan because if he had been born and fed as normal he would have choked."
She added: "We are just so glad to have him home. It's what we longed for, for so long, and we will cherish these moments for ever.
"He is so pleasant and happy. He smiles from morning to night. He copes better than most people could.
"Because he is so good, whenever I look at him I think, 'if you can do it, so can we'."
Nicola says she has great support from her family, including mum Antionette, community nurses and the local Downs and Proud group.
She has thanked all the staff who looked after him, as well as Councillor Catherine Nelson who is in the process of helping the family get the care package put in place.
A spokesperson for the Southern Health and Social Care Trust said: "Our community teams aim to provide the best possible care for children with complex needs at home and we are working closely with this family to make sure they have the support they need."
Eli's progress can be followed on his Facebook and Instagram pages – The Adventure of Eli.
Sign Up To Our Newsletter