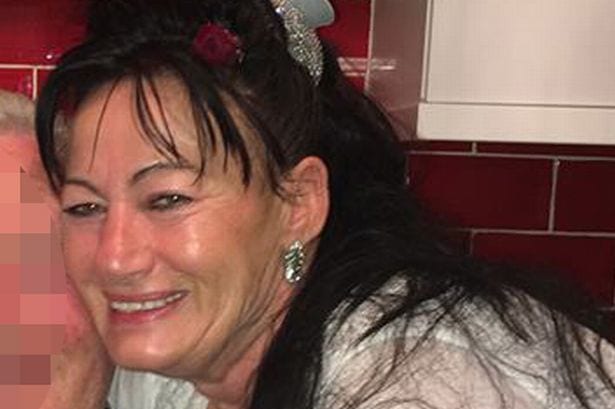 Described by her son as the 'Lady Diana of Travellers', huge crowds are expected in Co Armagh later this week for the funeral of Violet Crumlish.
A mother of 13 – five sons and eight daughters – she passed away on Saturday after a battle with bowel cancer.
On Thursday, her funeral is due to take place in Lurgan.
Her coffin will be taken to St Peter's Church in the town, carried by a white horse-drawn carriage.
Ten black limousines will carry lead mourners to the church.
And as she is laid to rest at St Colman's Cemetery in Lurgan, red carpet will have been laid and white doves released.
The Requiem Mass is due to take place at mid-day.
She made the headlines during the summer months, when thousands of members of the Travelling Community made their way to Bristol to visit the 59-year-old in hospital.
She was seen as a 'Traveller Queen' and will be laid to rest in her native County Armagh.
About 9,000 came to visit her at hospital in Bristol.
Speaking to the Bristol Post at the time, son Alex said: "She is a queen and a princess, she is like Lady Diana to the Travellers. She is good to the poor and to the sick; she is highly respected.
"She is like a mother to so many in the Travelling Community which is why there are thousands coming to see her.
"She is a lovely woman through and through and we are very proud that so many people are coming to see her."
Huge crowds are also expected at the funeral on Thursday.
Another son, Jimmy, told the newspaper this week: "All of the ferries to Ireland from England and Europe are booked up for the next three days, people are coming from all over the world to say goodbye."
Read more news:
Serious accident involving lorry and two cars on outskirts of Armagh city
Debt collectors chasing eye-watering £200k in unpaid 'pay and display' fines
Permission granted for £350k poultry house in Armagh city
Police put on show explosive device as four charged in dissident investigation
Major disruption ahead as Armagh sewer works to start up again on the Mall
Trial opens for man and woman accused of Owen Creaney murder
Funeral of 15-year-old 'gentleman' Patrick Quinn to take place today
Heroic police officers save man's life after late night canal drama
Sign Up To Our Newsletter