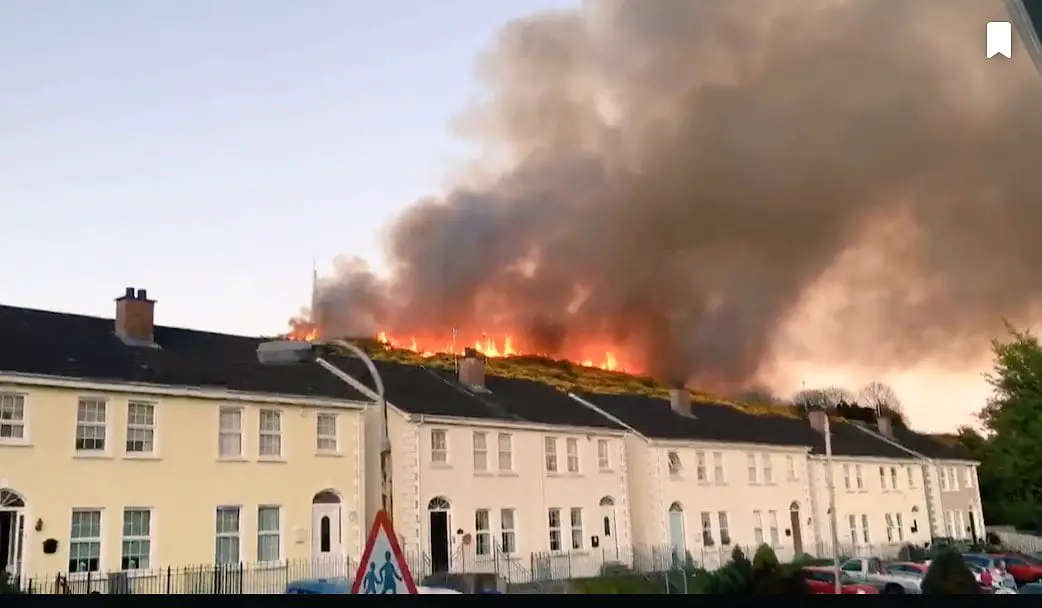 A new joint operation to investigate hundreds of wildfires started deliberately in Northern Ireland's countryside last month has been launched today.
A staggering 204 gorse fires were reported in less than a week in May – with Lurgan station one of the busiest.
Ninety-two percent of those fires are believed to have been started deliberately with the north of Armagh in particular a trouble spot.
Operation WildFire brings together experts from the Northern Ireland Environment Agency (NIEA) the PSNI and the Northern Ireland Fire & Rescue Service (NIFRS) to investigate in more depth a number of the recent wildfires. They will be assisted by a team of international wildfire investigators from the European Forest Institute and European Forest Risk Facility (FRISK).
Many of the recent fires spread rapidly due to the dry ground conditions, putting the public, property, firefighters and important habitats and species at risk. The initial work of Operation WildFire will be to determine the origin of a number of the recent fires and their causes. This is an essential first step in any successful fire investigation and can help lead to prosecutions should the fires be shown to be caused by human action.
Welcoming the new joint operation, Colum McDaid who leads on wildfire control initiatives in NIEA said: "The vigorous and thorough investigation of wildfires is the key to catching arsonists, and can be critical in identifying serial arsonists before they can move on to bigger targets.
"The law states that burning of vegetation such as heather, gorse, whin or fern must not be carried out between 15 April and 31 August, and only carried out at other times of the year under controlled and expert supervision. Additional offences can be caused by fires that impact on designated sites such as Areas of Special Scientific Interest and their features. Landowners are required to obtain consent from DAERA for prescribed burning within designated sites."
Constable Darryl Johnston, operational planning PSNI added: "Wildfires are illegal and the deliberate setting of wildfires is a criminal offence. We hope to use the Operation Wildfire investigations to determine the cause and origin of a number of the recent fires with the ultimate aim of serving in court cases and deterring arsonists.
"If members of the public have information about anyone who has started wildfires, please let the PSNI know so that we can pursue them through the courts. Not only do these fires cause widespread damage to our precious countryside, but they can also put lives at risk."
Also welcoming the joint operation, Mark Smyth Station Commander and NIFRS Lead Officer for Wildfires said: "NIFRS attended 983 gorse fires in May 2017, 801 of which took place from the first to the 12 of May alone.
"More than 90% of these gorse fires were started deliberately, but given the nature of the fires and their rapid spread, identifying the exact origin and cause of the fire while actively fighting the fires has been difficult.
"We look forward to working alongside our partner agencies and the wildfire investigators from the European Forest Risk Facility as we visit the sites of some of the larger gorse fires we dealt with including Slieve Beagh in Clogher and Mullaghcarn in Omagh. This will be an invaluable opportunity to learn about the latest wildfire investigation techniques."
Sign Up To Our Newsletter