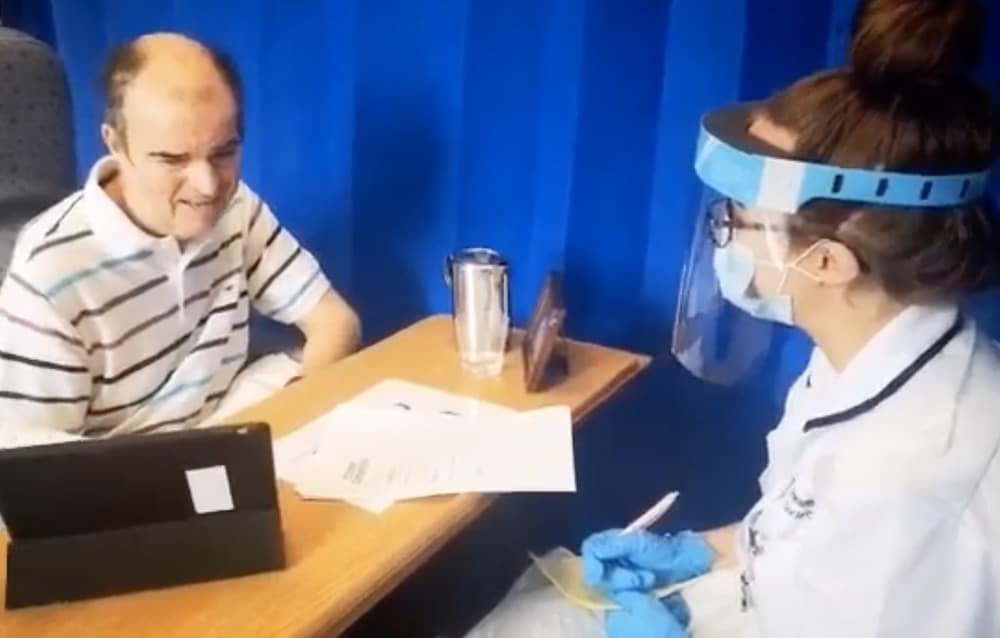 Speech and Language Therapists who support recovering stroke patients in the Southern Trust have been using technology to connect with families.
Traditionally, the team who work with stroke patients at Lurgan and South Tyrone non acute hospitals, bring family members on to the ward to participate in speech and language therapy sessions.
To overcome the hospital visiting restrictions throughout the pandemic, the team started using tablet devices to make sure patients didn't miss out on this important interaction.
Pat Nugent, Head of Service for Non Acute Hospitals and Community Stroke for the Southern Trust said: "The impact of stroke can be life changing, affecting speech, mobility cognitive function and overall physical and emotional wellbeing.
"We want to give all of our stroke patients the very best chance of regaining their independence by offering intensive sessions with our Allied Health Professionals like physiotherapists, occupational therapists and speech and language therapists who have a vital role in their recovery.
"Our whole team has been working creatively to overcome the challenges that the pandemic has presented us with and we are absolutely delighted that through technology, the speech and language therapists have continued to involve patients' loved ones in their sessions, which is so important for improving their communication."
After a fortnight at Craigavon Hospital having suffered an acute stroke, Glenn West was transferred to Lurgan Hospital for intensive rehabilitation.
Thanks to the new 'tele-therapy' using a tablet device, Glenn's wife Aine became a valuable partner throughout his speech and language sessions, supporting him for number of weeks until he was discharged having made excellent progress.
The team would like to thank the West family for their generous donation of two tablets to Lurgan hospital to help other patients connect with their families to achieve their therapy goals.
You can watch an example of Glenn and Aine's virtual therapy sessions here.:
Sign Up To Our Newsletter