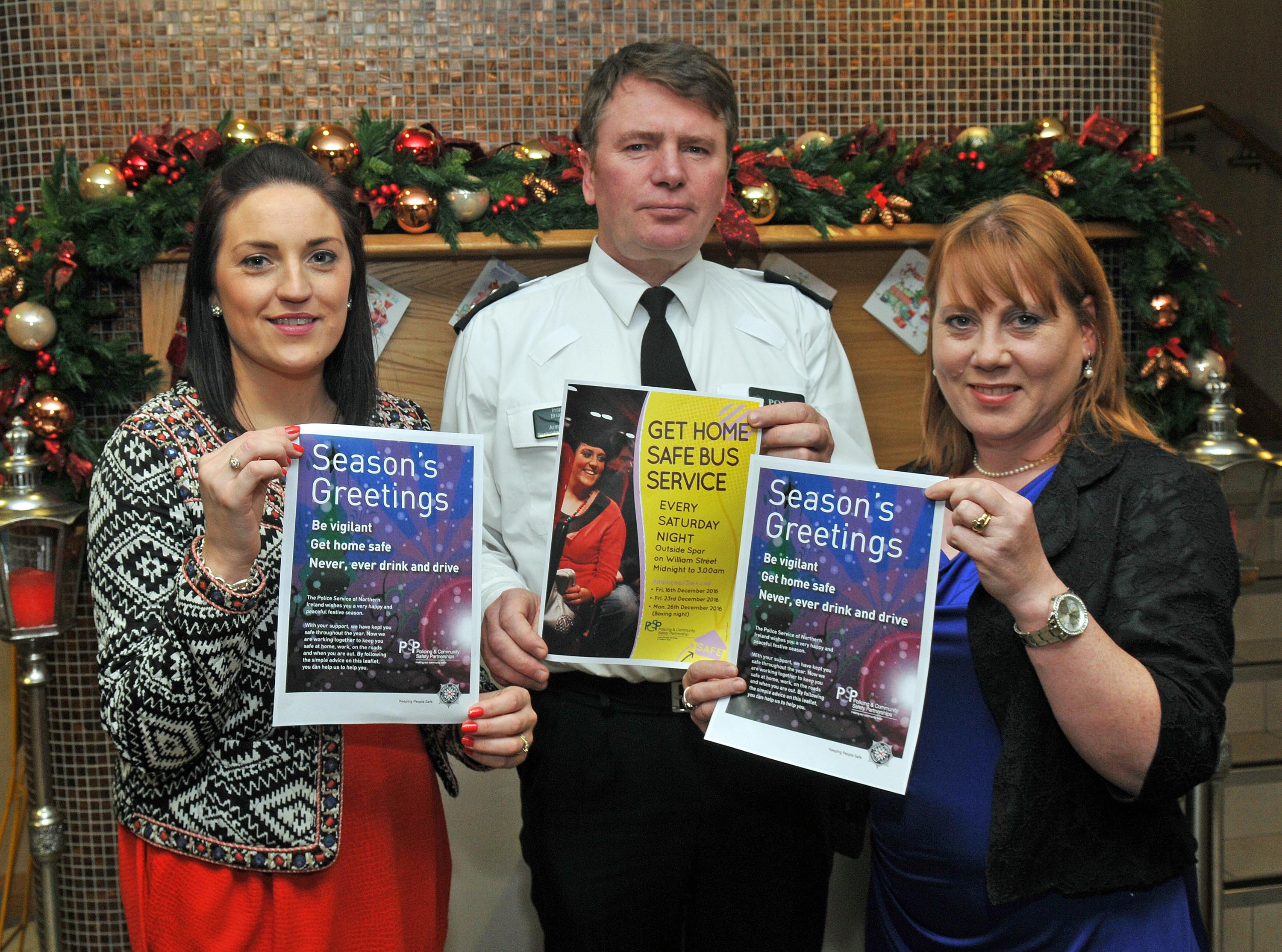 A 'get home safe' bus for late night revellers will operate in Lurgan from tonight (Friday), with drop-off points in the Craigavon and Portadown areas.
The Policing and Community Safety Partnership and PSNI  run the service every Saturday night in Lurgan.
The free transport runs from William Street, Lurgan from midnight until 3am, and the PCSP is adding three additional services over Christmas:
Friday 16 December 2016
Friday 23 December 2016
Monday 26 December 2016 (Boxing night)
Drop off locations are, in order: William Street; Old Portadown Road; Meadowbrook Cross Roads; Ardowen Bus Stop; Moyraverty shops (on request); Clonmeen; Enniskeen; Highfield; Northway to Portadown. Portadown drop off locations are: opposite train station (on request); Northern Bank (on request); Derrymacash/Derrytrasna; Aghagallon/Loughshore; Derrymore (on request).
PCSP Chair Councillor Julie Flaherty said: "Christmas is such a busy time for most people with the chance to socialise and celebrate with family and friends. The PCSP works with the PSNI and others throughout the year to give people the information they need to keep themselves and their things safe; and Christmas is no different. In fact, with more reason to be out and about, it is extra important to keep this advice in mind.
"We fully support the PSNI message to 'Never, ever drink and drive'. Simple things like planning journeys home after a night out so driving is not an option; and thinking about how to get to work the next morning if there is a chance you could be over the limit, are all things that could prevent an accident or worse.
"Alcohol, as we all know, can affect people's judgement and vulnerability so at this time of year we are sending out a reminder about how actions and reactions can have a devastating impact.
"Alcohol can sometimes affect our ability to make a reasoned decision but one quick reaction can have a massive impact on lives.  We also want you to think about who you head off to a party with or accept a lift from.  Always ask – do I feel safe?
"Linking with the PSNI, we are promoting two short films which highlight the issues of consent in relationships and the impact of 'one punch' incidents.
"We really want people to enjoy themselves this Christmas but urge people to make sure they put their own safety, and that of others, first on their Christmas list."
Echoing the safety message, Chief Inspector Barney O'Connor said: "I echo fully the comments made by Chair of the PCSP Julie Flaherty. We really want the community who live or choose to socialise in the Armagh, Banbridge and Craigavon District to have an enjoyable run up to Christmas; to feel safe within this District. This is a great place to live or spend time with friends and family.
"On our roads we will ensure a rigorous enforcement policy, particularly in respect of the key risks – speed, seatbelts, careless and inconsiderate driving and drink driving. The Assembly have given us new powers to allow us to carry out random breath test road stops. Expect to encounter these and be asked to provide a breath sample. These are about keeping you and your family safe.
"Most assaults, domestic type incidents, criminal damage and other anti-social behaviour matters occur when the offender has consumed alcohol. What I am asking is that people do not place themselves into these positions. If they find that they do, through no fault of their own, please take a deep breath, think and walk away. I suppose the common term is 'wise-up'. These can have life changing consequences in terms of career and family life, particularly for young people.
"The PSCP and the police are running many events across Armagh, Banbridge and Craigavon District on the run up to Christmas, addressing crime prevention issues.  We also have our very successful 'Coffee with the Cops' across our towns. Please come and speak to us.
"But most of all from us, my officers and me, have a great and a safe Christmas."
Pictured: L-R: Aisling Gillespie, PCSP Project Coordinator, Inspector Brian Mills, PSNI and Patricia Gibson, PCSP Manager encourage people to put their safety first on their Christmas list and get home safe this festive season.
Sign Up To Our Newsletter